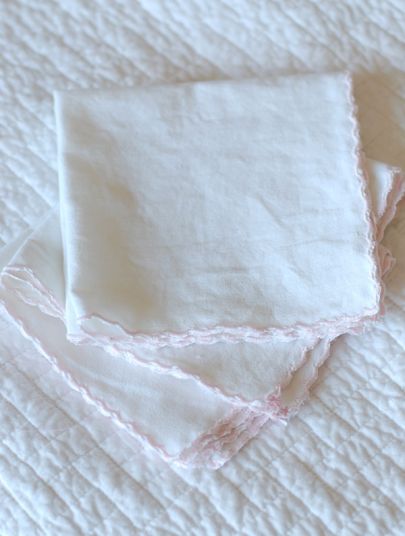 I've made handkerchiefs every year for Christmas for the children. I love handkerchiefs, and the children love them, too. I love that they don't need to ask me for tissues at church, and when my two-year-old has a runny nose, she can reach for a handkerchief instead of emptying a box of tissues.
This year I decided to make scalloped-edged handkerchiefs for my two-year-old.
I really like to use old cotton sheets to make handkerchiefs, as they are very soft. I had a twin-sized bottom sheet wear out. I used the edges of the sheet to make these handkerchiefs. I cut 12″ squares for the handkerchiefs. I measured and marked three of them. I then made a small cut for the length and tore the sheet to get a perfectly straight edge. I cut a bit at each marked edge (every twelve inches) and after I had made the cut, I tore each of the handkerchiefs. I usually take a long time measuring and then I still get them crooked. Tearing ensured straight edges.
I sewed the scalloped edge 3/8″ away from the edge of the handkerchief. I then used a small pair of sharp embroidery scissors to carefully cut away the edges of the fabric from the outside of the scallops.
Handkerchiefs
Supplies:
soft cotton (a sheet, muslin, or other cotton)
thread
Tools:
scissors
ruler
sewing machine
Time:
The total time for one handkerchief was about 25 minutes.
Today I made three handkerchiefs.
Cost:
$0.05 per handkerchief for the thread. You can read about how I buy my thread here.
I also embroidered two handkerchiefs for 2 of my other daughters, with their respective initials. I will be sewing scalloped edges on these as well. It took me about 2 hours to hand embroider each one. I did while I watched shows in the evening on Hulu. I will work to make 3 more handkerchiefs for the other children for Christmas.