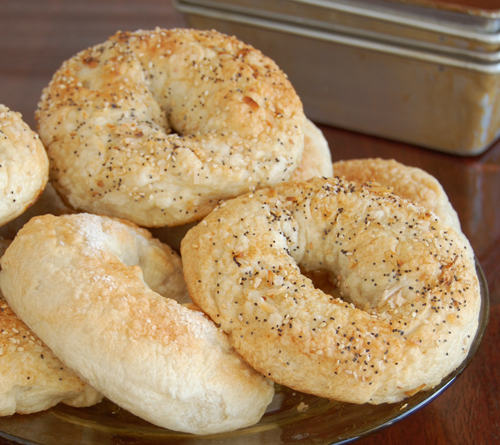 Makes 16 large bagels
3 Cups warm water (between 105º-110º)
Dried onions, poppy seeds, sesame seeds, kosher salt, dried cranberries, etc
In a large mixing bowl, pour water and yeast. Stir to dissolve, and leave for 2-3 minutes until yeast has bubbled.
Stir in sugar and salt. Add flour.
Stir with a wooden spoon to make a thick batter. When it becomes difficult to stir, remove dough from bowl and work with your hands on the counter. Knead dough for about 8 minutes. (If you want to add cranberries, raisins, cinnamon sugar, etc, to all or some of the dough, you can add it to all or part of the dough while kneading. If it is only for some of the bagels, let them rise in a separate bowl.)
Lightly flour bowl. Return dough to bowl. Cover it tightly with plastic wrap and allow to rise in a warm place for 1 hour.
While the dough is rising, spray two baking sheets with Pam. Fill a large pot with water and add a Tbsp of sugar to help give the bagels a nice sheen.
Whisk together water and egg white for glaze and set aside.
If you are using dried onions, soak the amount that you want to use in water and set aside until ready to use.
Preheat oven to 450º.
When dough has finished rising, turn dough out onto a floured counter and push it flat (about 2 inches thick).
With a dough scraper, divide the dough into 16 equal pieces. Shape each piece into a ball.
With your thumb, press deep into the center of the ball, and tear open a hole with your fingers.
Place formed bagels together on the work surface, cover with a damp towel and leave until dough is slightly raised—about 10 minutes.
Meanwhile, bring your water to a low boil. Gently lift bagels, one at a time, and lower into the hot water. Do not do more than 2 or 3 at a time. Cook for about a minute, then flip them over in the water using a slotted spatula, and cook for another 30 seconds. Lift out with the slotted spatula, and place on your baking sheet.
Repeat with all the bagels. Brush with egg glaze and dress them up with the toppings of your choice before popping them in the oven.
Bake for about 30 minutes, rotating the pans halfway through. Keep an eye on them so that the bottoms don't burn. Remove from oven and let cool on a rack.

Notes:
I buy sesame seeds and poppy seeds in bulk from San Fransciso Herb Company.
If you don't have a dough scraper, you can get one for less than $4 at Target. I use mine all the time when making bread.