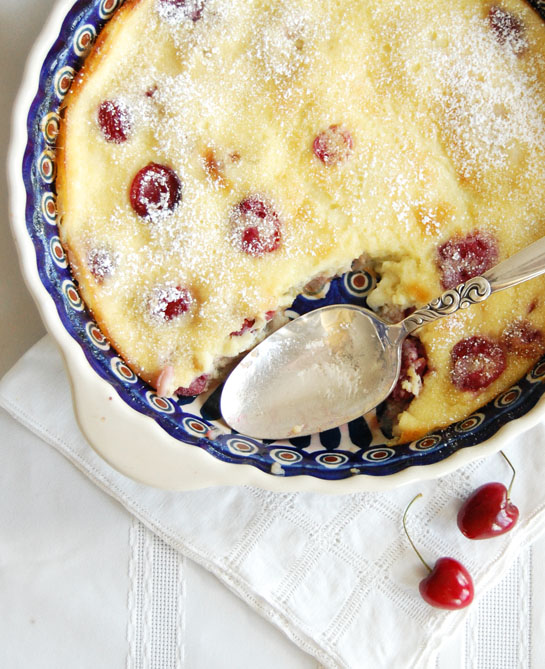 "Il etait les temps de cerises. . ."
Clafoutis is a simple dessert that can be made with any fruit that you are currently harvesting. I strive to always have something ripening in the garden. Cherries ripen in May, followed by peaches, then apricots, plums, figs, and then peaches again.
This is a quick and simple dessert.
Makes 2 pie pans
4 cups fruit
4 eggs
1 cup sugar
2/3 cups flour
2 tsp vanilla
1 tsp grated lemon zest (from 2 lemons) (optional)
1/8 tsp salt
1 1/2 cups whole milk, or cream (or 1 can evaporated milk, undiluted)
butter for greasing the pans
powdered sugar for sprinkling on top
Preheat oven to 350º.
Grease baking dishes (tart pans, pie pans, 9″ x 13″ pan, etc.) or several ramekins.
Cut fruit in half and remove pits. Place fruit in pans, cut side up.
In a large bowl, whisk the eggs, milk, and vanilla together. Slowly incorporate the sugar, salt, and flour into the mixture, whisking well to ensure there are as few lumps as possible.
Pour mixture over fruit and cook for 30 minutes, or until golden brown. Sprinkle with powdered sugar.
This is best served warm from the oven.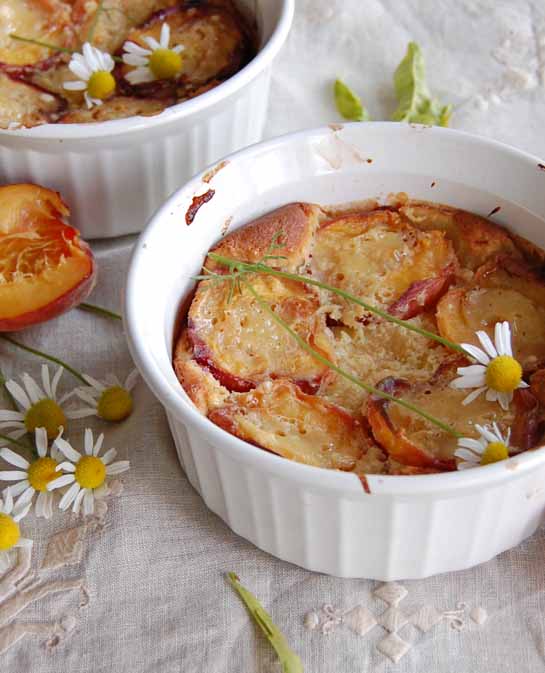 Notes:
While whole milk will make this a richer dessert; you can also substitute powdered milk for the milk.
You can replace fresh fruit with canned fruit, if that is what you have in your pantry.
I get my flour, sugar, powdered sugar, salt, vanilla and butter from Sam's Club. Fruit (including lemons) comes from my garden. I trade weeds and foods that have gone to seed in my garden for eggs.