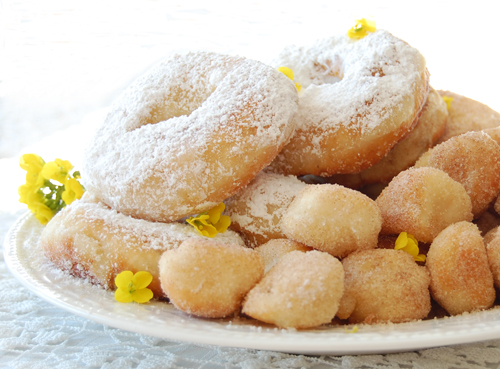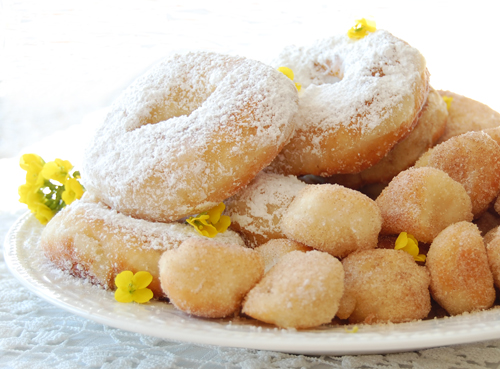 4 tsp yeast
2 tsp sugar
1/3 cup warm water (105º-110º; I measure it with a candy thermometer)
2 cups scalded milk (or 2 cups powdered milk, which doesn't need scalding)
1/4 cup oil
1 cup mashed potatoes (you can use potato flakes, reconstituted)
4 Tbsp sugar
2 eggs, beaten (powdered is fine; 2 Tbsp powdered eggs plus 4 Tbsp water)
1 tsp salt
5-6 cups flour, divided
Shortening for frying (3-4 cups)
powdered sugar
cinnamon
granulated sugar
Mix yeast and sugar into the warm water, and let sit 5 minutes until the yeast has proofed (it will bubble up).
In a large bowl, mix milk, oil, mashed potatoes, sugar, eggs, salt, and 3 cups of the flour.
Gradually add in another 2-3 cups of flour, until it makes a soft, but not too sticky, dough. Work the dough as little as possible to make light, fluffy donuts.
Cover with a cloth and let rise in a warm place about 45 minutes.
Flour the counter well. Flour your hands well, and pat dough out to 1/2 inch thick. Using a floured round cookie cutter or a glass, cut out donuts.
Melt shortening on medium heat in a large frying pan (with sides) or in a large pot. Shortening should be deep enough to reach about halfway up the donuts.
Poke holes in the center of the circles with your finger, or cut holes with a small round cutter.
With a spatula, lift donuts from the counter ad place in melted shortening.
When golden brown, turn donuts with tongs to fry the other side. When done, drain donuts on paper towels or a brown paper bag set over a plate.
Dip in powdered sugar or in a cinnamon/sugar mixture when still warm.

Notes: Shortening works better than oil for frying the donuts for two reasons: the donuts absorb oil very quickly (making them greasier than when using shortening), and shortening can fry much hotter without smoking.
I buy my shortening and oil from Walmart (the store brand). I get my flour, yeast, sugar and salt in bulk from Sam's Club. I buy potatoes on sale for .10 to .20 a pound. If you are living on your food storage, you can still make this recipe, using potato flakes, which you can buy in bulk, or just in a box from Walmart. I get my powdered milk and powdered eggs from Walton Feed (see the Grains page for sources to get potato flakes, powdered milk, and powdered eggs in bulk).
I have of graduated round cutters that I used to cut the donuts and holes.