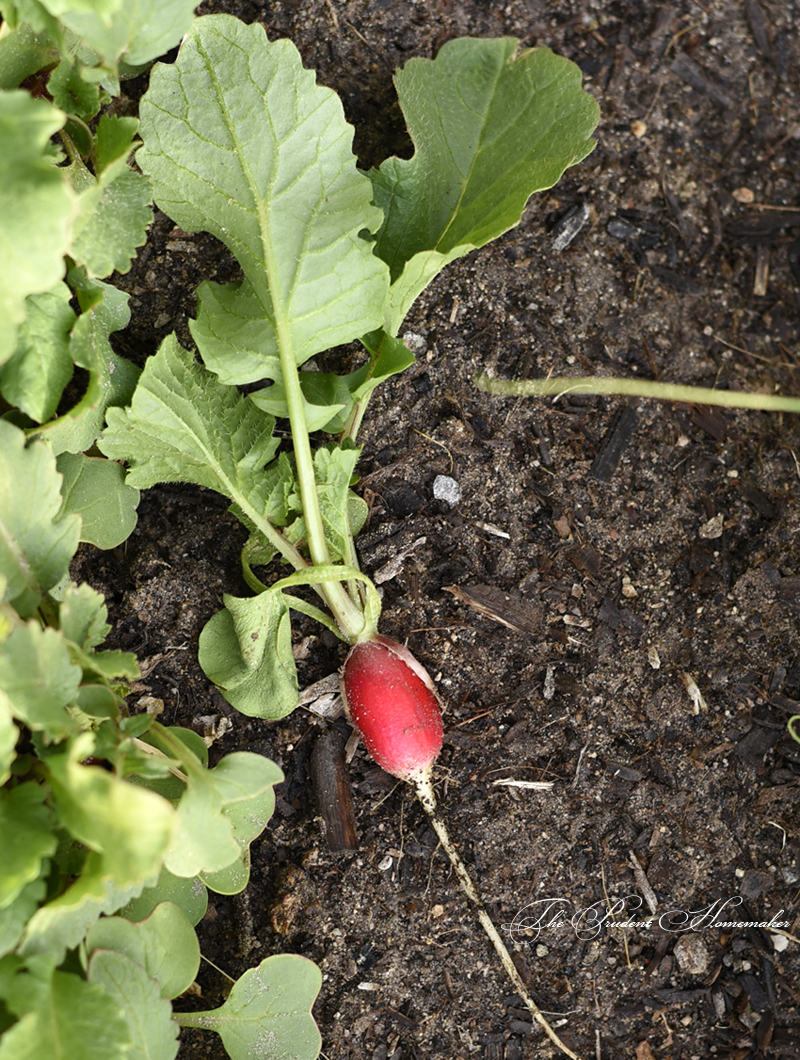 I'm grateful for the opportunity last month of not shopping to empty the fridge and work on clearing out the freezers. The freezers still have quite a bit left in them and I always strive to keep the pantry full; there is plenty there still.
This month we'll work on eating more of the fruit from the freezers and pantry (as well as meat from the freezer). This will give me some space to stock up on some meat sales. There's already a great one starting today (whole chickens for $0.57 a pound!) so I'm glad that we've been eating from the freezer.
The seedlings in the garden slowed down their growth quite a bit when we had a frost and a cold week just recently, but the weather is warming and by February 10th it should be in the low 70ºs ( 22ºC). I'm experimenting with planting more seeds earlier than usual, going by the soil temperature rather than dates, with the hopes of a good harvest before it gets too hot for plants to flower in the summer.
We still have lots of beet greens and Swiss chard that we're harvesting several times a week, lemons on the trees, and various herbs that are ready. By the end of the month, I hope to begin to harvest a lot more from the garden!
Here's what's on my list:
Sam's Club:
Mozzarella cheese
Flour tortillas
Corn tortillas
Pinto beans
Almonds
Chocolate chips
Toilet paper
Goat Cheese
Feta Cheese
Ketchup
Tomato sauce
Eggs
Winco:
Milk
Plain Greek Yogurt (to use as a starter to make more yogurt)
Spreadable Margarine
Sour cream
Garlic
Potatoes
Carrots
Broccoli
Onions
Possibly other produce depending on prices; they have sales but no ads, so I'll see what prices are when I get there.
Alberston's:
whole chickens ($0.57 a pound)
avocados (medium ones are the jaw-dropping price of 3 for $1, with a limit of 6)
frozen petite peas
Vons:
Boneless pork loin $1.79/lb
Raspberries (on sale for 0.99 for 6 ounces, which is incredibly low; limit 4)
avocados (medium 3 for $1, limit 6)
Target:
Diapers (There is an in-ad coupon that will give you a $25 Target gift card if you spend $100 on baby items. I'll buy 4 boxes of diapers).
Oxi-clean spray refill
I love having a full enough pantry that I can wait for the amazing sales and only stock up at the lowest prices!
My budget for this month is $400.
Arugula (Rocket)