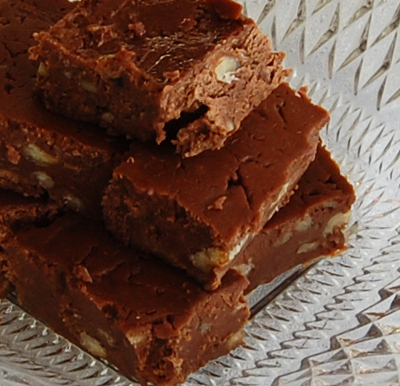 2/3 cup undiluted evaporated milk
1 2/3 cup sugar
½ tsp salt
2 cups miniature marshmallows
1 cup semi-sweet chocolate chips
1 tsp vanilla
½ cup (or more) chopped nuts (optional)
Mix milk, sugar, and salt in saucepan. Heat to boiling (keep stirring). Cook five minutes, stirring constantly. Remove from heat. Add chocolate chips, marshmallows, vanilla and nuts. Stir 1 – 2 minutes until chocolate chips and marshmallows mix. Pour into a 8″ x8″ buttered pan.

Notes:
I get my evaporated milk on caselot sale and at holiday sales in November/December.
I buy my salt, vanilla, nuts,sugar and chocolate chips in bulk from Sam's Club.
I buy marshmallows on sale.