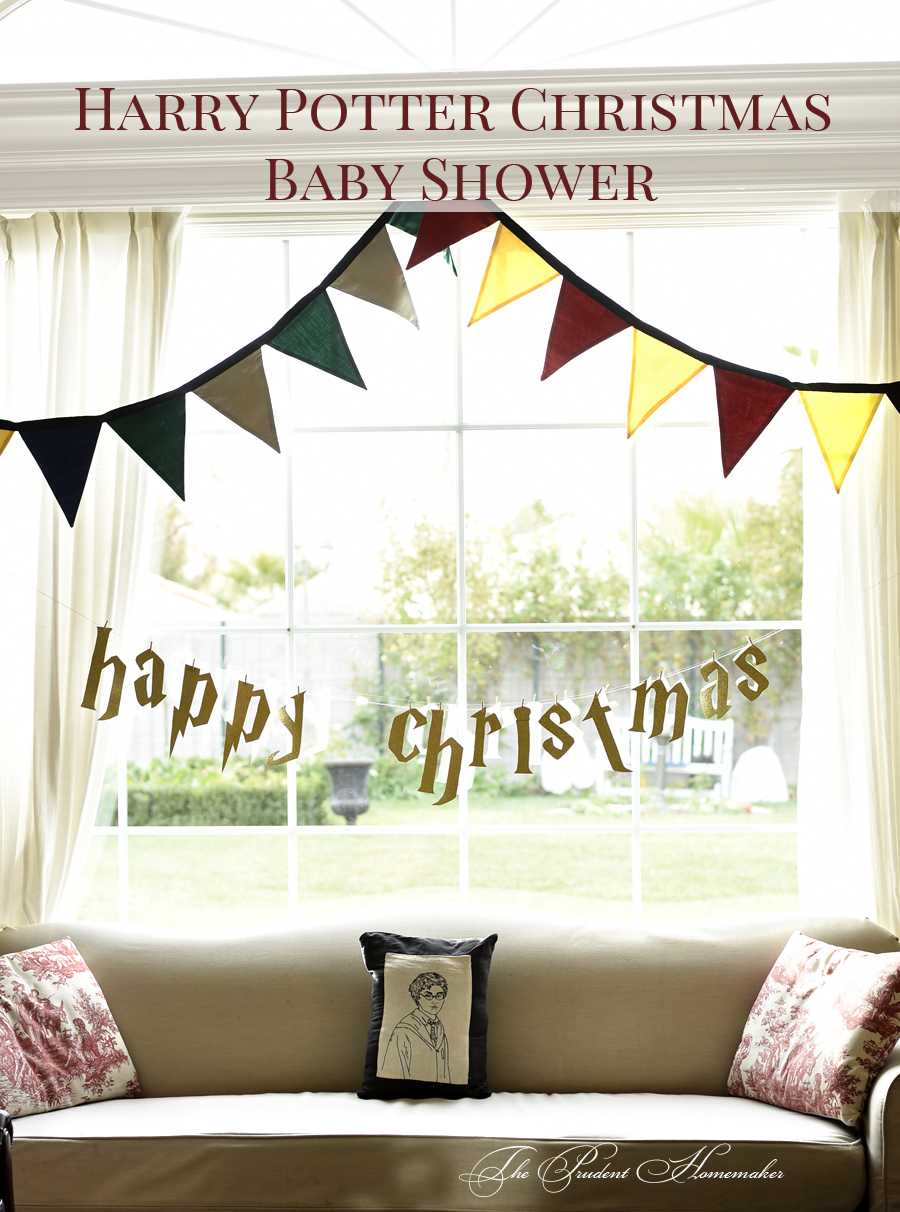 I hosted a baby shower last week for a soon to be first-time mom who is a huge Harry Potter fan. Since I seem to have a Harry Potter birthday party for at least one of my children every year (and have for the last few years) this meant I already had several items that I could use for the party, and that some of the items I purchased could be used for future parties.
I had several people ask what they could do to help, so I assigned out paper plates, bowls, cups, napkins, soda, salad, and the Happy Christmas banner. This saved me money as well as time.
We hung the Harry Potter house banner that I had made several years ago. Underneath it we hung a Happy Christmas banner that one of the guests made (using this tutorial and glittered poster board. I didn't even know glittered poster board existed before I asked this guest if she was willing to make the banner, and she told me that she already had glittered poster board to make it!)
On the couch I put the Harry Potter pillow that I embroidered several years ago.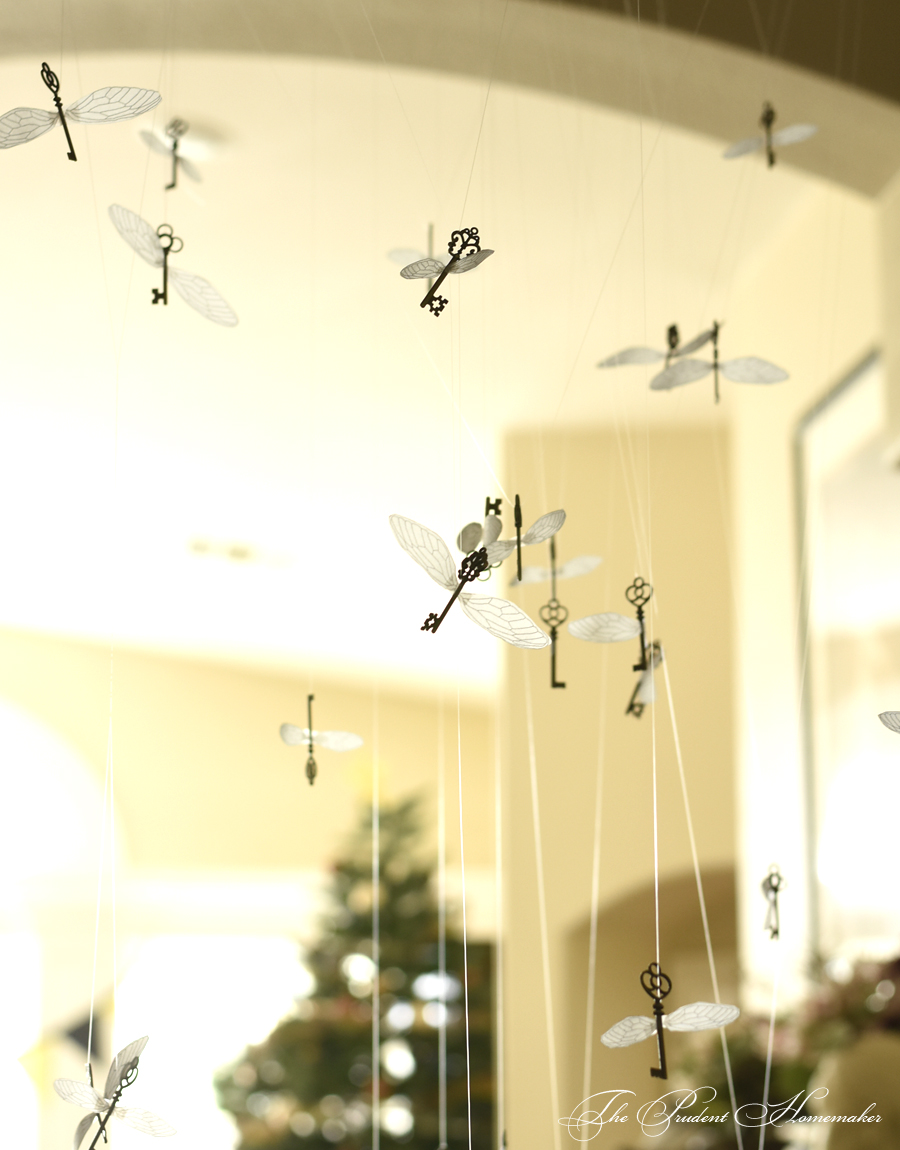 In the entry way over the table, we hung flying keys with fishing wire. I purchased the keys and we downloaded the wings, which I printed on vellum. My 11-year-old son,Ezrom, cut out the wings, taped them to the keys, and hung them.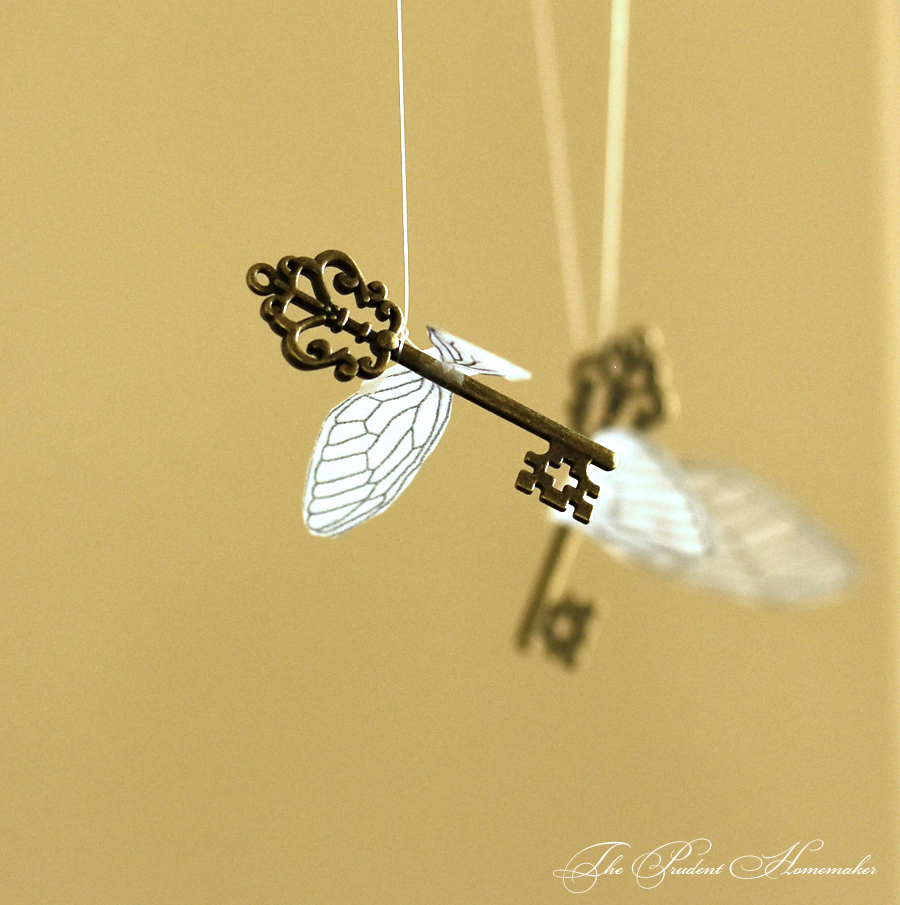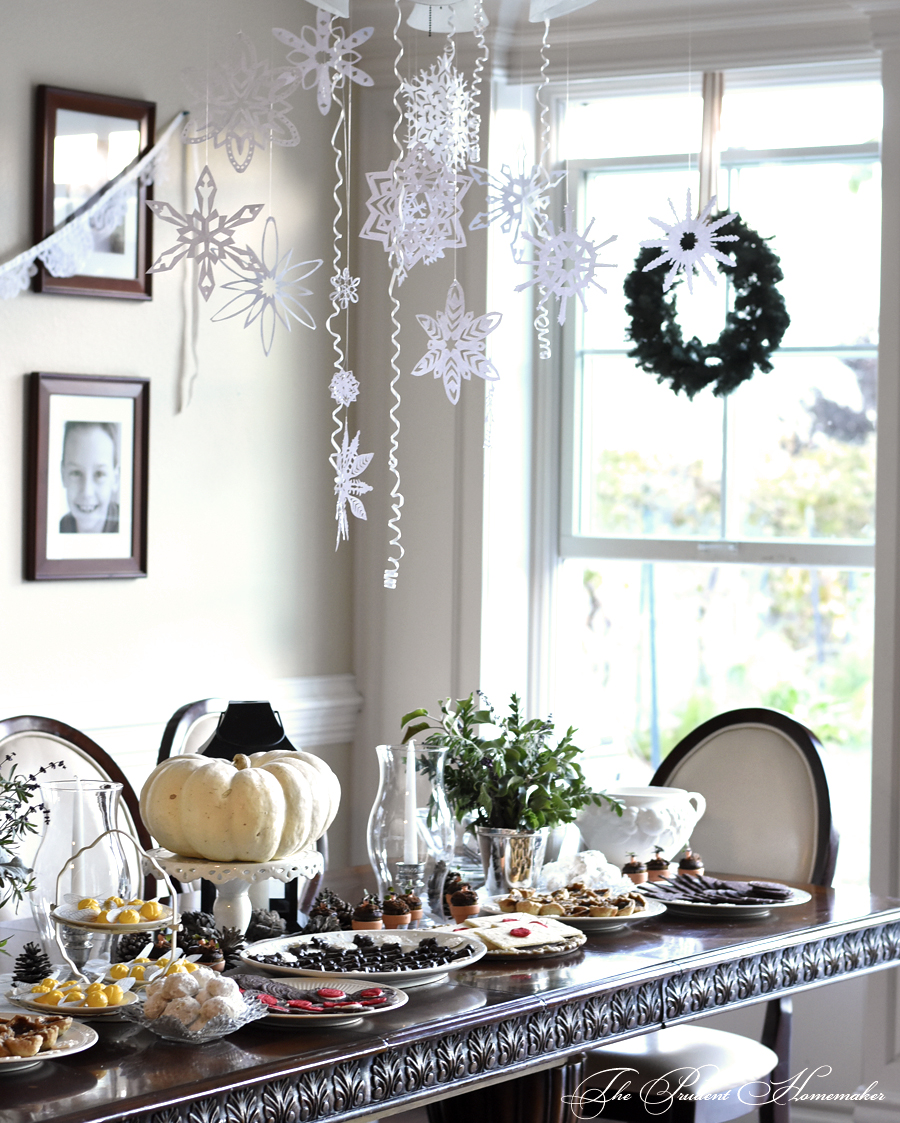 Over the dining table, we hung snowflakes, a nod to the enchanted snowflakes that fall over the Christmas table at Hogwarts. Winter made the snowflakes and ironed them on low before hanging them with fishing wire. She also cut the curling ribbon and hung it.
Besides decorations, a large part of a Harry Potter party is the themed food.
Since we were having the party on a weeknight and many women would be coming from work, I served dinner. Knowing how inexpensive soup, salad, and homemade bread are to serve, I made pumpkin soup and rosemary olive oil bread. When someone asked how she could help, I assigned her to bring the salad, since I don't have much lettuce growing in the garden right now (despite planting several times). The pumpkin soup was a mixture of butternut squash from our garden, acorn squash I bought on sale (which decorated our table all fall), and mini pumpkins I had also bought as fall decorations.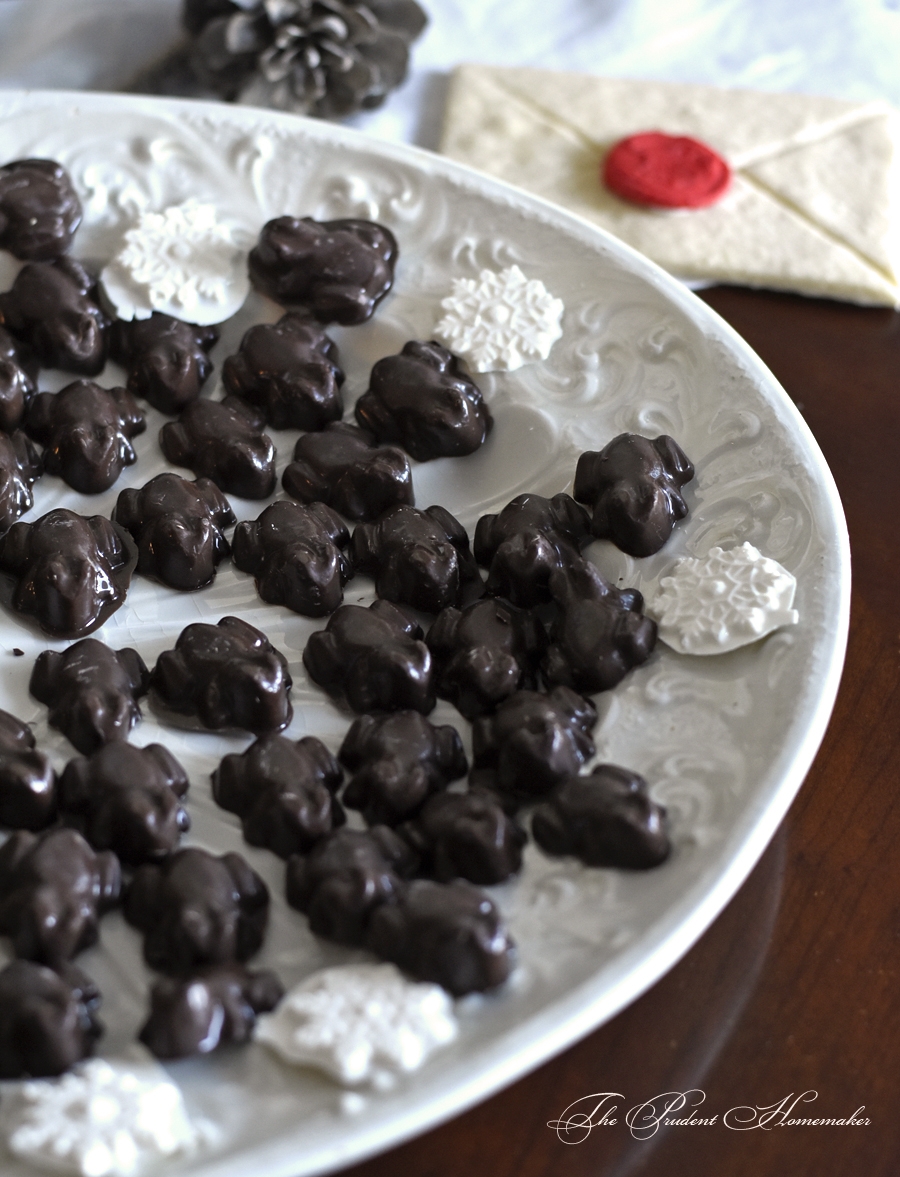 I made most all of the desserts in miniature, which made it possible for people to try several things without feeling like they had too much dessert. I used my miniature chocolate frog mold and a tiny snowflake mold to make these chocolates.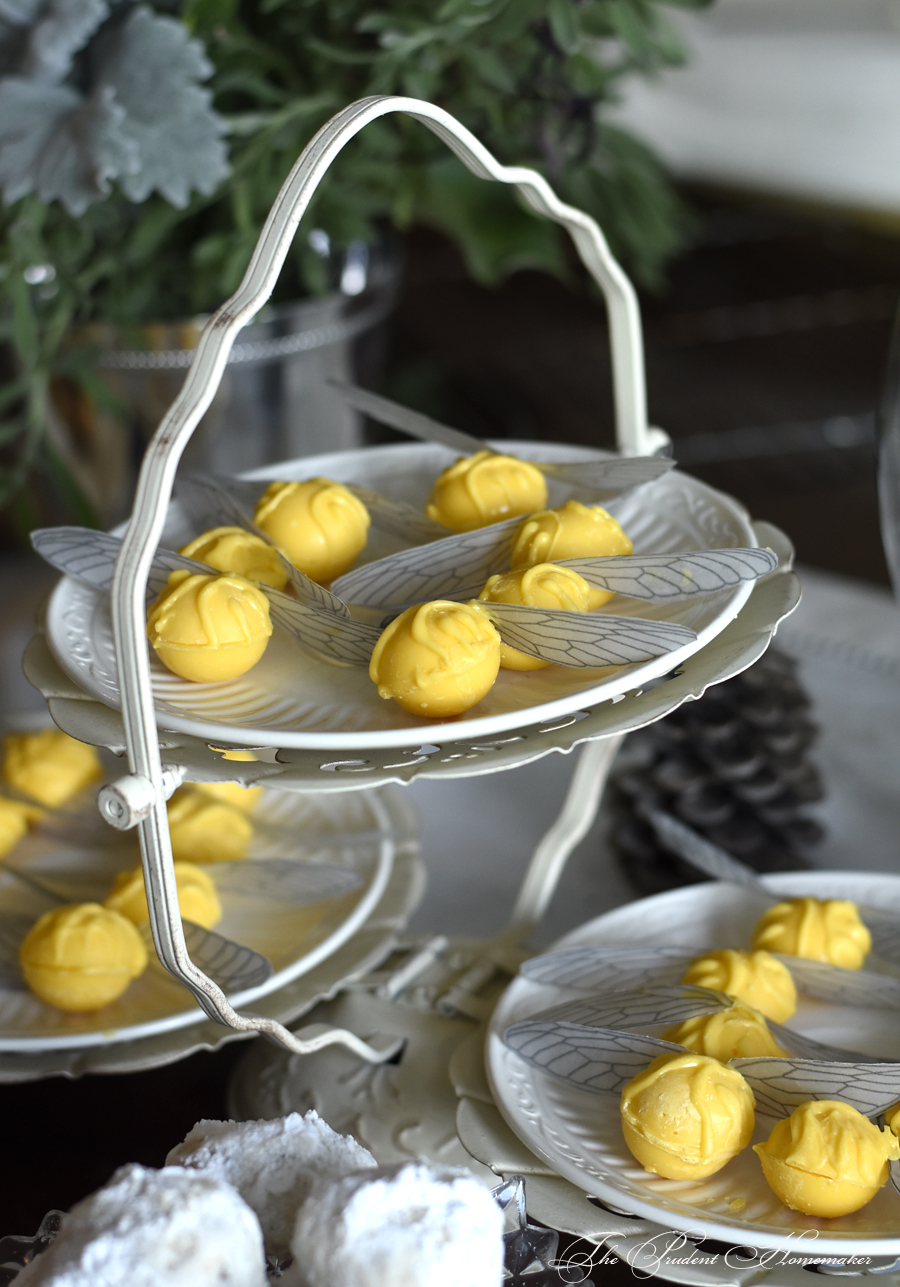 I used a half- sphere mold to make these snitches. My 11-year-old put them together, piped the design over them, and added the wings.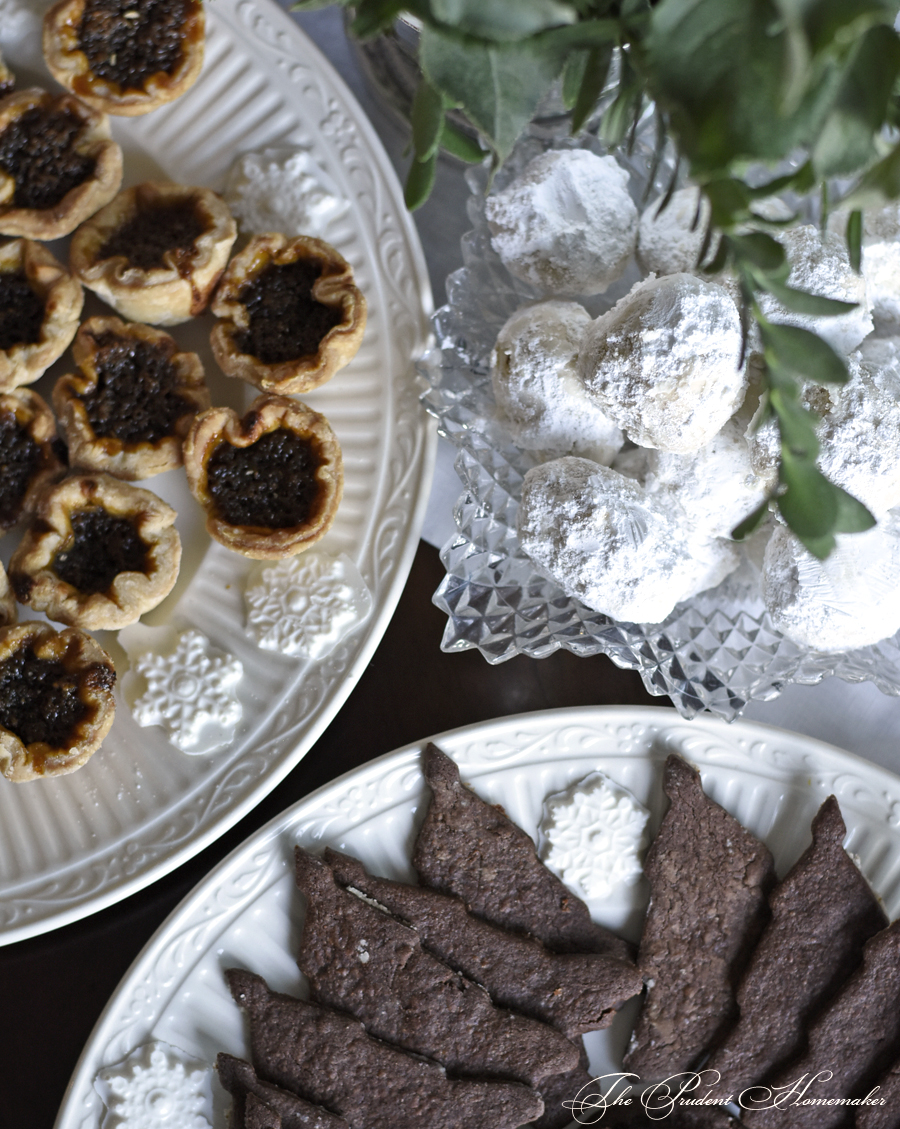 I made miniature treacle tarts (Harry's favorite), snowball cookies (about double the size of normal, which was only because I had not made them before, but in the future I will make them smaller), and chocolate wafer cookies.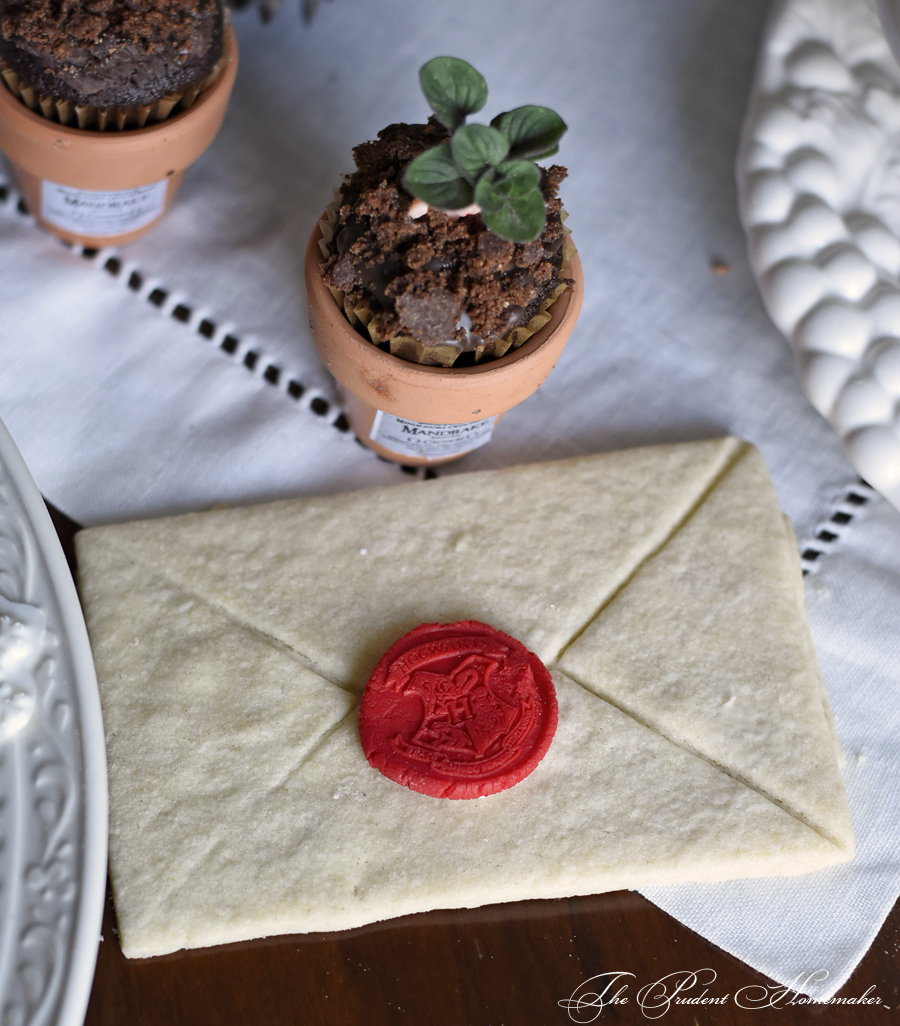 I made some envelope cookies with red fondant Hogwarts seals (affixed with white chocolate). These were a bit larger and though delicious, I think they were too large for a baby shower where all the women want just a little dessert. At a children's party I think they will be eaten without a problem.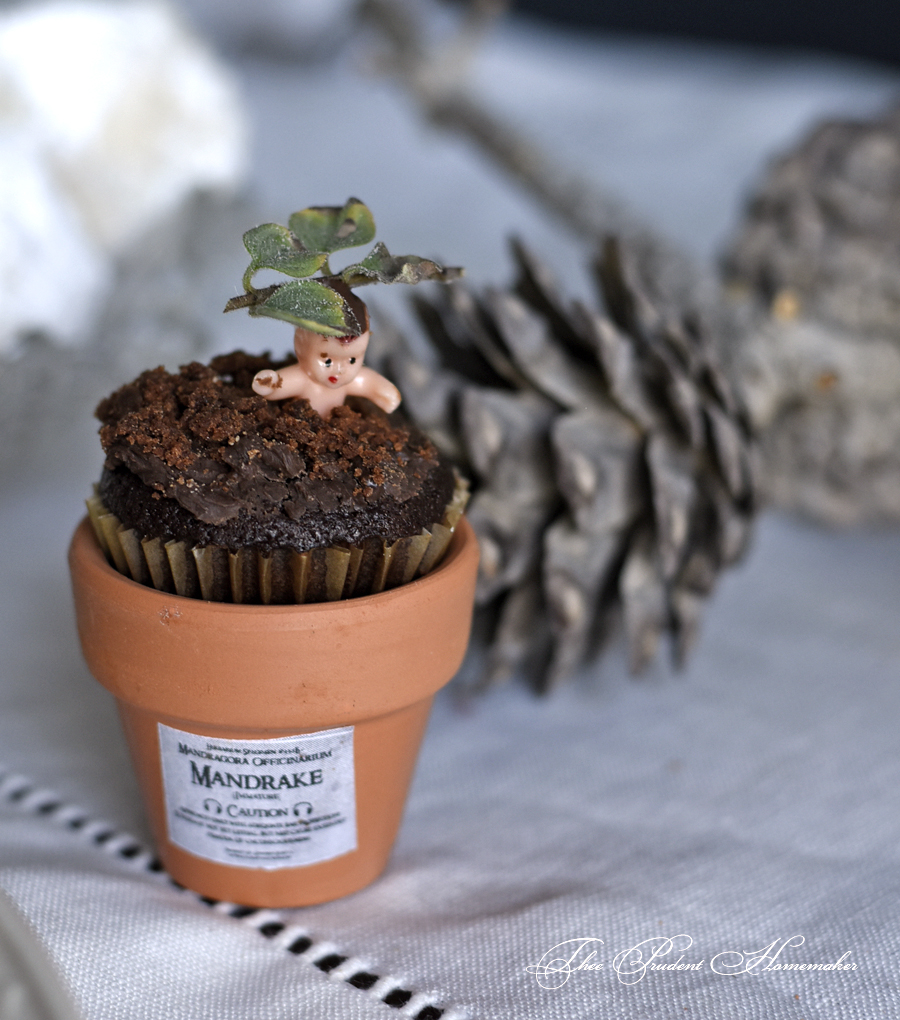 The biggest hit among the Harry Potter fans in attendance were these miniature mandrake cupcakes. I made the cupcakes in miniature and bought the smallest terra cotta pots I could find. The mandrake label is a free printable (see sources below). The cupcakes were topped with melted chocolate and chocolate cookie crumbs. We then put in the baby and added a bit of melted chocolate to his head, which we used to affix oregano leaves from the garden.
The second largest hit were the cheese and pretzel broomsticks. We made them last minute so that they cheese would be fresh. I didn't get a photo of them, but I've included a link to the instructions below. I think everyone enjoyed having a savory choice in addition to the soup and salad.
All of those who had soup loved it. It was just the right thing on a winter evening.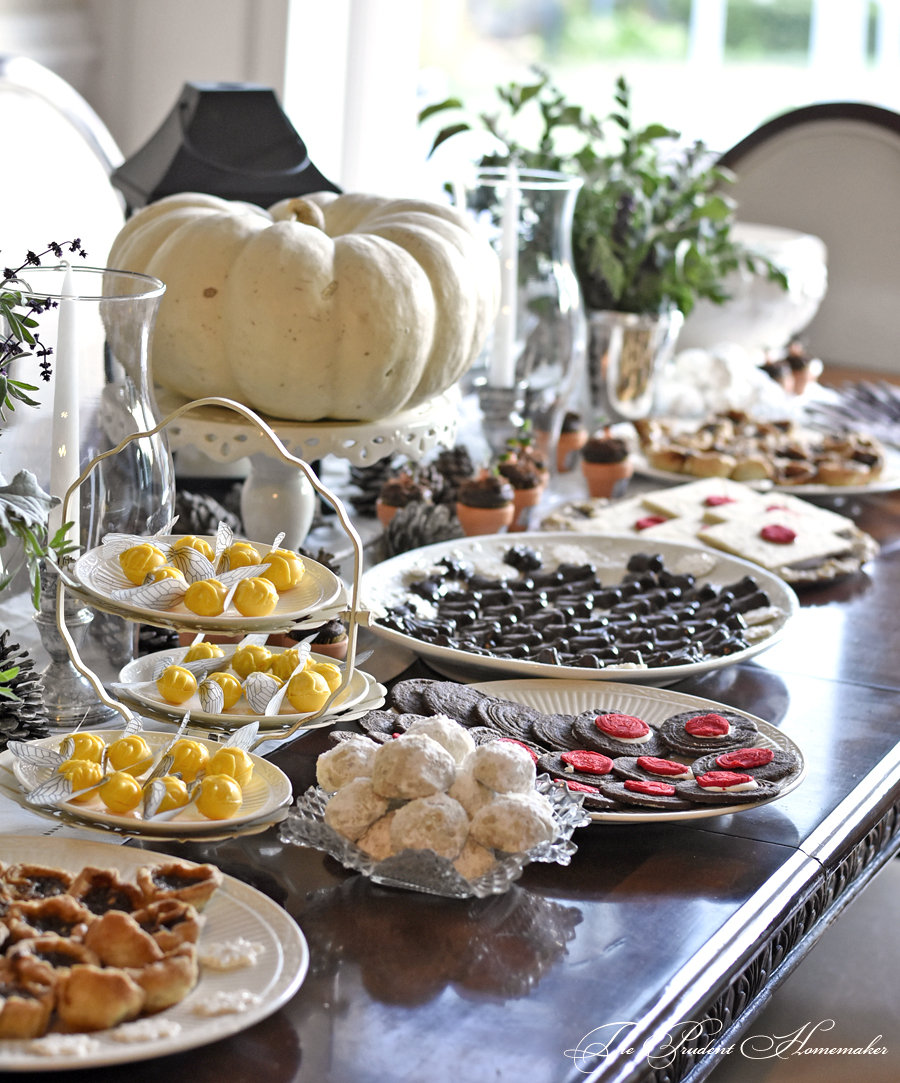 The white pumpkin is one I bought at Lowe's that has graced my table all fall since I purchased it at Lowe's in early fall. The floral arrangements were apple branches, Thai basil, dusty miller, and euonymus from the garden.
Being Christmastime, we had up our Christmas decorations as well. We set up a trunk that I had (a garage sale purchase years ago) under the tree, and the gifts went into that as well as around the tree.
For drinks, I served water with a lemon from the garden. Another guest brought butterbeer, which she made by mixing up a few different recipes that she had found on Pinterest. It was delicious!
There were about 30 people in attendance.
The best part, after everyone else had left, was when the recipient told me that it was just the kind of shower she wanted: we had food, sat and talked, and opened gifts.
Resources:
vellum (opaque paper for printing wings)
Happy Christmas banner template
plastic babies: Hobby Lobby
mini cupcake wrappers: Joann's on 50% off sale
mini pots: Hobby Lobby. They come in a package of six for $1.99. I bought them on a 50% off sale.
red fondant: Hobby Lobby. I used a 40% off coupon to buy the small package.
Free printable customizable invitation
Wilton melting chips: bought 3 for $5 on sale at Michael's
Pretzels: I bought just a small amount (enough for the party) in the bulk bins at Winco. It was much less than buying a whole bag of pretzels (as well as cheaper per pound)
String cheese: Sam's Club in bulk (around $2.56 a pound)
chives, oregano, and centerpiece greenery: From the garden
Recipes:
Chocolate cookies (also used for crumbs on top of cupcakes)
Cheese and pretzel broomsticks
Looking for more Harry Potter party ideas? Check out my Harry Potter party board on Pinterest.