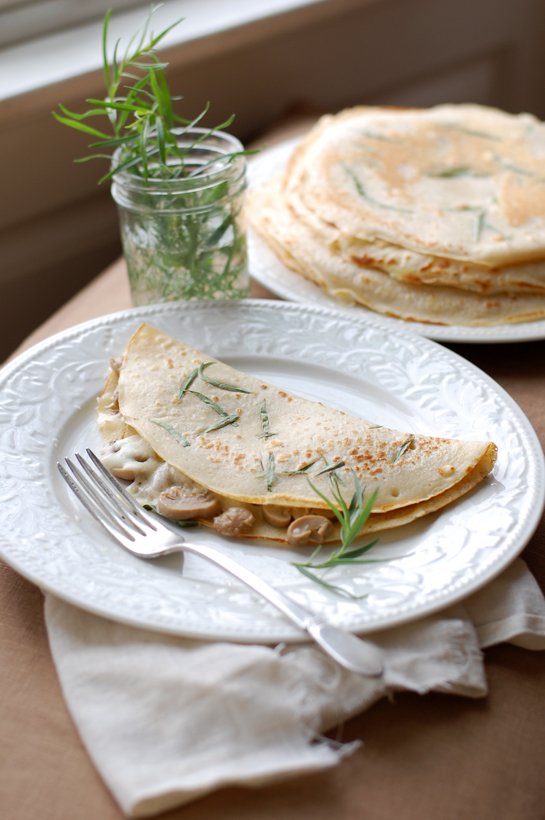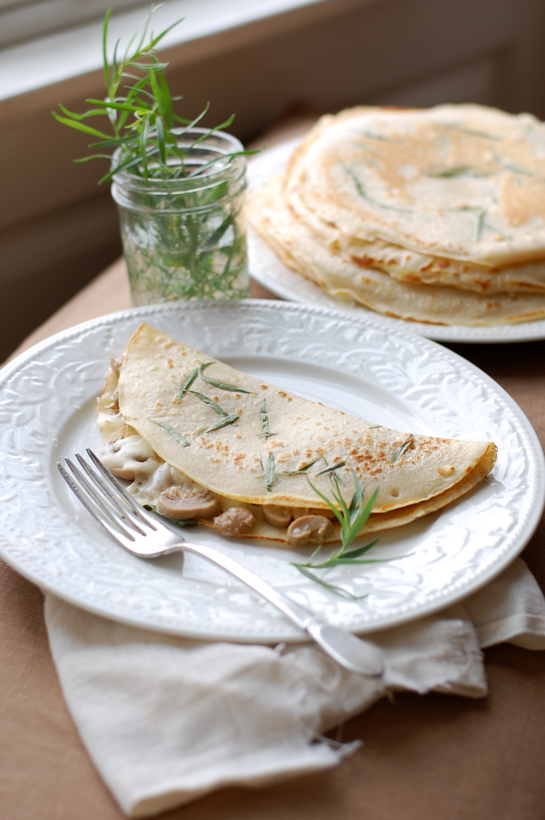 One spring morning in Clermont-Ferrand, France, I was invited over for lunch with a family with three young children. Lunch was simple ham and cheese crepes. Until then, I had only had crepes for breakfast. I remember the father of the family telling me that he often had ham and cheese crepes, and that they really go well with anything inside of them. I remember sitting in their kitchen that morning, warm and delicious, and agreeing that ham and cheese were wonderful crepe fillings!
I make crepes on a regular basis for my children. We had these for lunch one day, with sauteed mushrooms and Monterey jack cheese as the fillings. The children loved them.
Serves 12-16
4 eggs (4 Tbsp powdered eggs)
7 cups milk (powdered is fine)
Cut herbs of your choice (tarragon, basil, oregano, parsley, etc.)–optional
Fillings for crepes: grated cheese, ham, mushrooms (I use canned from my pantry), etc.
Whisk together flour, salt, eggs and milk.
Spray a 9 1/2 inch crepe pan or frying pan with oil. (Spray lightly in between each crepe to prevent sticking). Heat pan over medium flame. Pour crepe batter 1/2 cup at a time into the pan, swirling the pan above the heat so the batter covers the entire bottom of the pan.
Sprinkle herbs into the crepe right away.
Cook until the edges become dry and pull away from the sides of the pan. Then, using a spatula, quickly flip the crepe over and let it cook on the other side for 30-60 seconds.
Keep crepes in a stack on a plate while cooking to keep them all warm.
Serve crepes by filing them with cheese, ham and cheese, or sauted mushrooms and cheese. To melt cheese, you can simply stick the plate in the microwave for 30 seconds, or you can put in in a warmed oven.This makes a wonderful meal anytime of day, and is nicely accompanied by a salad, if desired.

Notes: I buy my flour and salt in bulk from Sam's Club. I buy powdered milk in bulk; see the Grains page for bulk resources. I grow several fresh herbs in my garden; you can also use dried; Sam's Club has a great selection of dried herbs in bulk.
I buy cheese at Sam's Club and keep grated cheese in my freezer.
I will saute canned mushrooms in a little butter to give them a delicious flavor before adding them to the crepes.
For ham, I use leftover ham bought on sale during the holidays.
These are also delicious without herbs at all!