This past week was really about saving money. Sometimes we feel like we have to make more money in order to meet our needs, but really, we just need to find a way to do it ourselves.
I sowed seeds in the garden for romaine and looseleaf lettuces, Swiss chard, green onions, and parsley. The green onion seeds and Swiss chard were ones that I had collected from my garden earlier this year. I'm glad there is still a spot to grow some things, as we decided just recently to redo one of the beds where I was going to plant things this fall.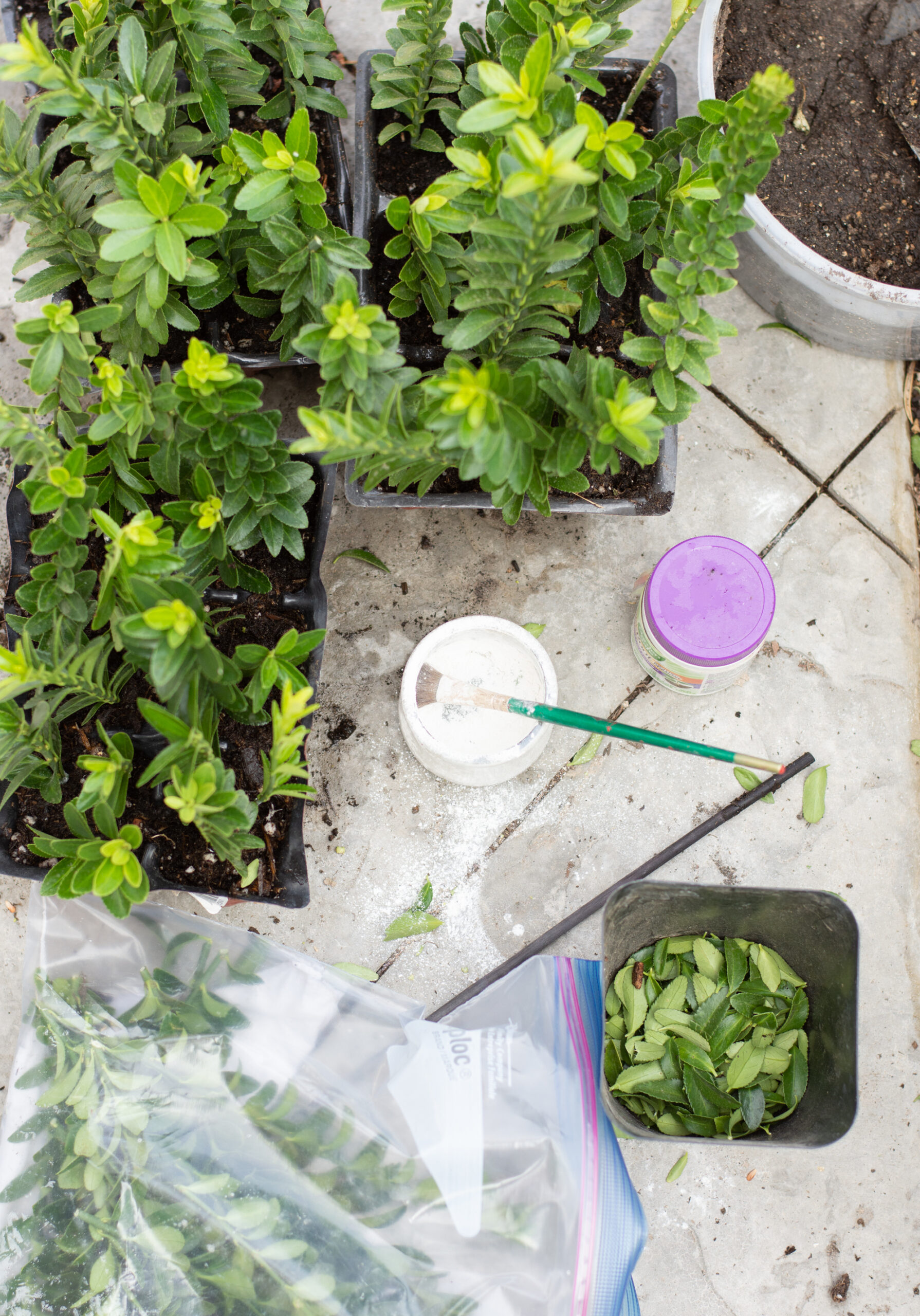 I purchased eight used 15-gallon plastic pots from the nursery for $1.50 to temporarily pot my roses and other large plants that are being moved in the garden. I dug two roses so far, and I tried to keep as much of the soil around the roots as intact as possible when moving them. We also dug a lilac bush that is being moved.
Knowing I would need new bushes for the garden, I didn't trim my boxleaf euyonomus the last time they needed a trim. This past week, I took cuttings from my boxleaf euyonomus plants to attempt to start new 492 plants. I counted and I will need 1244 plants! At $3.88 a plant, that would be $5231 (with tax) just in hedges! I have decided to just take cuttings; hopefully, I will have success with them, and in five to six years, I should have a hedge. While this is definitely a spend money to save money kind of project, we want to keep all of the expenses as low as possible. I'll have to wait for my bushes in the front yard to continue to grow before I can take more cuttings, and it may take a year before I have enough cuttings to start all the bushes I need, but the savings is worth the wait. I don't expect them all to take, but I'm hoping for at least a 75% success rate.
I needed to move three of my new blackberry bushes, as we will be relocating them. I dug them and put them in pots and then took cuttings from them to hopefully start new plants. I've had better success making new plants by tip layering these in the past than from cuttings (where I had next to no success), but vines were broken when I moved them from the trellis, so I decided to watch a couple of YouTube videos to see if there was a better spot from which to cut than I had been (yes) and a better length to cut them (also yes). I took 35 cuttings. I don't need that many, but hopefully, I will get plenty for what I do need.
We dug more paperwhite bulbs from the garden to replant elsewhere. These ones were bulbs that had multiplied before in the garden. They reproduce rather well here outside.
I cut Swiss chard, basil, chives, and green onions from the garden.
I took my husband to the nursery with me on senior discount day to purchase four of the new trees that we will need. I had hoped for a sale, but instead used the 10% off senior discount. I had spoken previously with the manager and he told me that they will not be receiving any new trees until April, so I decided to buy trees now. Unfortunately, they did not have the other 5 trees that I still need.
When lockdown first started, our school district began offering food to all children at outside pickup stations. We decided not to go anywhere during lockdown and did not pick up the food, and then I forgot all about it. In late May, our next-door neighbor brought us the leftovers that his children hadn't wanted from the food that week. It was very good (lots of milk, vegetables, fruit, whole grains, etc.) and we decided that we would pick up food as well then. It was offered for all children ages 2-18. It went through most of the summer and then ended.
When school started again, the district again received federal funding to continue the food program through the end of 2020. At the beginning, they only offered it to public school students and required a student id number. A few weeks later, they opened it to all children ages 2-18 again, no matter what school they attended (charter, private, homeschool, etc.). Three weeks ago, finding that not enough students had come, they decided to provide breakfasts and lunches for the weekends as well (handed out with meals on Friday). They also asked more families to come, because if they did not, they would have to lay off the employees who were distributing the meals. A week after that, they announced that the food would continue through June of 2021. The nice thing about fall pickup for us is that it went from a school fifteen minutes away to a school only five minutes away.
The food has been a great blessing to us and to many families. If your school area is offering this, I would advise looking into it! It's not the same in every state or school district, but here, it has been generous.
My husband and I had a date night at home and watched an old movie that we had while enjoying some ice cream after the children were in bed.
My husband and I cut his hair.
The side sliding door on our van stopped opening. My husband took it apart and found the broken piece. He went to the dealership with the broken piece, bought a new piece for $6, and fixed it himself, saving us a repair bill that likely would have been around $300.
What did you do to save money last week?
Look for a post later this week where I'm sharing the details of my garden plans!
Would you like to support my site?
 As an Amazon affiliate, I earn from qualifying purchases made through my links. This means that I earn a small percentage from ANY items you place in your cart and purchase within 24 hours after going to Amazon from one of my links (i.e., it doesn't have to be an item I have linked here). 
If you're going to be making a purchase from Amazon this week, I thank you for using my links to support this site!