This post contains affiliate links.
I picked peaches from our Early Elberta peach tree. Normally I don't harvest these until July, but they are ripe early. They are huge! We sliced them and ate them every day last week. One morning I made puffed pancakes and topped them with peaches, and another morning I made crepes and topped them with peaches.
I picked Dorsett Golden Apples from our tree.
I cut a couple of bunches of Thompson's seedless grapes that ripened early.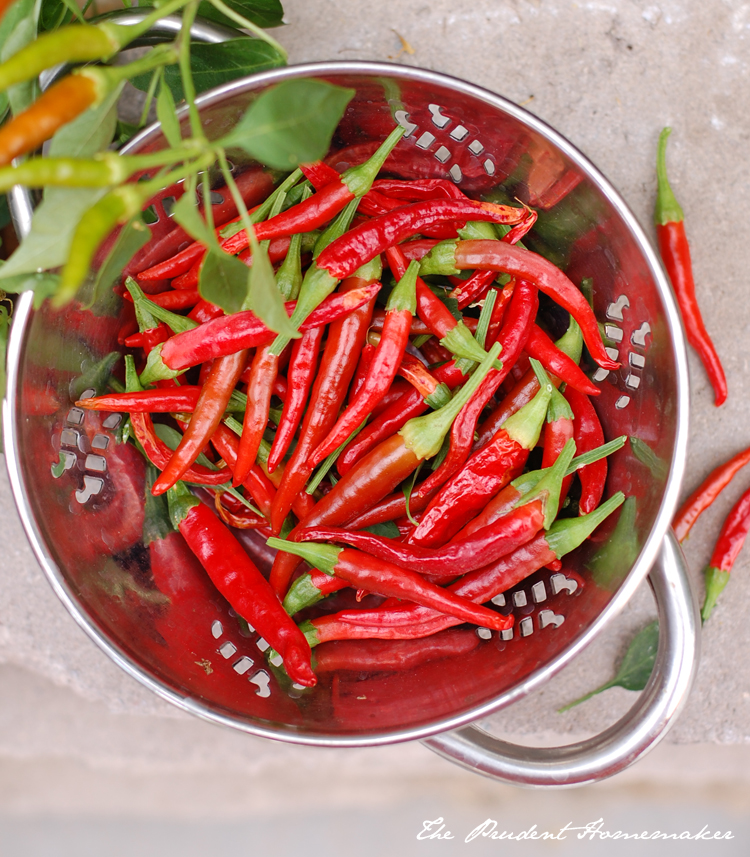 I cut hot peppers from the garden. I am drying these. They can be crushed or run through a food processor to make red pepper flakes, or cut with scissors to add to chili and Asian dishes. I used several this week to make plum sauce. My mom mentioned to me that my grandpa used to put them in a bottle with vinegar and use the liquid as hot sauce. I did a little research and it looks like hot sauce is extremely simple to make. The recipes I found were all meant to be stored in the refrigerator, so I am going to look for some canning recipes and see if I can try canning some homemade hot sauce.
I cut green onions from the garden.
I collected green onion seeds from the garden.
I canned 15 half-pints of plum sauce from the plums from our tree.
I planted zinnia, dahlia, and vinca seeds in the center circle in my backyard.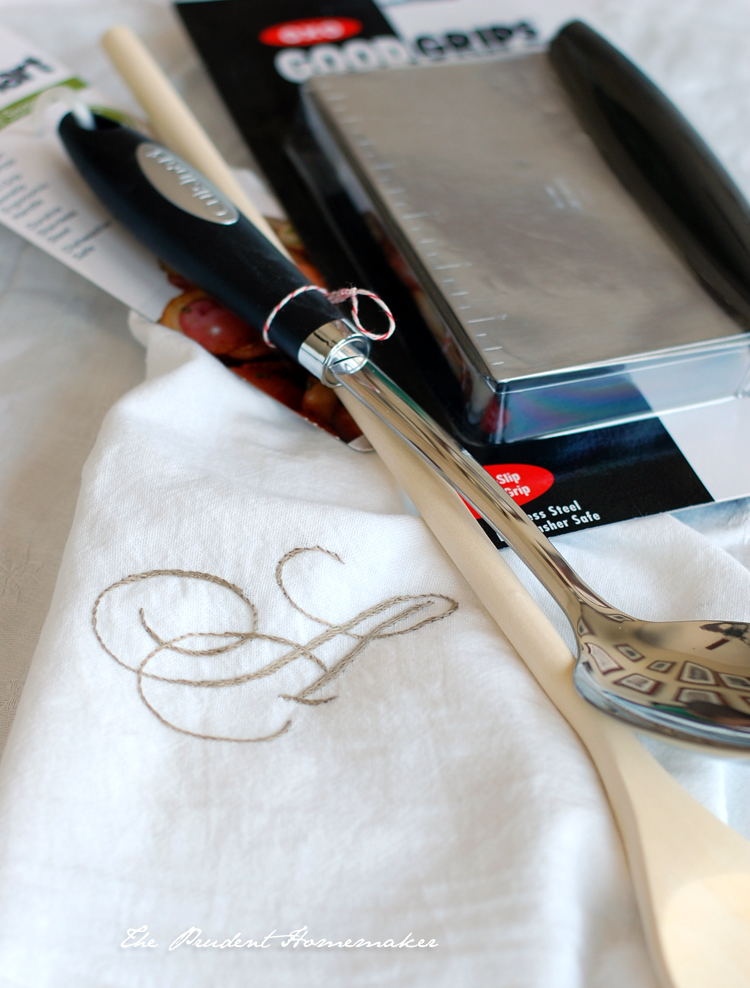 My nephew was married last week. I bought two items off their registry and used a $5 off coupon on the purchase. I also included a long-handled wooden spoon
(I bought a dozen of them
to use for gifts) and I hand-embroidered a kitchen towel with their initial on it in a natural linen shade, as the bride had registered for other kitchen items in that color. I chose items on her list that were immensely practial; I love that she registered for a dough scraper
. I use mine all the time to make bread.
I made a change to my shopping plans when the Smith's ad came with a sale on pasta for .49 a pound. This is a price that only comes around 2 to 3 times a year. The store didn't have all that I would have liked to buy, but I did buy 30 pounds (that may sound like a lot, but it is only 15 meals for us). They also had Speed Stick men's deodorant on sale for $1.49, so I bought several of these for my husband and son. I also bought whole milk on sale there for $2.59 (I bought 4 gallons) and the large party pails of ice cream on sale for $3.99.
My mom found two containers of pectin
on clearance for 50% off (the Ball No-Sugar Pectin
that make 11 pints) and picked them up for me. They were $2.64 each. She only let me pay her $ 5 for both of them.
I used several coupons and printed out Target Cartwheel for discounts on several items I needed. I purchased 2 bottles of the store brand of vitamins (one men's and one women's, both 300 count) on sale, plus another 15% off. I want to have plenty of vitamins in our storage.
We were gifted some tomatoes and cucumbers from someone whose garden was producing well. I made cucumber and tomato salad twice with them. This was a great blessing, as I have neither of these to harvest right now (though normally I would), and three of our tomato plants died this week. I also used 2 more cucumbers to make pasta salad.
I listened to music on Pandora.
My husband and I had an at-home date. We ate ice cream and played Sequence
.
I redeemed 2 $25 gift cards to Amazon from Swagbucks.
I used my Amazon credit to order a Thermal Cooker
. I had been considering making myself a wonder box (you can also buy one
) but I decided to purchase the thermal cooker instead. I feel that this is fantastic for emergencies, as you only need to boil the food for 6 minutes and then it will finish cooking like it would in a slow cooker without any more fuel needed. It's also great to keep the heat out of the kitchen for the summer, and to reduce the power bill (both from cooking and heating up the house). I love that it's portable, too; I can cook soup and bread it in while I'm gone somewhere all day and it can come with me in the car, which makes it great for day trips. This would be a great frugal option for those who have sports every night; you can eat a really frugal meal (like soup and bread, or chili and cornbread) instead of eating out while you are at practices.
I used some patriotic ribbon that I received from my mother-in-law some years ago to make two medallions for the front door. I'll have pictures of these in an upcoming post.
What did you do to save money last week?