Last week I continued working on my organizational goals for the house.
I cut flowers from the garden for the house.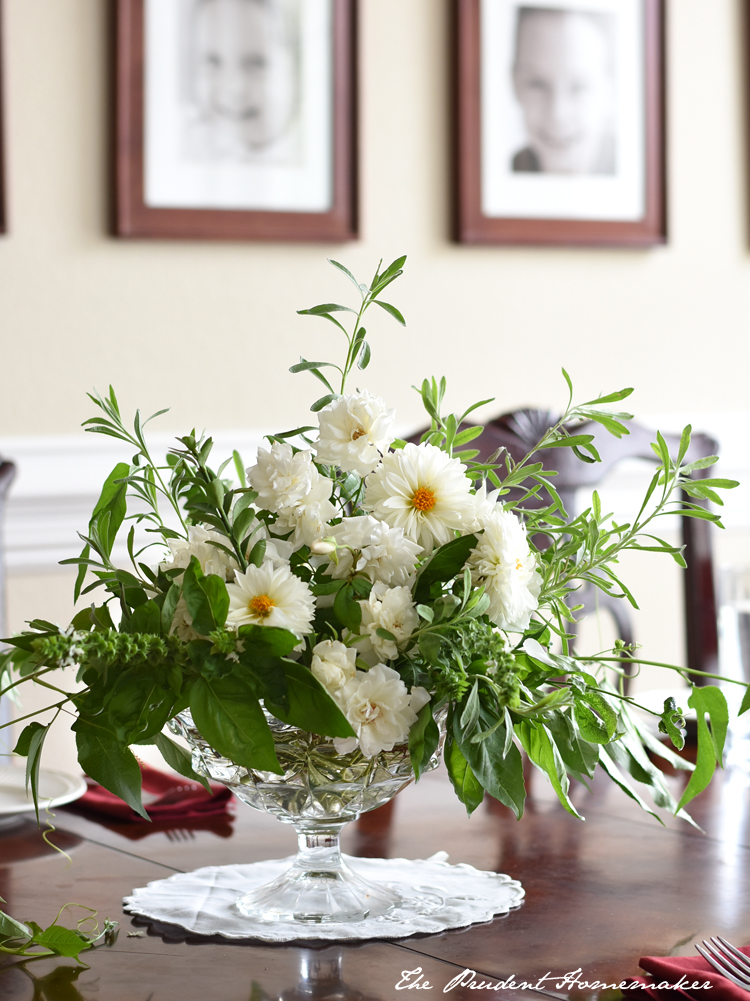 I cut apple branches from the garden for a vase in the house.
I cut euyonomus branches to bring in the house.
I spent time organizing my seeds to have them ready to plant.
I found out that the seeds that had self-seeded in the garden were a mix of both beets and chard. A few of them self-seeded in the grass. Before the grass was cut, I went out, dug them up and replanted them (this time, more than 2 rows apart!) in the garden. I also thinned and replanted several of the others that were growing in the planter close to the grass.
I decided not to fertilize the lawn this month. The rain we had the week before last turned it a beautiful green, and the rain we had this last week should be enough to keep it dark green until it is time to manure the lawn at the beginning of November. Manuring the lawn while it is warm out helps the lawn remain a darker green during the winter than other fertilizers.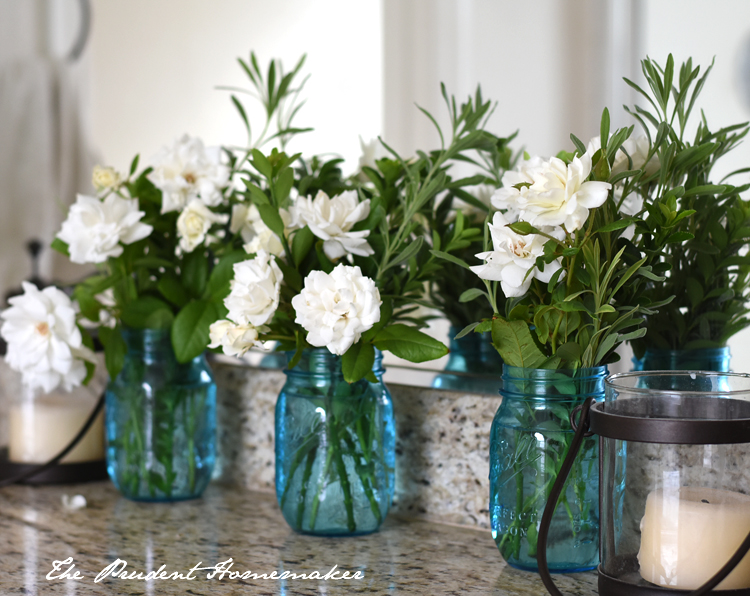 I don't recall ever seeing rain here in October; seeing it twice was a surprise! The lower temperatures are helpful for the garden, so I took advantage of a few days where soil temperatures dropped to plant some seeds in the garden. Temperatures dropped from 96º to 77º (36º to 23º C) from Wednesday to Friday. My soil temperature dropped to 70º on Saturday. I spent time trimming burnt alpine strawberry leaves, pulled out dead plants, trimming the hedges in the white garden, transplanting a few plants in the white garden, and sowing seeds in the white garden.
I took a trip to the nursery, where I used a $10 off $50 coupon. One of my orange trees died suddenly in the spring this year (and the other died way back). I took advantage of a sale on citrus trees to get a mandarin tree to replace the dead orange tree (they were 30% off at $20). I bought a few flowers–two stock (also on sale) to go in my urn in the white garden (I planted more stock seeds that I gathered from the garden in the urn as well), two white snapdragons (that I'll plant in pots in back) and two cyclamen (that I planted in the pots by the front door; they will overwinter outside here but need shade so asto not burn, and I needed a flowering plant to put in full shade). I also bought a few herbs and vegetable plants.
I resisted the urge to purchase flowering kale to plant in the garden, and instead planted seeds for them that I had purchased earlier this year.
The nursery workers were pruning a large succulent that grows at the nursery. They no longer get small plants of this to sell, so they were potting cuttings. One of the nursery workers gave me a piece to try. I potted it. If it grows, it will make a nice gift for my dad.
I cut three large bundles of basil and hung them to dry.
I cut Armenian cucumbers from the garden. Unfortunately my vines died last week. I cleared them away and planted lettuce and stock seeds in their place. I also planted more alpine strawberry seeds to replace the ones that had died in the harsh sun.
I cut large bunches of beet greens, that I sauteed and added to a pasta dish.
My zinnias in the white garden succombed to powdery mildew. I tore them out and will plant seeds for fall and winter flowers in their place this week.
I turned the drip irrigation off before the rain. The cooler temperatures also meant that I could turn off the air conditioner on Friday. I am hoping we are done using it for the year!
I went through the picture frames I had that were not hung and decided where to hang several of them in the house. I have been buying frames at garage sales (usually .50 to $1 each) and now that I have enough I can do a collage in one room. I also decided where to hang a few others. I bought some good picture frame hangers for wholesale from my parents (who are picture framers) and my dad cut a piece of glass for one frame for me from his small scraps. My dad also gave me some things to hang a bulletin board in one of the girls' rooms. I had bought this bulletin board at a garage sale for $1 over a year ago but had not hung it yet. It's now hung up and the girls are happy to have a place to hang their artwork in their room.
By accident, I found a blog on Pinterest that has the same name as a shop whose printables I have admired on Etsy for a while. The printable that I had been thinking of buying is free on the owner's blog!
I tried out a couple of workout videos that I found via Pinterest. I think they were harder than the workout video that I have and I am going to work at including these a few times a week into my exercise routine.
I read a book that my mom had recently bought at a garage sale for .50. I had no idea what the book was about, which I think was a good thing, as it led more to the mystery of the story. The book was Girl in Hyacinth Blue. (Note: It's not a book for children.) It was a very different kind of storyline, which was rather fascinating.
I watched two shows online for free: Home Fires on Pbs.org and Castle on Hulu.com.
I mended two items of clothing.
Cyrus needed to print some photgraphs for a Boy Scout project. I signed up for a Walmart account, and they sent me a coupon code for 25 free prints. I printed the 16 he needed and only had to pay tax. It says that the credit for the other 9 will still remain in my account, so I'll use those to print the pictures I want to hang in the smaller frames.
What did you do to save money last week?