I did not go grocery shopping again this week (this makes 4 weeks now). Our freezers are now full with chicken (I cut up the rest of the birds this week and put them in the freezer. Many thanks to those of you who said to let the meat rest 3 days; we experimented with eating one the same day we butchered it and eating one that had sat for 3 days, and the one that had sat was tender.) Our pantry is well-stocked, and the garden is producing plenty of fruits and vegetables. I also still have about 7 pounds of carrots left in the refrigerator (I buy them in a 10 pound bag for .38 cents a pound, and they last a couple of months in the crisper drawer).
This week we harvested apples, apricots, blackberries, plums, grapes, red noodle beans and asparagus yard-long beans, spinach, green onion, chives, basil and tomatoes from the garden.
I paid my utility bills online, saving the cost of postage.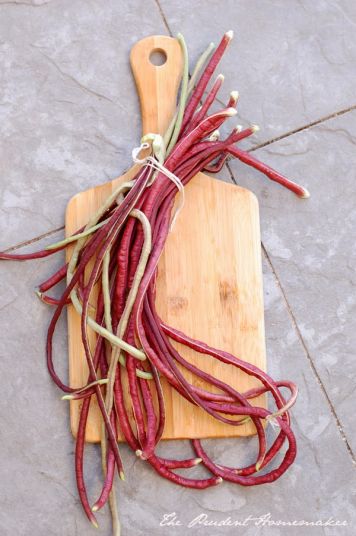 Red noodle beans and asparagus yard-long beans, both better producers in the heat than traditional green beans. These are pole-type beans. I harvested this many twice in the week. The area is 5 feet wide with a plant every 6 inches. I planted more seeds in other places in the garden last week.
The summer shows that my husband and I like to watch (from USA network) are starting again. We watched the first episode of two shows for free on Hulu.
Some friends of my parents moved out of state. They know that we have a garage sale once a year, so they gave us some things to add to our garage sale pile on Monday. My dad decided to give us some things he didn't want to add to our garage sale pile, too. My husband had just finished cleaning up the garage the week before, and didn't want to store these items until our sale next spring, so I decided to have a garage sale on Friday. I added in all of the things that I had already put aside for our next sale. The total number of items was a lot less than we normally have when we have a sale, so I wasn't sure it would be enough for people to even stop. We set it up on several tables and made it look as full as possible.
Garage sale season is much earlier here, too; this time of year, not as many people like to go to garage sales because of the heat. It cooled down to 100ºF on Friday, making it cooler than the week before, but still quite warm. (We normally have a garage sale in March or April).
Taking the weather and off-season into account, and the fact that we had a lot less items, I set myself a smaller goal for this sale. I always have a goal amount that I would like to make for each sale. In the past we have never made less than $220 at a sale. This time I set a modest goal of $50, and even questioned if we had $50 worth of items.
We priced items low, and when people made offers, we took them–or met them halfway. We had an item marked $8 and took $5, another marked $3 and we took $1.50, and another marked $10 and we took $5. Those were our "big ticket" items. Most everything else was marked 50 cents or 25 cents.
At the end of the sale, we had made $61.25. This money will go with the money from our earlier sale this year to put towards recovering our living room furniture.
As a bonus, we ended up keeping a few items that we could use, including a large plastic bento-type box that has a place for a sandwich or main dish that is larger than the traditional square sandwich. It will fit my homemade bread for sandwiches, which makes it great for sending with my husband to work. We had a cabinet that several people wanted to buy, but could not fit in their cars (we had to give one man, who did buy it, his money back when it wouldn't fit in his car). I kept the cabinet for storing fabric and other sewing items. I kept a tin that had sewing needles inside. It also contained a measuring tape, which my dad kept for measuring soft canvas pieces (though officially retired, they are still working a bit doing framing jobs). I also kept a paper shredder, which I will use to shred the children's school papers for our compost.
I received two free magazines in the mail.
Thanks to a tip from a reader on my Facebook page, my husband took an old tie to Krispy Kreme donuts and received a free dozen donuts. Her timing was perfect as he had to be on the same street an hour and a half later after she shared the tip (we are not often in that area and it is about 20 minutes away).
I mended several things: a bedskirt, a vintage handkerchief, two dresses, a slip, a pair of underwear, and a cardigan.
I cut the buttons off of 5 pieces of clothing that were past mending and added them to my button jar.
I taught Winter how to make herself a pair of pajama pants using a remnant that we had.
I continued to collect water from the shower and from rinsing pots (final rinse water) to water our potted plants. Saturday night I watered a few pots from the hose for the first time this year. Six and a half months of not needing additional water for 6 fruit trees and 10 other pots (including my bay tree) has been wonderful. I will continue to save that water for watering them, and use additional water only if necessary.
I thinned and transplanted the thinned seedlings of vincas and alpine strawberries into other places in the garden.
I took some time to read several things online about growing fruit that, once implemented, should help increase my yields next year (items have been pinned on my Edible Landscaping board).
I collected lettuce seeds from my bolted lettuce plants to plant in my garden this fall and next year.
What did you do to save money last week?