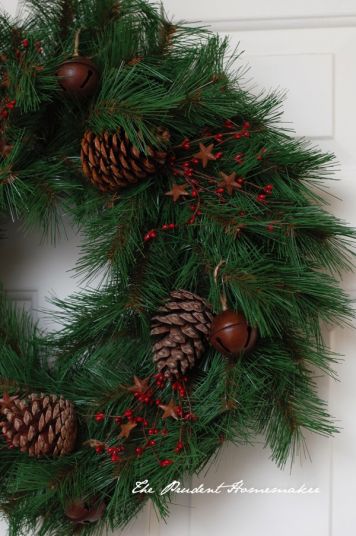 We put out our Christmas decorations this week. For us, that means pulling out a faux Christmas tree, a nativity, a bit of faux greenery, stockings, and three wreaths. This year I added to those things with three new wreaths–the one I posted over the bed last week, and two that I made this week for the front doors (detail above; I bought supplies 50% off several weeks back).
I moved the wreath that used to hang on our front door to above the stove. I made that one the first Christmas that I was married. My mother-in-law brought over the wreaths and decorations for the wreaths to our apartment for all of my sisters-in-law and myself. We made them together and it was a great way to feel part of my new family.
For the past several years I've had to hot glue parts of the wreath back on. This year was no exception. I added two pinecones to it this year to replace a broken one and a missing one.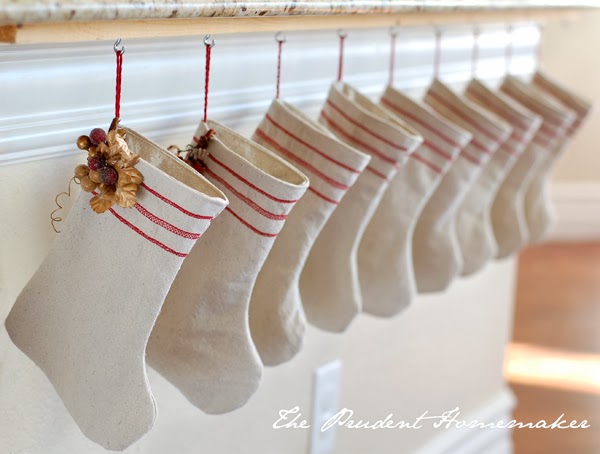 I made some new smaller stockings using dropcloth that I already had. We now have enough for the family.
My daughter had her birthday this week. I made her a dress using fabric that I had on hand and I made a doily bunting for her using ribbon and doilies that my mother-in-law gave to me a few years ago.
I watched a large part of a Creative Live free rewatch of a food photography class. I had been able to see some of the class earlier this year but I was able to watch a lot that I had not seen. Some of it was just listening as well. I was thrilled to be able to have a laptop to take with me near the sewing machine; I listened while I made Winter's bunting.
My husband worked from home several days this week. I cut Swiss chard from the garden for the soup.
I cooked a turkey and a ham this week. We sliced the ham for sandwiches. I made French bread twice this week (8 loaves) and we used that to make our sandwiches. I also used homemade Italian dressing on them.
I also made soup, balsamic orange vinaigrette, pasta salad, crepes and cookies.
I ordered a picture for Wren's room using a free downloaded image from The Graphics Fairy and using a free 8 x 10 code from Walgreen's. This will be a Christmas gift for her.
My husband and I watched a couple of shows together on Hulu. We also had a date night at home after the children were in bed; we played a card game.
I didn't buy anything last week.
What did you do this week to save money?