I picked grapes, basil, Thai Basil, tomatoes, chamomile, one small cucumber, and apples from the garden.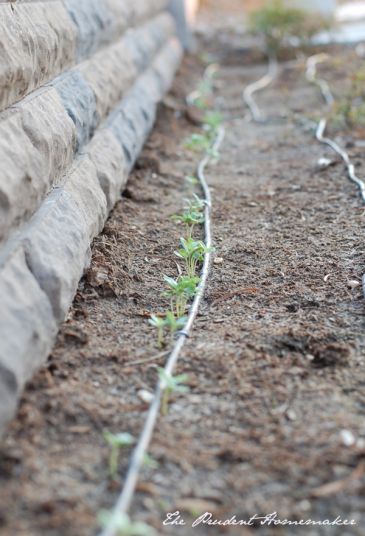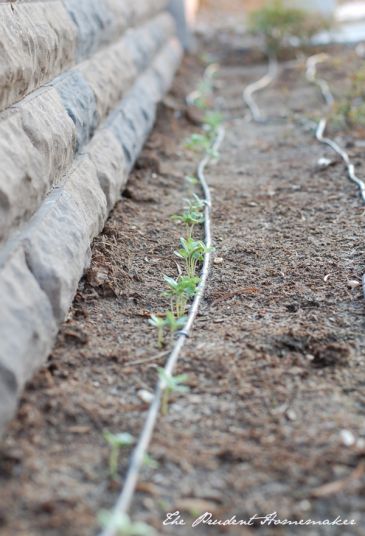 Zinnia Seedlings
I planted zinnias, vincas, Swiss chard, Armenian cucumbers, and melons from seed in the front yard. The zinnias, chard, and cucumbers came up already!
I collected seeds in my garden to plant again from larkspur and lettuce.
I fixed two spots in the drip line in the garden in the backyard.
I mended a dress.
I made a skirt for Winter from part of one of the sheets I bought at the garage sale in April.
I cut the sunflower heads from the garden for seeds.
I traded sunflower stems from my garden for 2 dozen eggs.
My father-in-law brought us some frozen blueberries last week. I made blueberry muffins.
I did some shopping for food this week. I picked up 36 ears of corn at .17 each. I bought a watermelon for .15 a pound (corn and watermelon were at Winco). I bought 6 dozen eggs at .99 a dozen (the sale is at Alberston's; it says limit 2 dozen but my husband picked them up and they did not impose a limit; I'm sending him back to get more on Monday; we eat 16-20 in one sitting with 9 of us. I usually try to limit our meals with eggs and use them for baking, however, we did have eggs one breakfast last week). I also bought milk and a plain yogurt so that I could make Greek yogurt. I bought a few other things as well, including 25 pounds of rice, some tortillas, and some cheese.
I made pizza, black bean burgers, bean burritos, white bean dip, spaghetti sauce (I served it on penne for a change), chicken cacciatore, peanut sauce, and chocolate peanut butter truffles.
I started buying sparklers for the Fourth of July a couple of years ago when Money Saving Mom mentioned the price (I hadn't realized how low they were!) This year I bought a box at Sam's Club. I wasn't sure it was the best price, but it seemed to be less than I spent last year. I was really surprised when I got home to find out that it was not 25 sparklers that I had bought, but 240 sparklers! I spent $9.99; which makes the sparklers .04 each! I now have sparklers for several years 🙂
We went swimming twice on the Fourth of July at two different people's homes (one in the morning and one in the evening); we had breakfast at one house and dinner at the other; I brought a double batch of chicken-flavored rice for the dinner potluck.
We weren't sure that we were going to catch a fireworks show, as several places in town that usually host them were not having any this year. As we were leaving my sister-in-law's house to go home to just do sparklers, we noticed that neighbors setting up their fireworks in the street. There were several thousand dollars worth of fireworks there. At the other end of the street, the people who lived there were doing the same thing. We sat on her front steps and watched both of their shows, plus two other people's fireworks on neighboring streets that were visible from where we sat.
Winter made some holiday decorations using construction paper.
I returned some blouses that I bought by mail that don't fit.
My husband changed the air conditioner filter. This helps the unit run better and saves money on electricity.
We needed to have the air conditioner repaired on our new-to us this year van. We called my nephew, who comes to people's homes to fix their vehicles. He found the problem and was very inexpensive, plus we did not have to drive to a mechanic's. (If you are new to my blog, we bought a used 15 passenger van in February so that we would have a large enough vehicle for our family. We sold our old 8-passenger vehicle for $500 less than the purchase price of our new-to-us van, so we ended up with a larger vehicle for $500.)
A few things from the previous week that I forgot to mention last time:
I used the $5 Etsy credit that Etsy emailed to me to buy a $5 download on Etsy, which also meant I wasn't out any shipping charges.
I noticed a water leak in a valve box in the garden; I told my husband and he was able to fix it before it had been going for too long.
I ordered a plinth for the front garden from Home Depot (online). I went through Ebates to get 5% back.
What did you do to save money last week?