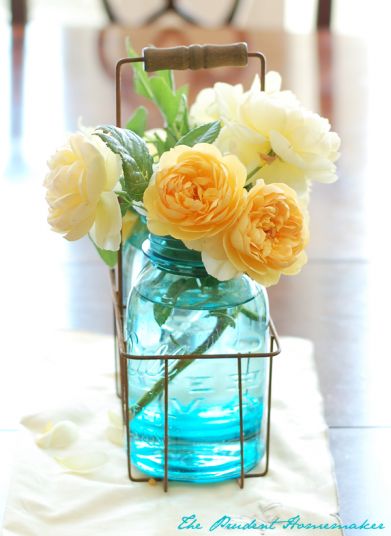 I cut roses and larkspur from the garden and brought them in.
I made a blue skirt for Wren using fabric from my grandmother's stash.
I gave Elsa a haircut. I bobbed her hair.
I picked peaches from our tree.
I also harvested the first of the blackberries, Swiss chard, bolted lettuce, green onions, sugar snap peas. I picked just a few blueberries (though they were covered with flowers, we only had about a dozen blueberries total from all of my plants). I also picked 8 cherry tomatoes.
I accepted a free 36″ wide set of Gorilla shelves from my parents, who don't need them anymore. My husband will use them in the garage.
I made a pineapple upside-down cake (using a can of pineapple that I purchased in April for .68) with Cyrus.
I cut bolting chard and arugula from the garden and traded it with a friend who has chickens for 2 dozen eggs. Her chickens and goats will eat the bolted plants.
I made a triple batch of laundry soap.
I printed coloring book pictures and gave them to Elsa to paint with watercolors.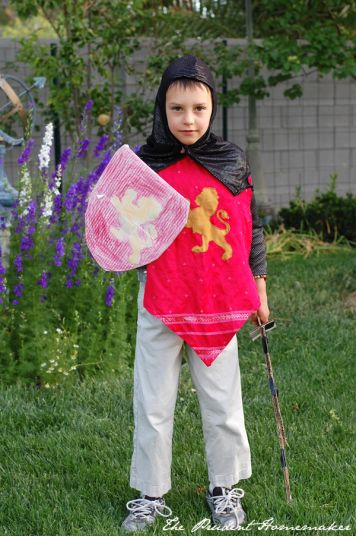 The children made shields and swords from cardboard boxes that we had, and decorated them. They then worked on staging sword fights out in the garden.
We had friends over to play. Winter went to play at a friend's house. I love the fun it brings to the week just to have friends to play.
I enjoyed a library book this week: The Candy Shop War
. I requested the second book
from the library.
Cyrus watched some episodes of Fetch online. I watched a show for free on Hulu.
I was careful with my electricity usage. I opened windows in the mornings to let in cool, fresh air, and again at night. The air conditioner only ran during the day.
What did you do to save money last week?