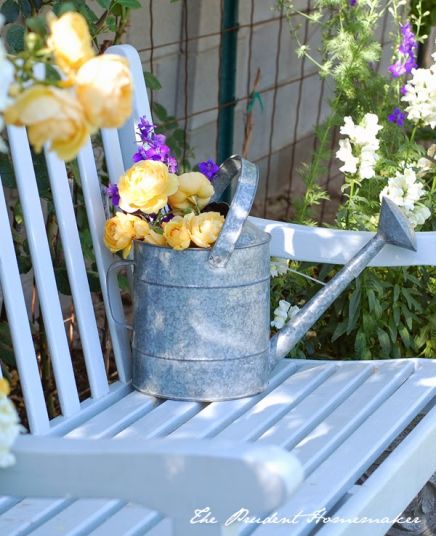 Graham Thomas Roses and larkspur in watering can
The main reason I started this blog in addition to my website was because so many readers kept requesting it. The questions I kept getting asked where questions about our day to day frugality. Readers were looking for more ways to save money.
This post each week has, I hoped, answered those questions for many. I share things we did, as well as blessings we received. I am continually happy to read about your blessings each week. I love hearing how many of you had an opportunity to glean, were given free food, were blessed with hand-me-downs, etc. As we serve one another, we can all bless each other.
I don't always mention the every day things that we do. I try to mention new things that we do, to hopefully give you some new ideas. Keeping the water from the shower and from rinsing vegetables is a newer thing for me (for some of you, it's second nature!) I've spoken about it a lot lately for several reasons, including to help those of you in drought areas find ways to water your garden. I've also been excited about it because it is a simple thing that may seem small (a "drop in the bucket" in our water bill, but those drops add up!) that makes a difference. I haven't needed to water my potted plants from the hose once this year because I've been doing this, and it is all with water that previously went down the drain inside the house. (Did you know that home-grown fruits and vegetables use less water than commercially produced ones? If you can use water that would have gone down the drain otherwise, it uses even less.)
The point of this blog post is to encourage you to look for new ways to save money. As I read your comments, I often find something new that I can try. Each new thing that I can do adds up. I love when you share what you have done and how you have been blessed. I love seeing the encouragement that you give to one another.
Last week, a reader mentioned her blessing of a free piano. Another reader went looking because of that comment and found not one, but two free pianos in her area! (Mary Ellen, we do want to know how that turned out!)
Do know that I rejoice over your blessings. Also know that I have prayed for many of you.
I hope that by sharing many of the things that we do each week, I can encourage you to continue to look for ways to lower your expenses. As inflation rises, you can fight it f there is something you do not have to earn the money for (because you don't need it or can use your resources in a way so as to need less of it). Hopefully, this post gives you that. Do read the comments; I learn so much from all of you!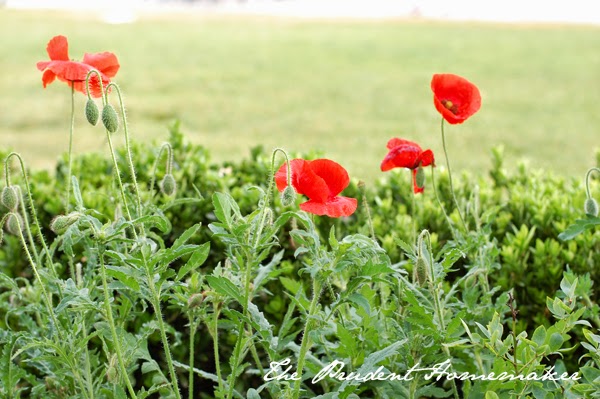 Poppies starting to bloom in the garden. These were planted from seeds in December.
The children and I spent several hours picking mulberries from our neighbor's tree. We gave our neighbors lettuce from our garden several days and a half-pint of fig jam in return. I will also be bringing them a half-pint of mulberry jam.
I made 3 batches of mulberry jam (11 half-pints and 6 pints) with the mulberries that we picked and gathered (many had fallen from the tree in the wind). I froze two cookie sheets full of mulberries.
I picked some small strawberries from the garden and we had mulberries and strawberries (in sugar) over crepes.
I watched a free show on Hulu with my husband.
I had forgotten about the Zulily referral credit that I had from a very long time ago. I don't share a lot of deals; I don't buy a lot of things and I want to this to be a place where those of you who are struggling financially are not feeling bad because you want to buy things, and know that you cannot. When I do share a deal, it's because I feel that it is really a great deal, that it is the lowest price around (to my knowledge), and because I think it will be a blessing to you. (Not all all deals I share are affiliate deals, either–most are not). The point of my site has never been to make money; it is to help those you are struggling financially. (If the point of my site was to make money, I would have quit years ago! I make very little from my site; it's about equal to my grocery spending each month.)
I checked to see if the credit was still available, and it was. I used it to order a slip for myself and two small pots for the garden. I did have to pay shipping. I already have plans for the pots.
I used a coupon for Scholastic Teacher Express for $5 to get 5 free schoolbooks during their $1 sale (these are downloadable books).
I sewed the button back on a pair of Cyrus' shorts.
I dug turnips from the garden. I made turnip gratin and also roasted some with potatoes and carrots.
I cut rosemary, marjoram, chives, tarragon, borage, and thyme from the garden. We had salad from the garden every day with lettuce and spinach from the garden and homemade salad dressing (this one). I cut the last of the asparagus for the season.
I cut roses, larkspur, stock, and dusty miller from the garden to enjoy inside.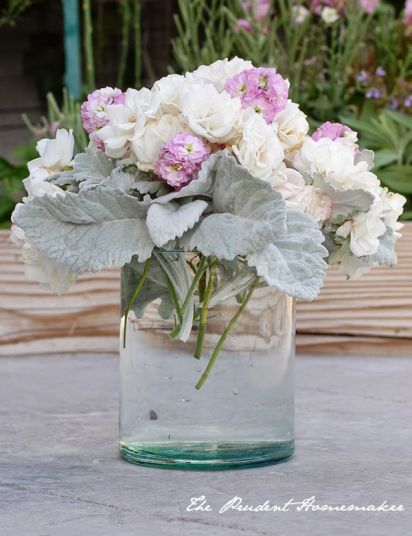 Dusty miller, Iceberg roses and pink stock
The dusty miller is growing very quickly from 6 very small plants that I purchased last year. (One plant was smaller than 1/3 of the amount I put in the vase). I have it growing under the apricot and peach trees in the white garden. To keep from spreading too much in the garden, I will cut it to make more arrangements as it grows larger. I am really loving it in this arrangement and I look forward to using it again.
The stock was grown from seed that I purchased a few years ago. I planted it in fall. Those of you who have your last frost in April and May can plant seeds soon. Mine is growing in the raised bed behind the vase and is starting to go to seed. I will be collecting seeds to plant this fall.
The iceberg roses were purchased as plants last year (on sale and with a coupon at our local nursery). They are a floribunda-type rose that blooms every 3 weeks. This is their first bloom of the year. Last year they bloomed through November for me.
I cut a couple of camellia branches to bring in. I was pruning the bush to grow the way I want it to, and these two small branches needed to come off, so I decided to bring them in.
Please share what you did last week to stretch your money and make the best of your blessings!