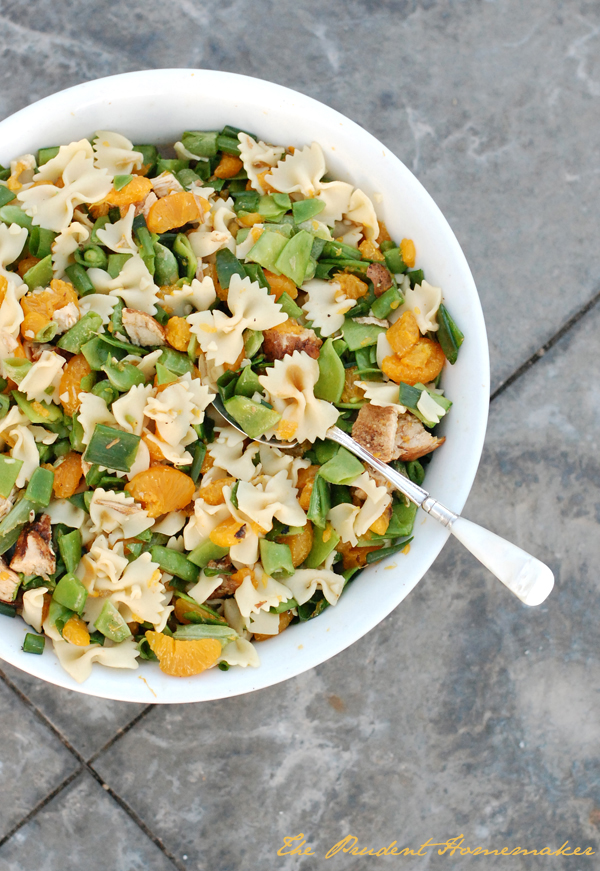 When I was in college, at least one day a week I would only eat two pieces of toast for breakfast in order to have enough money to eat a special lunch that day.
On campus was an art museum. It is a wonderful museum with a regular display that was always free, and then fantastic shows that would come through, including things like the Dead Sea Scrolls, original children's book illustrations, etc.
Upstairs in the museum, however, was a small café. It only opened for lunch, and you had to be quick to get there for the short time they were open. The line started before they even opened.
Each day, they served different things, and you had a choice of about 3 or 4 different meals. On a regular basis (but not every day) they served a pasta salad that I loved. This is my version of it.
We grow sugar snap peas and green onions just so that we can make this. Everything else comes from our food storage! This is also our main reason for having mandarin oranges in our storage. This is a very refreshing salad on the warmer days of spring.
6 cups snow peas or sugar snap peas
6 11 ounce cans mandarin oranges
2 cups diced green onions
3 cups cooked, diced chicken or turkey, or 2-3 boneless, skinless chicken breasts
Cook farfalle in boiling water until al dente. Drain into a large colander. Rinse with cold water and dump into a very large bowl.
Add rice vinegar to the bowl.
If you have uncooked chicken breasts:
In a skillet, heat 1 Tbsp oil. Add chicken breasts. Season with garlic and onion powder, and pour balsamic vinegar over the top. Cook until no longer pink. When done, cool, and then dice into bite-sized pieces.
If you have cooked, leftover chicken or turkey:
In a pan or skillet, heat 1 Tbsp oil. Add chicken, balsamic vinegar, onion powder and garlic. Stir to coat the chicken with the seasoning. Add salt and pepper to taste. Cook until heated through. Add to the bowl with the pasta and vinegar.
Drain the syrup from 3 of the cans of mandarin oranges into the bowl with the noodles and chicken.
Drain the rest of the oranges (drink the syrup or give it to begging children or husbands—or you can throw it out).
Cut the mandarin slices from all six cans in half. Add these to the bowl.
With kitchen shears, snip green onions into tiny pieces over a measuring cup. Add these to the bowl.
Rinse sugar snap peas. With kitchen shears, cut pea pods in thirds or fourths over the bowl.
Stir to combine. Refrigerate until chilled.
Refrigerate until chilled.
Stir again before serving, making sure to pour the juice from the bottom of the bowl over the top of the salad.
This recipe serves 8, though you may be tempted to eat it all yourself. Don't say I didn't warn you!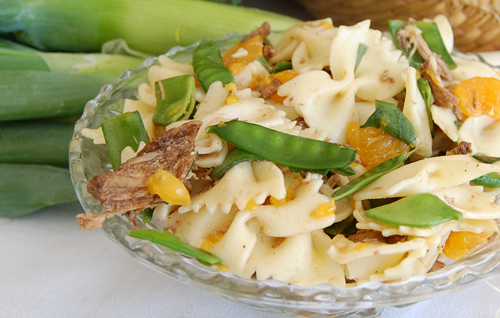 Notes:
I buy mandarin oranges on case-lot sale.

Grow your own sugar snap or snow peas. I grow sugar snap peas because they grow more prolifically; they grow six feet tall in a small area on the side of my house. We grow them just so that we can make this salad. I plant them in November and harvest them in April.
Grow your own green onions from green onion seeds or starts. These grow all year round here. Those green things that look like leeks in the photo are actually 2-year-old green onions.
Buy rice vinegar on sale or in bulk.
Buy chicken or turkey on sale; in the picture above I used turkey bought at 33 cents a pound.
I buy my balsamic vinegar, granulated garlic and onion powder in bulk at Sam's Club.