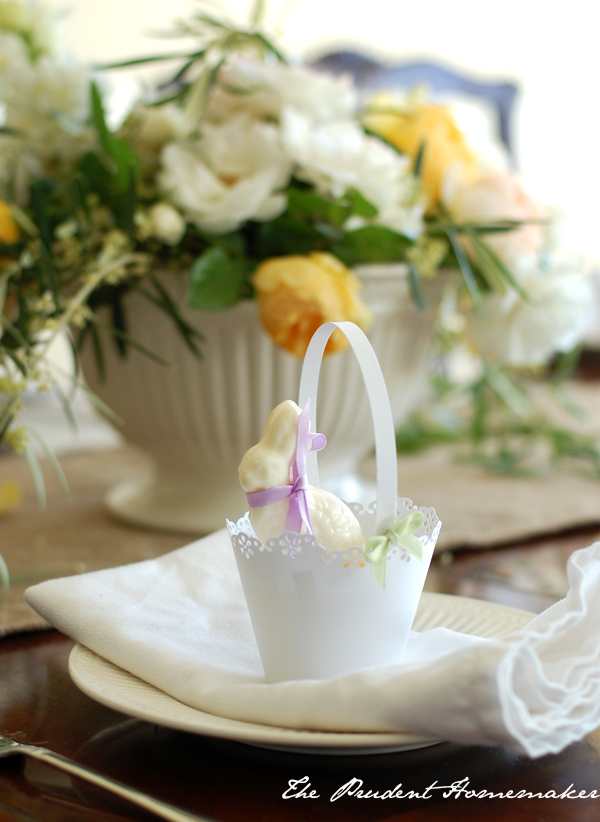 Winter made these baskets from cardstock for our table. They are lined with a muffin liner. I put candy in the bottom of each one and a homemade chocolate rabbit on top. These were the children's Easter baskets this year. I liked that they were small and fit on their plates, and that no filler was needed at the bottom.
We did an Easter egg hunt later with more candy in plastic eggs. We treid a suggestion I had read about, of having everyone have their own color of eggs to find. This made it fair–everyone received the same number of eggs. Because it was extremely windy on Sunday, I hid the eggs indoors in two rooms, and since I knew who had each color, I hid them with more difficulty and up higher for the older children. The children said they preferred the indoor egg hunt and liked having their own color of eggs, so I think we'll do that again next year.
I cut flowers from the garden for our table.
I picked snow peas and lettuce from the garden. I cut green onions, dill, and parsley from the garden.
I spent some time going through the boxes I have for larger clothes for the boys. This helped me know more about what I needed for clothing before going to the neighborhood garage sale later this month.
I sold a few things via Facebook garage sales. I added this money to my garage sale envelope for the upcoming community garage sale.
I enjoyed reading a book from the library, and one that I bought at the library book sale a while back. I renewed library books online to avoid a late fee.
I made some more insecticidal soap and sprayed the aphids and thrips again on the roses.
I continued to collect water from the shower and from rinsing pots and pans to water the potted plants in my garden.
I went to three stores on one trip (they're all within a mile and a half drive) and picked up cream cheese for .99 (thank you Corinne!), whipping cream for $2.98 a quart (thank you Eyrn!), strawberries for .97 a pound, and some inexpensive Easter candy by combining sales and stacking coupons. I ordered and picked up a free 8 x 10 photo for Ezrom's room, using a free coupon code.
Ivory spilled blue Easter egg dye on the hem of her dress when we were dying eggs. I ended up using the Easter egg dye to dye her entire dress, since it wouldn't wash out. Her dress is now pale blue, and still looks fine to wear. I'll wash it by hand a few times just to make certain the color won't run, even though nothing faded after she initially spilled the dye. I'm glad I was able to save the dress.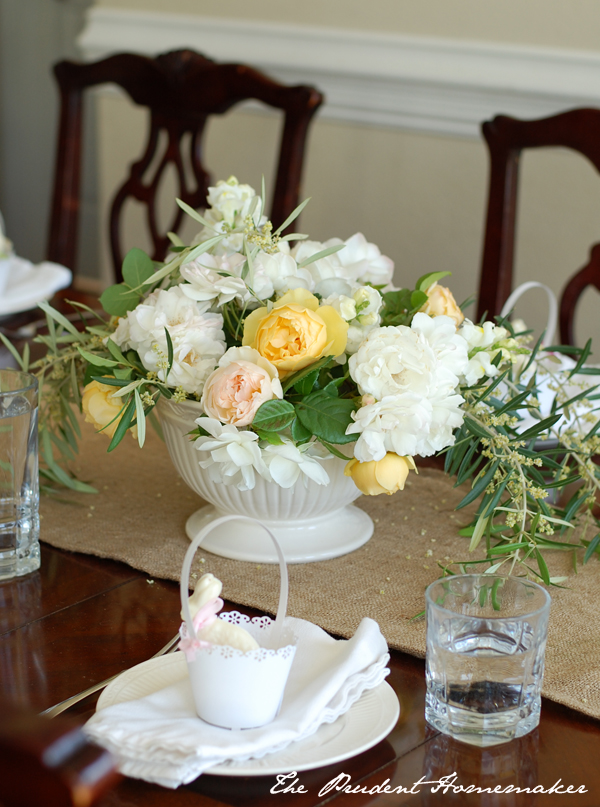 I didn't buy new clothing for Easter. I don't normally buy new clothing for Easter; instead, we wear what we already have.
What did you do to save money last week?