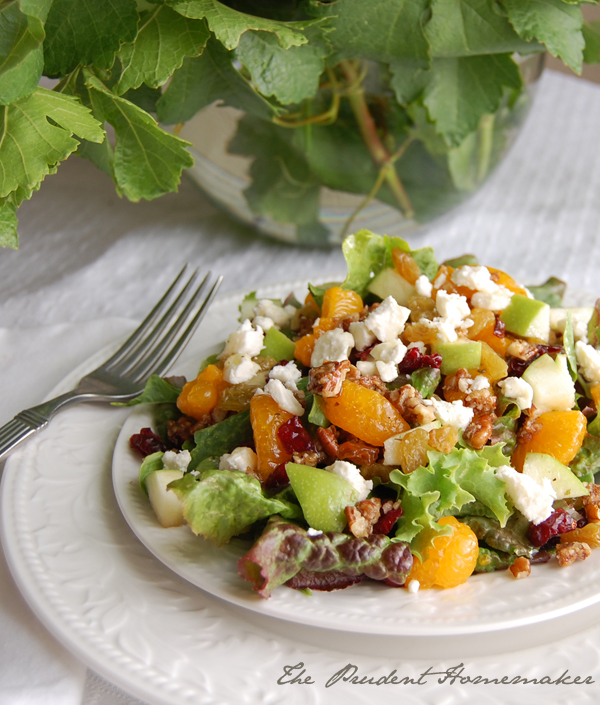 Mixed greens (Use whatever you have growing in your garden. I used Emerald Oak Leaf, Rouge Grenoblois, Mache, Black Seeded Simpson, and spinach.)
1 green onion, chopped small (optional)
2 apples, diced
½ cup golden raisins
½ cup dried cranberries
2 cans mandarin oranges
½ cup Candied Pecans (recipe below)
Feta Cheese (optional)
Mix first six ingredients in a large bowl.
Divide salad between as many plates/bowls as you would like. Top each plate with glazed pecans, cheese, and a small amount of salad dressing. (This dressing goes a long way. You won't need much and you'll have plenty of leftovers. I also use this same dressing on my spinach salad.) If you want, you can just mix it all together in a bowl. If you think you might have leftovers, though, serving it individually keeps the leftover lettuce crisp for the next day.
Candied Pecans

½ cup chopped pecans
2 Tbsp unsalted butter
2 Tbsp brown sugar
To make the candied pecans, set a pan over medium heat. Add the butter and sugar. Once it has melted, toss in the pecans and continue to toss to coat and cook evenly, about 1 minute. Transfer to a sheet tray lined with waxed paper while you prepare the salad.

To make this for less:
I get the pecans, cheese, and the dried cranberries in bulk from Sam's Club.
The mandarin oranges were bought on case-lot sale.
The cheapest price I have found for golden raisins is at Walmart.
I buy apples on sale in season.
I grow green onions, lettuce, and spinach in my garden.
This is really a salad for both spring and fall. In spring, you can use lettuce from your garden and a couple of apples from storage, or add a couple of apples from the store. In the fall, you can use both apples and lettuce from your garden! Everything else in this salad (except the cheese, which is optional) comes from the pantry!