This post contains affiliate links.
Spring is here, and it is beautiful! We've had the windows open to air our the house. I love fresh air in a house. The fresh air and sounds of birds singing are some of my favorite things about spring.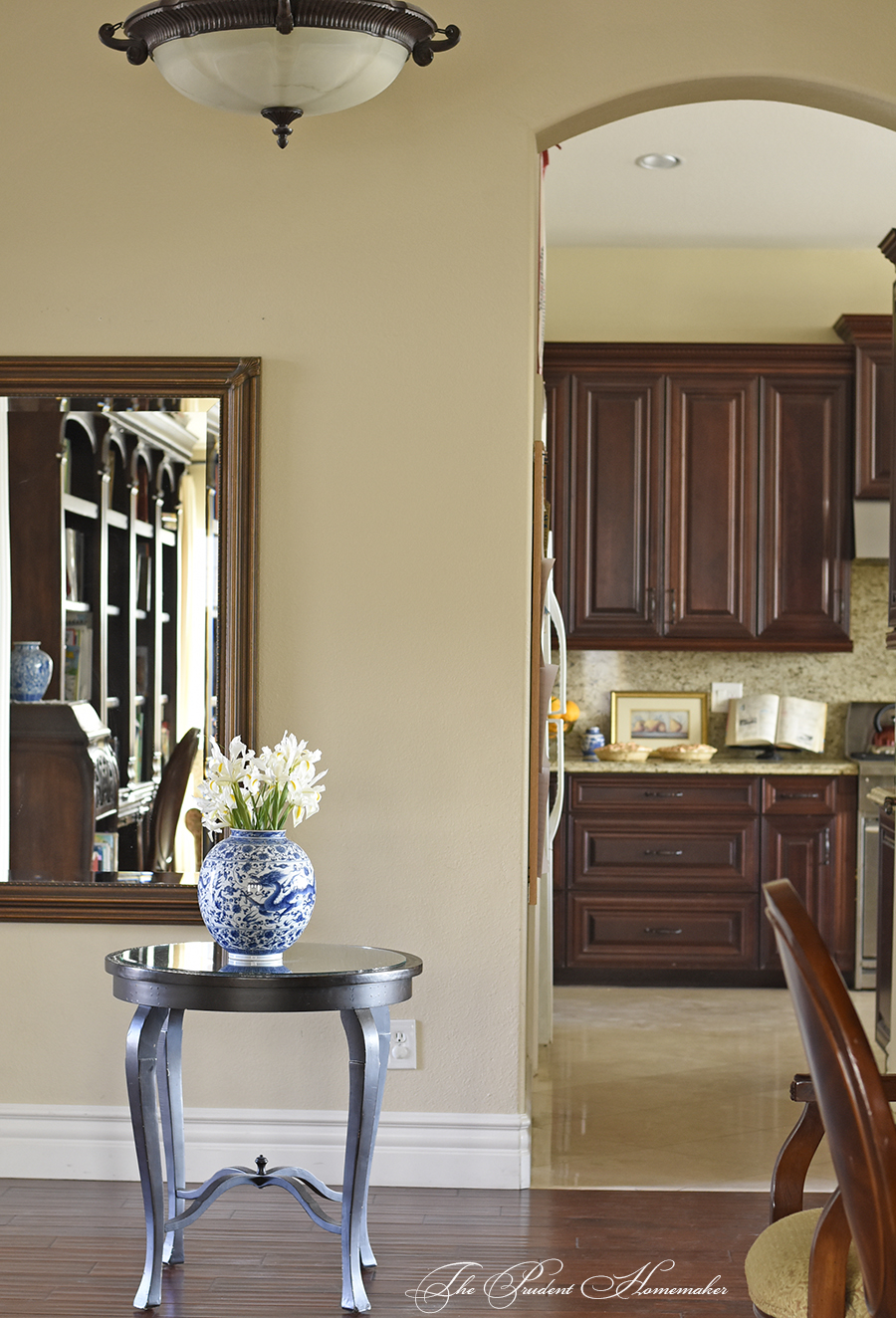 Iris, tulips, and daffodils are blooming in my white garden. I'm sharing several pictures of my gardens this week over on Instagram. As a few more flowers open in the garden, I'll be taking more photos to share here as well.
I've cut some iris from the garden to put on my entry table. The table was a gift from my parents (an unsold item when they retired and sold their business). The vase I found last spring for $5 at a garage sale, and the mirror I also found last spring at a garage sale for $20.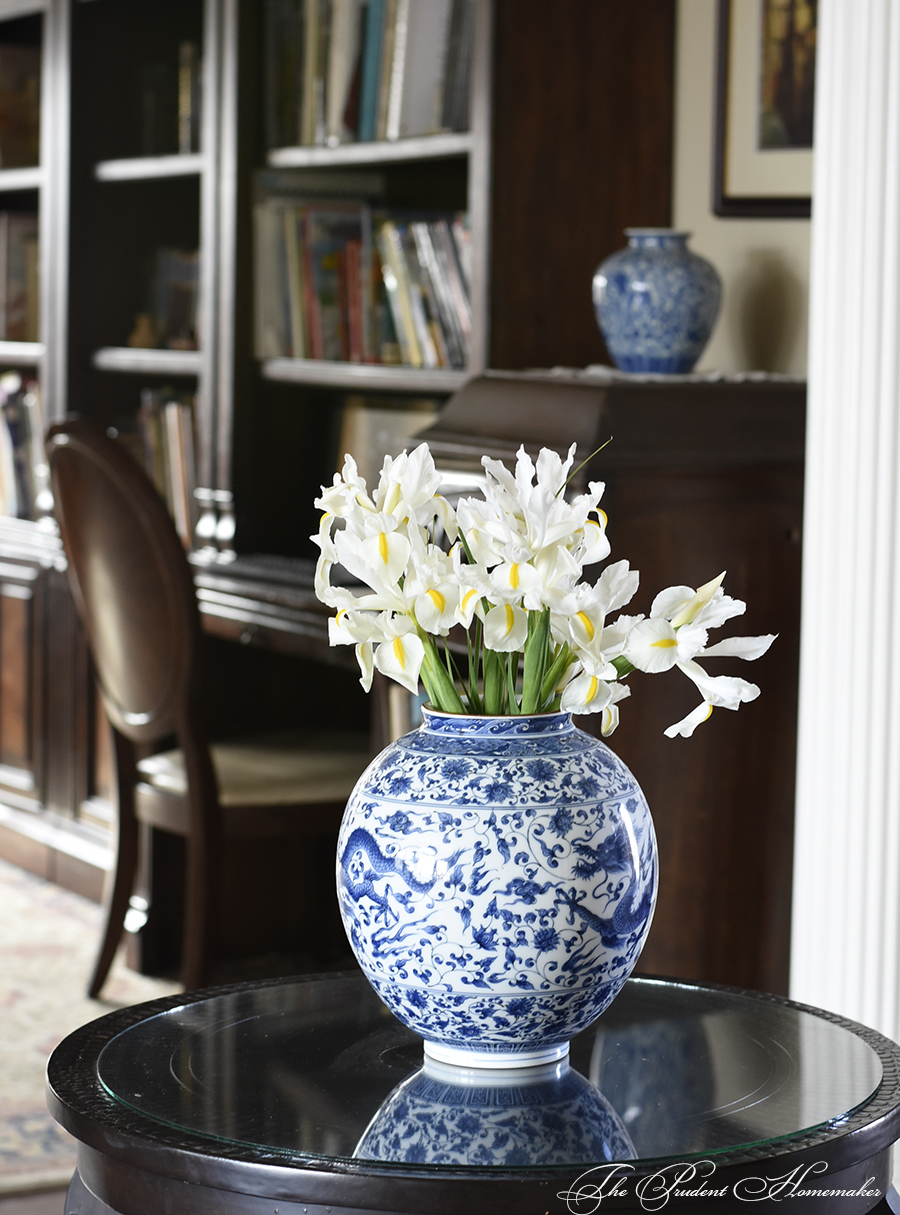 I recently went through my kitchen cabinets and drawers and whittled down the items to things we are actually using and put anything we weren't using in a garage sale. I also got rid of the two knife blocks on our kitchen counters; one I sold at the garage sale and the other was donated to the thrift shop. I realized our most used knives were not the ones in the knife blocks except for the steak knives, and I had purchased these steak knives a year and a half ago (mine didn't come in a wood block, which was fine with me). We had only been using them for special occasions, but I had been wanting to use them every day, so now they're in the silverware drawer and the knife blocks are gone.
All of the organizing of items that mostly weren't seen in the drawers and cabinets left me itching to decorate the counters a bit for spring.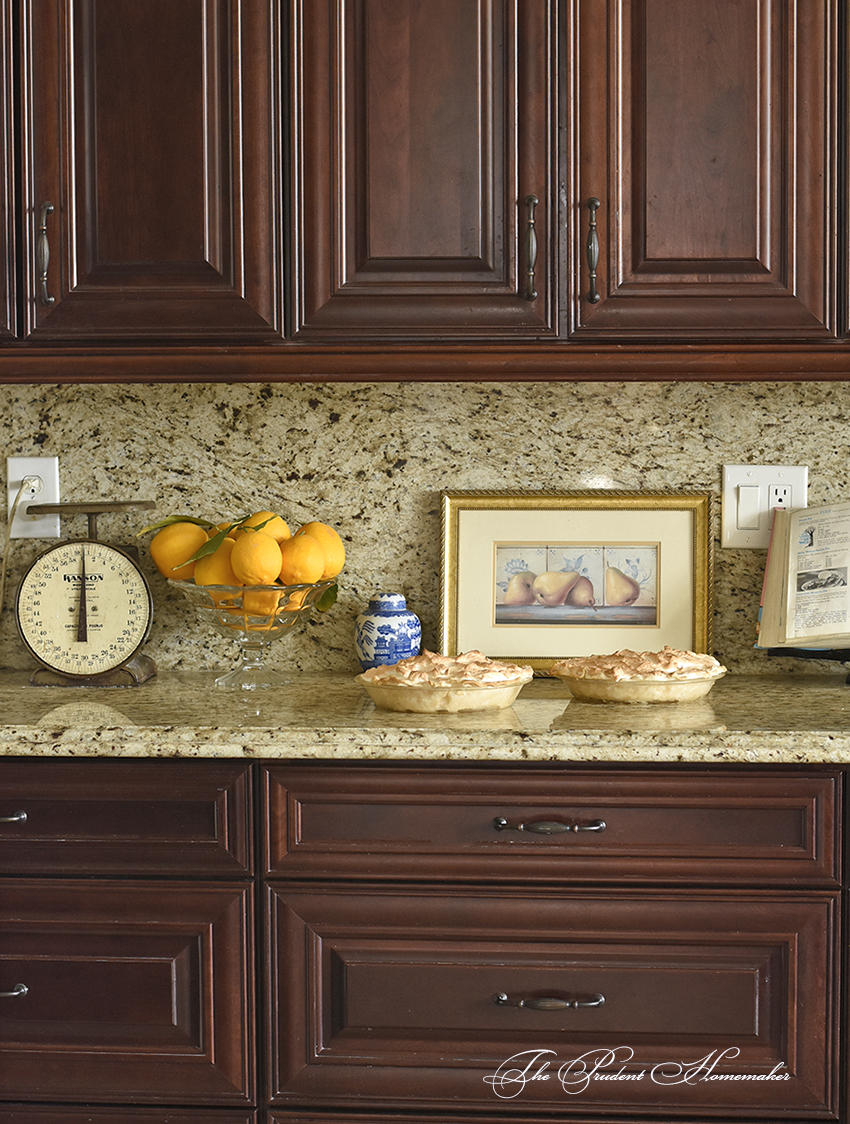 I brought in Meyer lemons from the garden into the kitchen. I made two lemon meringue pies with some of my lemons. Pretty soon I'll be zesting and juicing the rest of the lemons so that we can use the zest and juice throughout the year. The trees are covered with both lemons and flower buds, so I expect that we'll need to make lots of lemonade all summer to use up our juice before the new crop of lemons starts to ripen in late November.
The scale is one that belonged to my grandfather; he used to weigh his tomatoes with it. The blue and white jar, the glass container and the framed picture are all garage sale finds from the last couple of years. The pie plates and the vintage cookbook were from my grandmother; she shopped at garage sales too and was always finding kitchen items that way.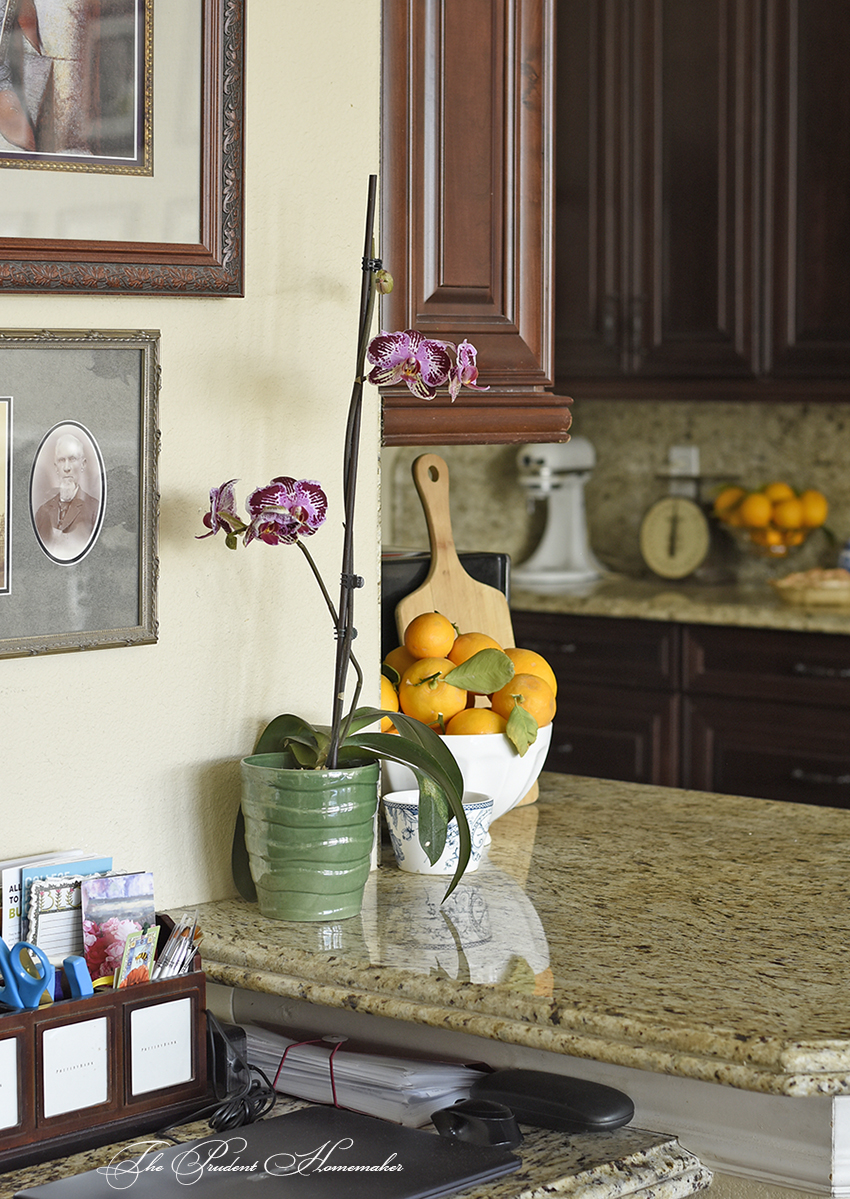 I brought in this orchid from the bathroom to go next to my desk. It's one my parents bought and gave to me last year when it was done flowering. I actually had never seen the flowers on it, so when it opened up a few weeks ago, I was surprised! I keep unflowering orchids in my bathroom, where they get humidity, diffused light, and cooler temperatures in the winter, which helps them to reflower.
I recently changed around the things on my desk when I replaced my computer. It's a bit more crowded in some ways, but that is inspiring me to keep it cleaner! My new computer is smaller (and faster than the old one was before it died!) Since I moved things around, I can put an orchid and/or some fresh fruit on the counter now where I used to have some of my desk items.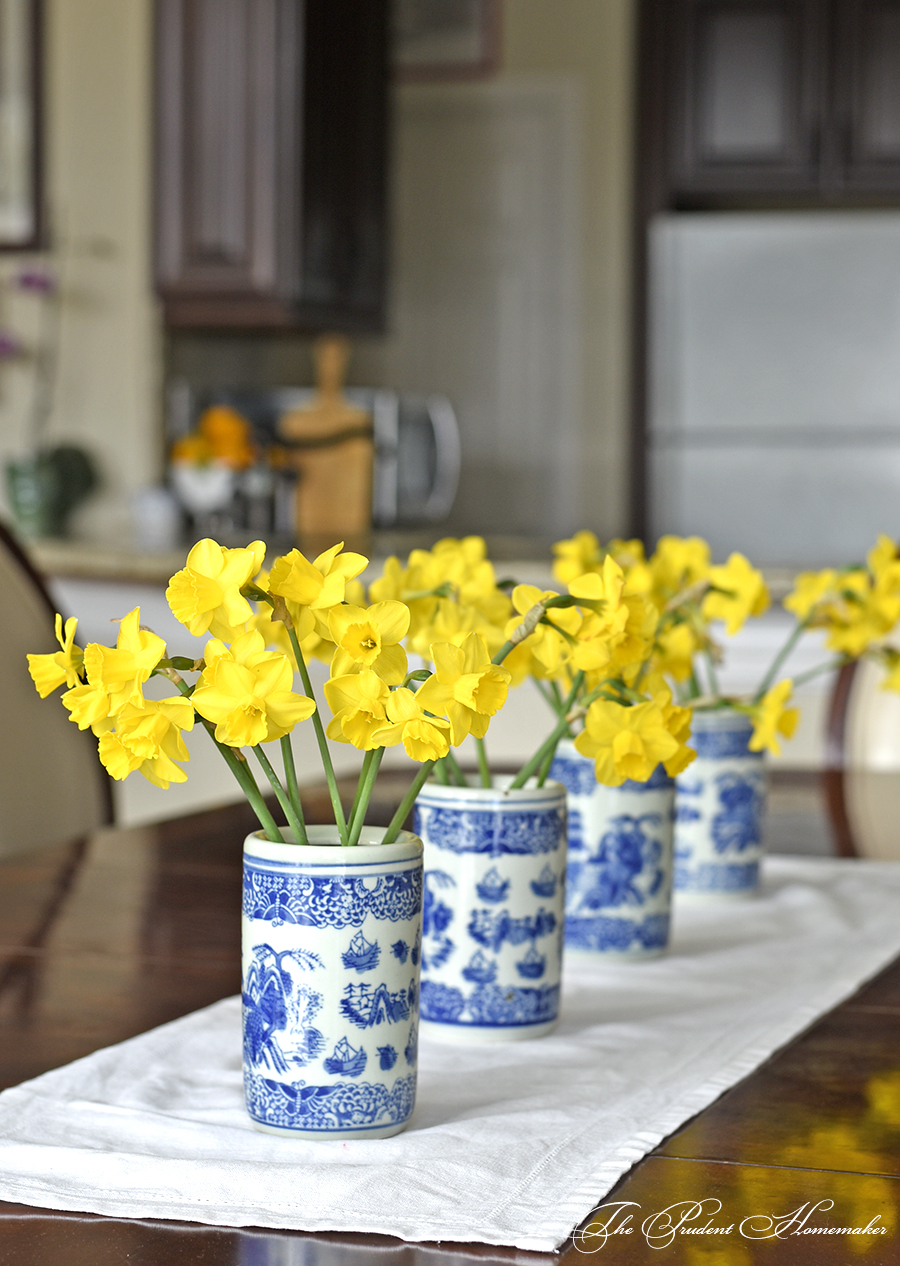 We had a colder spring than usual, which delayed my daffodils by a few weeks, so they've been opening slowly. This is the second time I've cut daffodils for the table. I have a second type in the garden that is just now starting to open up, which means we'll enjoy flowers over a longer time. I bought these bulbs a decade ago and they come back every spring. In a warm climate, you need to choose smaller-flowered daffodils that don't need as many chilling hours. I make sure mine are marked to zone 8 or preferably 9, which is our zone. I purchase bulbs in bulk to get the lowest price on a large number of flowers.
The table runner and flowers stay on the table all the time, and I really like the way they look between meals. They smell wonderful, too, and everytime I walk by they are a breath of springtime.