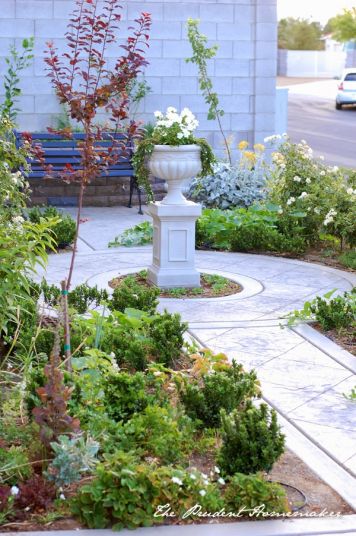 This post contains an affiliate link.
Happy Monday!
First, a few things:
If you missed my giveaway for garden seeds for your garden, be sure to enter! The contest runs through Friday.
Mrs. Wages is giving away a pressure canner!
Enter here
.
If you've always wanted to have a price book but didn't want to set one up, check out
this editable one
from Crystal at Money Saving Mom (she labels it as a stock up price list).
I found a great tutorial on making your own pattern (from a knit shirt) on Sweet Verbena. I like the way she did the sleeves.

Last week:
I pruned a ton of stuff last week and managed to fill all the trash cans. I even did a massive pruning on the rosemary bush (much overdue). I pulled out all of the larkspur as well. I cut the branches off of the Liberty apple tree that were small enough to cut with the large pruning shears, but by then, I had filled the trash cans. This week I'll get out the saw and attempt to finish the job of removing the tree and putting an apricot tree in its place.
I did get the currant bushes planted. I hope those do well here. I am excited that they can grow in dappled sun under the trees, which makes that tricky spot (hopefully) more productive. In fact, I was so hopeful, I went to the nursery and purchased three more currants on clearance and planted those too.
I read a fabulous book last week called Stowaway, a historical fiction piece based largely on journals from James Cook's first voyage around the world.
This week is going to be a busy week. I have something church related going on every night Tuesday through Friday. On top of that, I didn't finish several things from last week, so they are back on the list this week. Hopefully I'll make good progress on these, though my evenings will be full.
Organization:
1. Help Winter pack for camp
Gardening: (The new weather report for this week tell me it should only be 107º this week, instead of the 111º they said it would be)

1. Saw large branches and dig out Liberty apple tree.

2. Plant Katy apricot

3. Continue to collect seeds from cilantro (coriander), lettuce, Swiss chard, green onions, larkspur, spinach, kale, primroses, delphinium, foxglove, poppies

4. Plant seeds for green onion seeds, more zinnias, vincas, Swiss chard, and artichokes

5. Dig garlic
6. Deadhead roses
7. Cut the yellow dusty miller flowers (visible in the photo above!) and bring them in. Dusty miller has white leaves, but it flowers once a year, and the flowers are yellow. We'll enjoy them in the house.
Also, the trees in the white garden need to be staked, but I don't forsee getting to that this week!

Sewing:

1. Finish sewing purse

2. Make and embroider lavender sachet (I made good progress on the embroidery on this last week).

3. Finish making hot pads (I made progress on these last week but they are still not done).

4. Mend and alter as many items as possible from the mending/alteration pile that is overtaking my sewing room. This includes shortening the sleeves on several shirts.

5. Make more mop covers from old towels

Canning:

1. Can plum sauce–or slice and freeze the plums

Service:

1. Visit teach the other sister on my route this week and bring her the chaste tree bush that I potted for her.
2. Package and send seeds to two readers.
3. Go teaching with the full-time missionaries

Blogging:

1. Photograph and write two blog posts, including one on collecting garden seeds.

2. Work on updating the website into the new program. If this works, it should make the drop down menus visible on mobile devices. If there's a recipe you're planning to make this week, print it ahead of time in case we end up being down while updating. (My husband and I are still working on this; when he tried updating last week his entire site disappeared, so he had to pull up a backup and restore it).