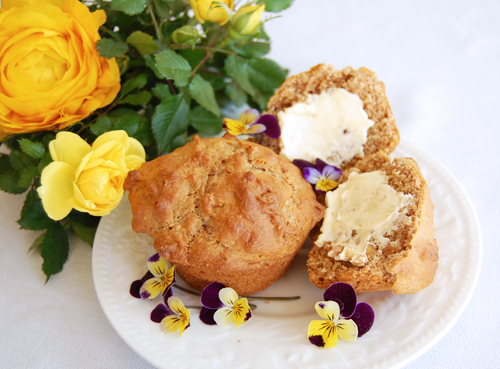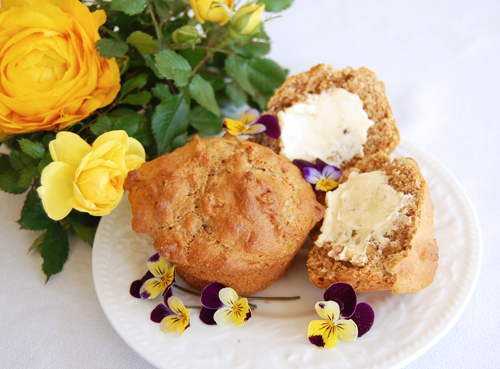 Makes 12
2 cups all-purpose flour (or whole wheat, or a combination)
4 tsp baking powder
½ tsp cinnamon
pinch of salt
¾ cup chopped walnuts
½ cup oil
2/3 cup packed light brown sugar
2 eggs (or 2 Tbsp powdered egg plus 4 Tbsp water)
¾ cup milk (powdered is fine)
Preheat oven to 400º. Spray or grease muffin pans for 12 muffins.
Chop walnuts, and spread on a cookie sheet with sides. Put in the oven until lightly toasted. Watch carefully so that they don't burn. When toasted, remove the pan from the oven.
Cream oil and sugar together in a mixing bowl. Add eggs if using fresh eggs.
Sift the flour, eggs (if using powdered), baking powder, cinnamon, and salt into the mixing bowl. Add milk and walnuts, and stir to combine.
Pour batter into prepared muffins pans. Bake for 15 minutes. Dump muffins onto a cooling rack. Allow to cool slightly before buttering.

Notes: I get my brown sugar, salt, and walnuts in bulk from Sam's Club.