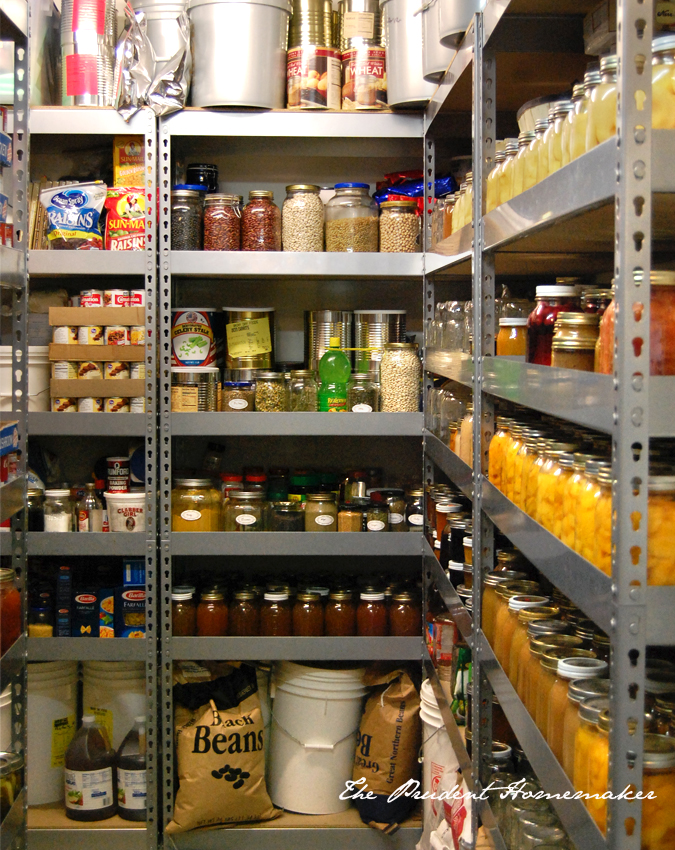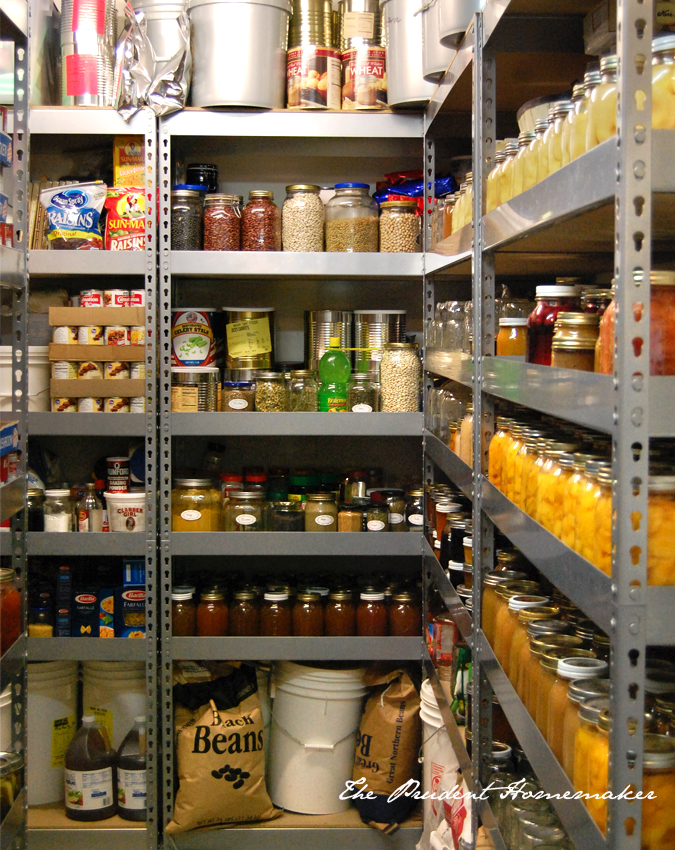 One of the blessings of having a full pantry is that I never have to run to the store to make dinner. There is always something on hand. I can buy things when they're on sale, and when I go to
make dinner, I can choose by what I feel like making in the time I have. Variety is truly the spice of life; have a good variety of things on your shelf from which to choose.
You can frugally build up a food storage, saving money while building up a storage at the same time.
Canning what you grow in your own garden is another way to frugally build your storage.
The other blessing of storing food is that we have food. Despite 8 months of no income in 2007, we have had food to eat because I filled the pantry.
Here's how we have done it and more of our story.
The menus and recipes on this site come from items I have had stored and that I have grown in my garden.

Want to be prepared against rising prices, job layoffs, etc? Build up a good food storage.
Wondering what you might be missing in your food storage if you found yourself unable to go to the store? I guest posted on that subject over at The Simple Pen.
Buy in Bulk
Buying in bulk can save you a lot of money. You can buy bags, buckets, or #10 cans full of bulk items, such as wheat, oats, milk, dried fruits and vegetables, beans, barley, rice, etc.
For some items, I buy in bulk at Sam's Club (50lbs of long-grain rice is under $17 ). For other things, like wheat, barley, oats, milk, etc., I have bought from other places. See the Bulk Foods and Grains page for links to bulk sellers.
Buying herbs and spices in bulk really helps to cut the cost of these items.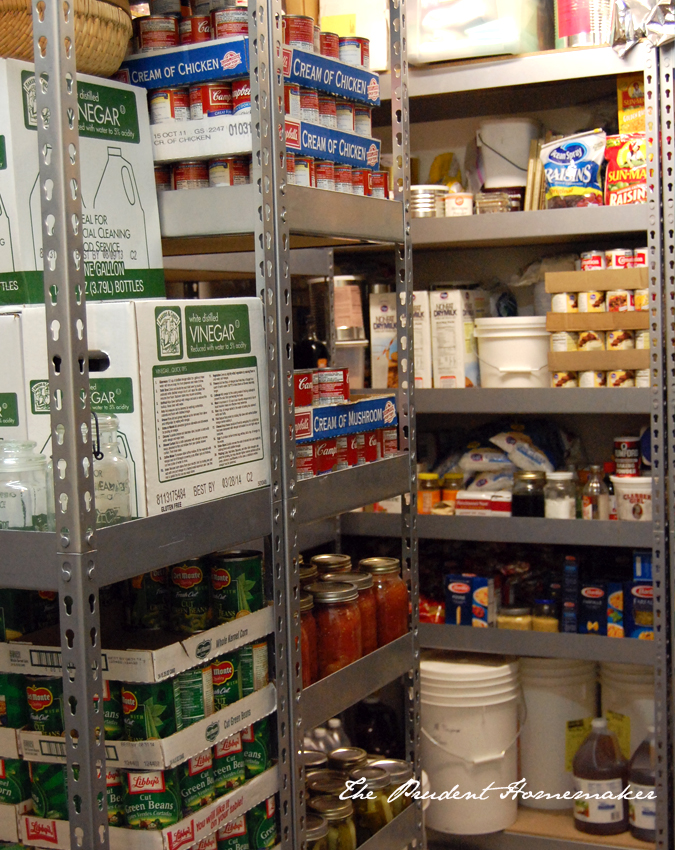 Pantry Items:
These are the items I regularly keep on the shelf, and are the items needed to make the recipes on this site, along with those listed in the Fridge and Freezer sections. Anything else comes from my garden.
Grains
Basmati Rice
Oats
Hard Red Wheat
Hard White Wheat
Long Grain White Rice
Pearled Barley
Popcorn
Soft Wheat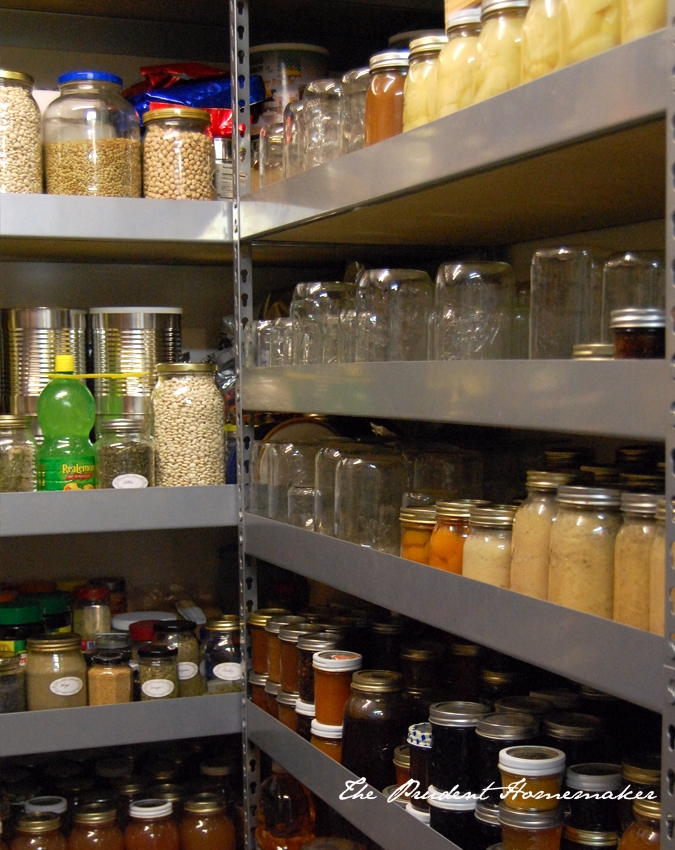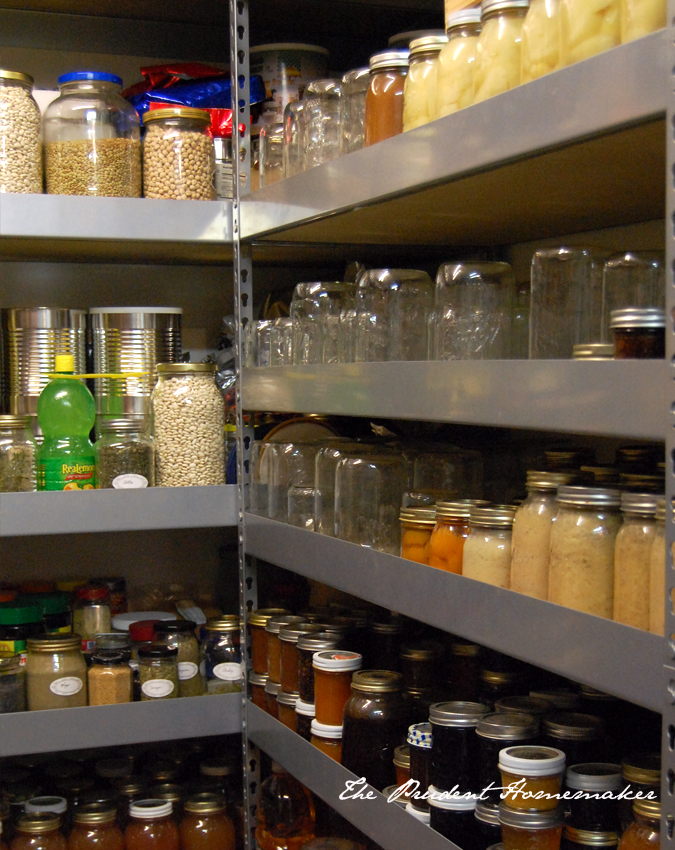 Baking Supplies
All-Purpose Flour
Bread Flour
Corn Meal
Whole Wheat Flour (home ground)
Baking powder
Cocoa Powder
Cornstarch
Cream of Tartar
Kosher Salt
Salt
Shortening
Vanilla
Yeast (in bulk from Sam's Club)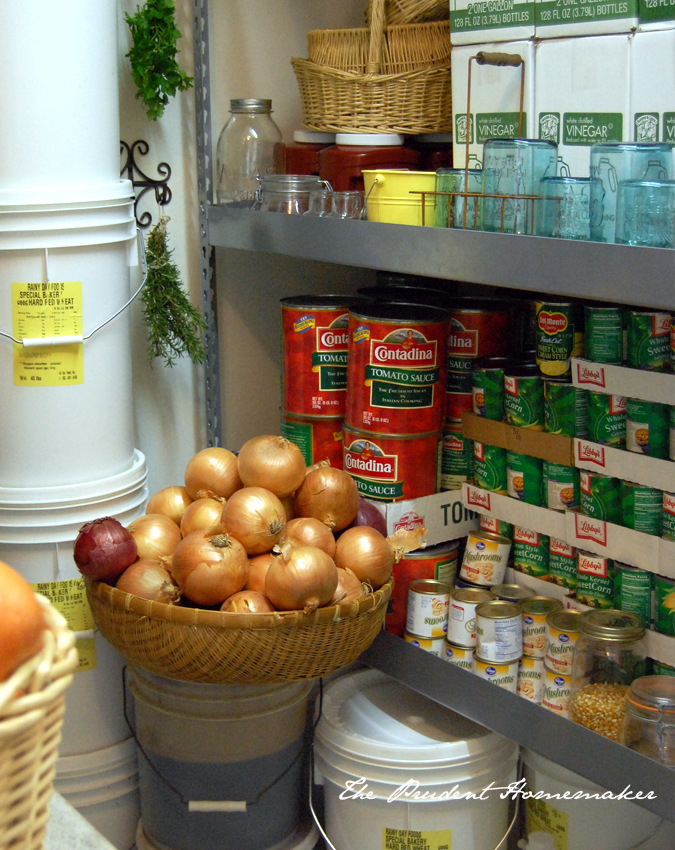 Dairy
Cheese Powder
Powdered milk
Evaporated milk
Powdered whole eggs
Powdered egg whites
Sugars
Brown sugar
Powdered sugar
Granulated sugar
Maple syrup
Dark corn syrup
Molasses
Honey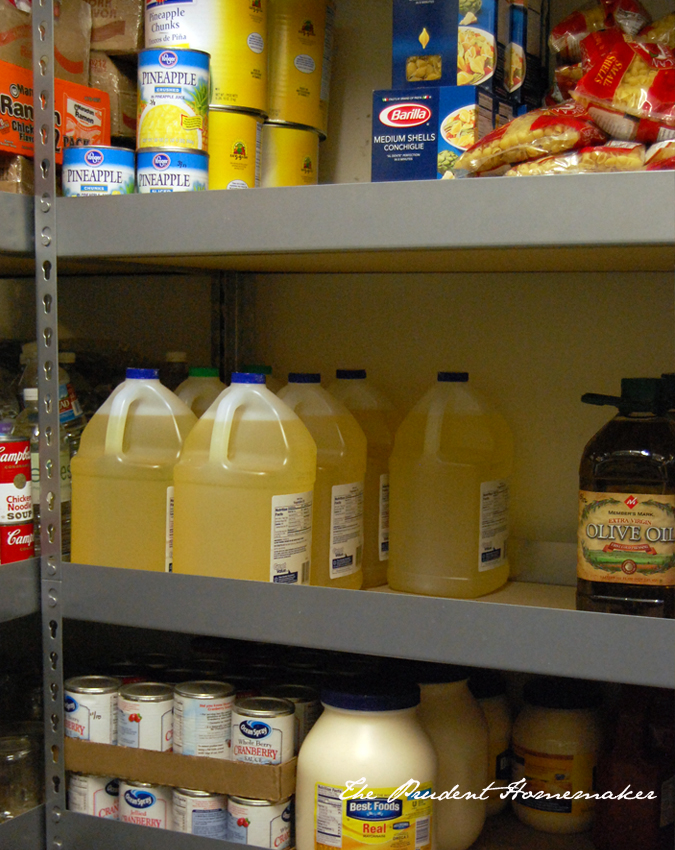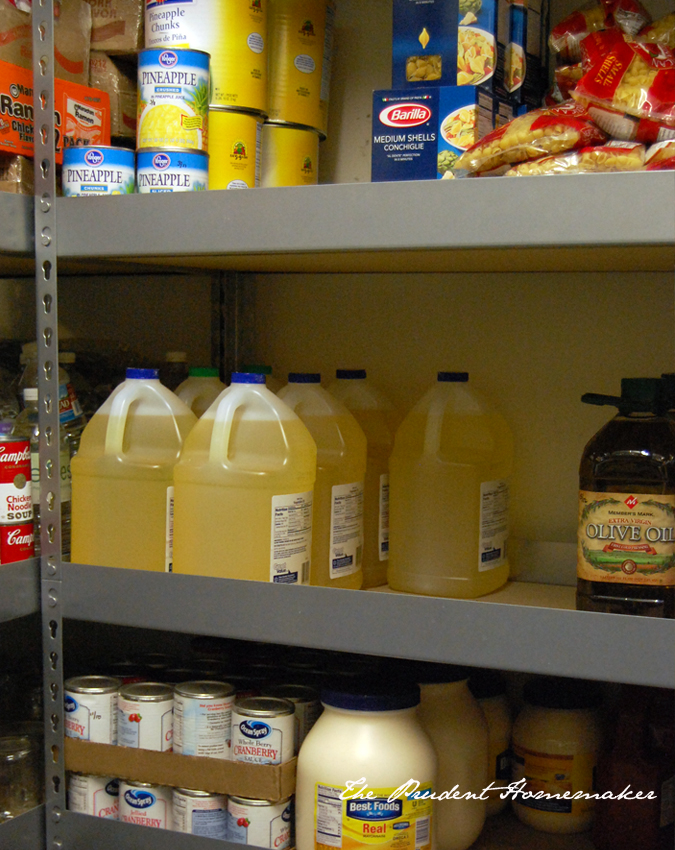 Oils
Vegetable or canola oil
Olive oil
Meats
Canned chicken
Canned tuna fish
Hormel Bacon Bits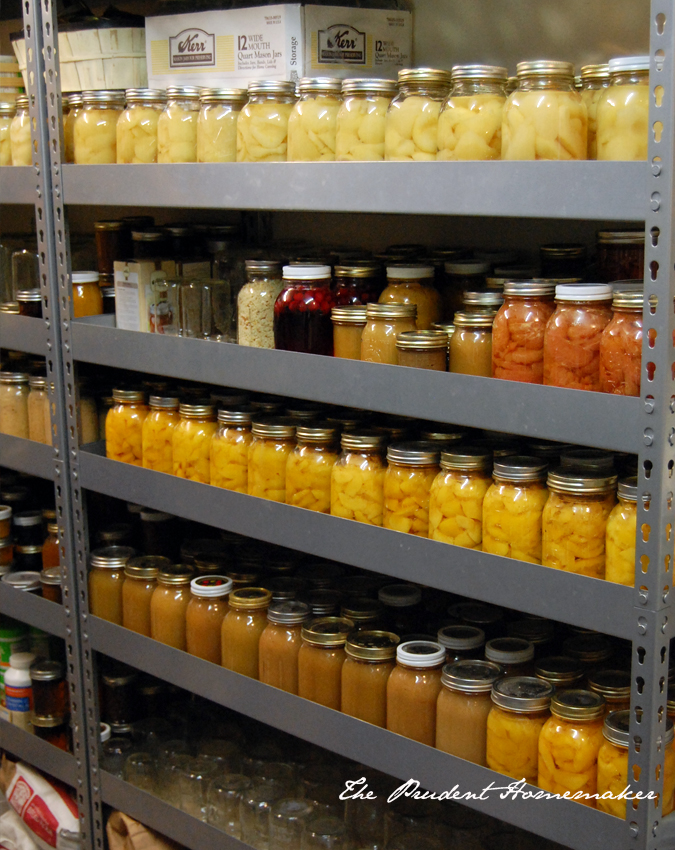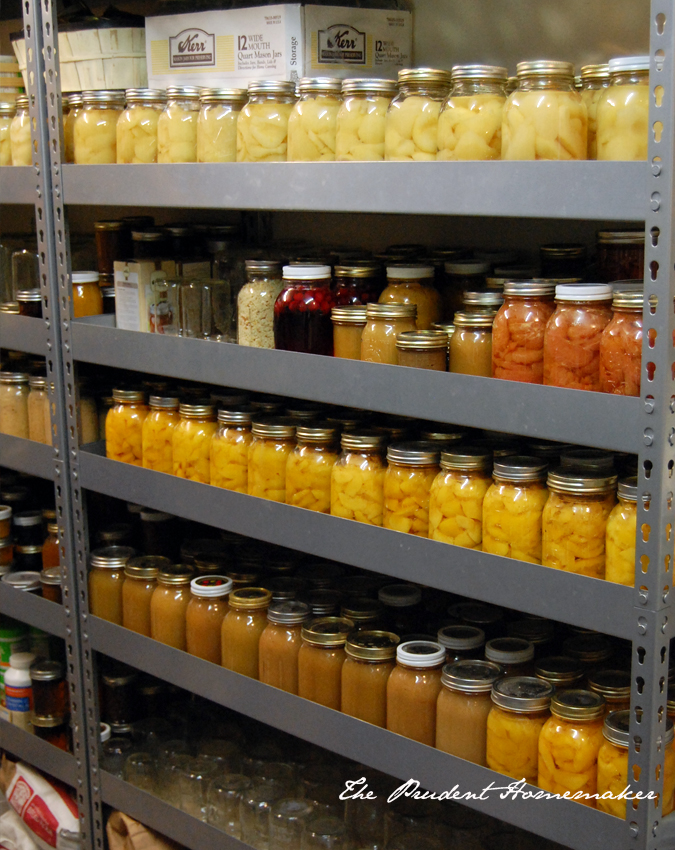 Canned Fruits and Vegetables
(including Home Canned)
Apple juice
Black Olives
Corn
Cranberry Sauce
Green beans
Diced tomatoes
Tomato sauce
Mandarin oranges
Peaches
Pears
Pineapple
Green chilies
Mushrooms
Peach nectar
Pickles
Cream of mushroom soup
Cream of chicken soup
Beef Stock
Pasta
Alphabet Letters
Egg Noodles
Farfalle
Penne
Ramen Noodles
Rotini
Shells
Spaghetti or angel hair noodles
Dried Fruits and Vegetables
Raisins
Golden raisins
Dried cranberries
Dried apricots
Dried figs
Dried apples
Peanut butter
Potato flakes
Dried potato slices
Dried carrots
Dried celery
Dried onions
Dried apples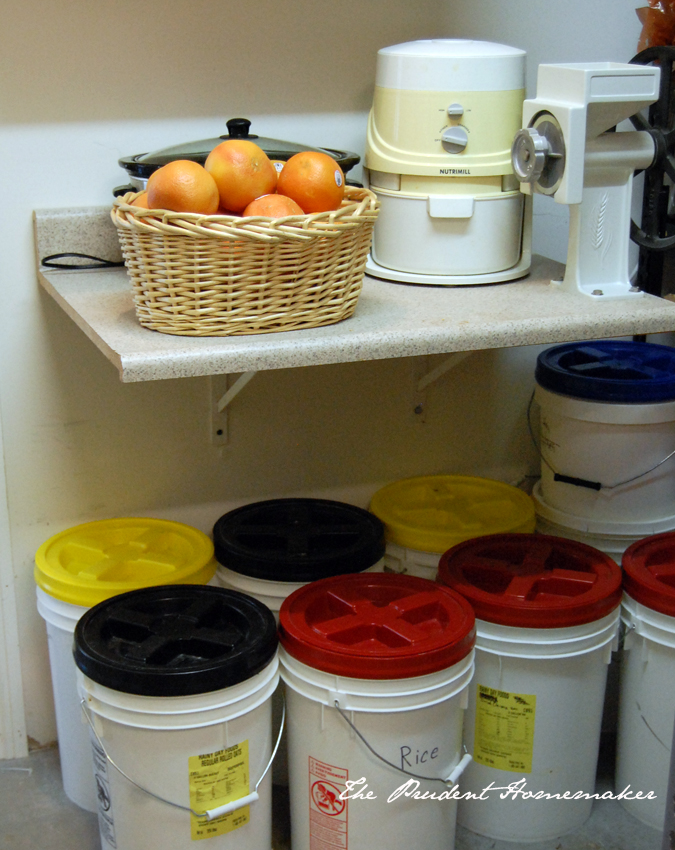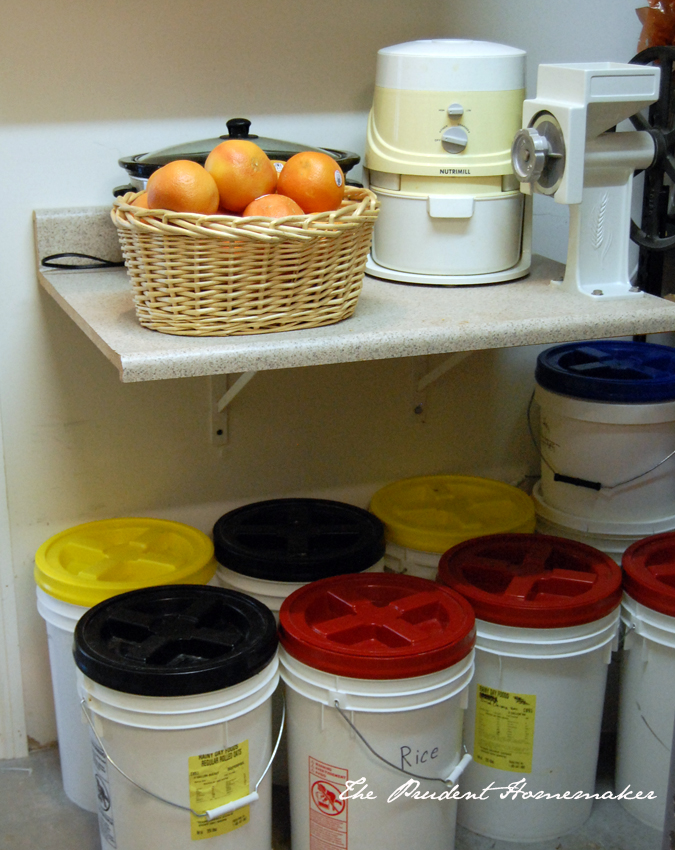 Nuts
Almonds
Peanuts
Pecans
Pine Nuts (I keep these in the freezer)
Walnuts
Dried Beans
Alfalfa (for sprouting)
Black Beans
Great Northern Beans
Pinto Beans
Kidney Beans
Lentils (for sprouting)
Mung Beans (for sprouting)
Vinegars
Apple Cider vinegar
Balsamic Vinegar
Distilled vinegar
Red Wine vinegar
Rice vinegar
Sauces, Jams, etc.
BBQ sauce
Ketchup
Mayonnaise
Pear Butter
Pomegranate Jelly
Salsa
Soy Sauce
Fun things to have on hand
Chocolate
Chocolate Chips
Chocolate Syrup
Hard Candy
Hot Chocolate
Nutella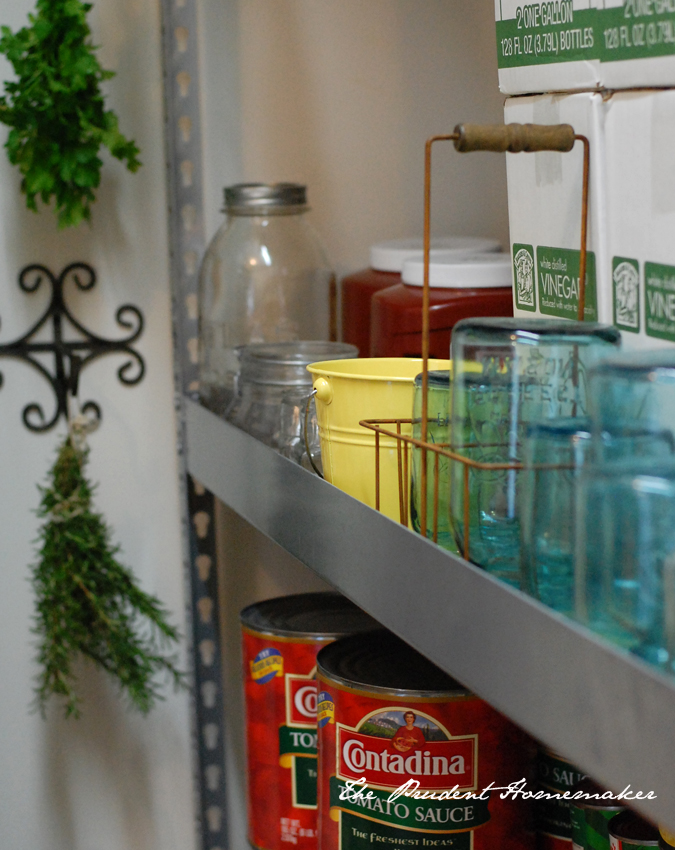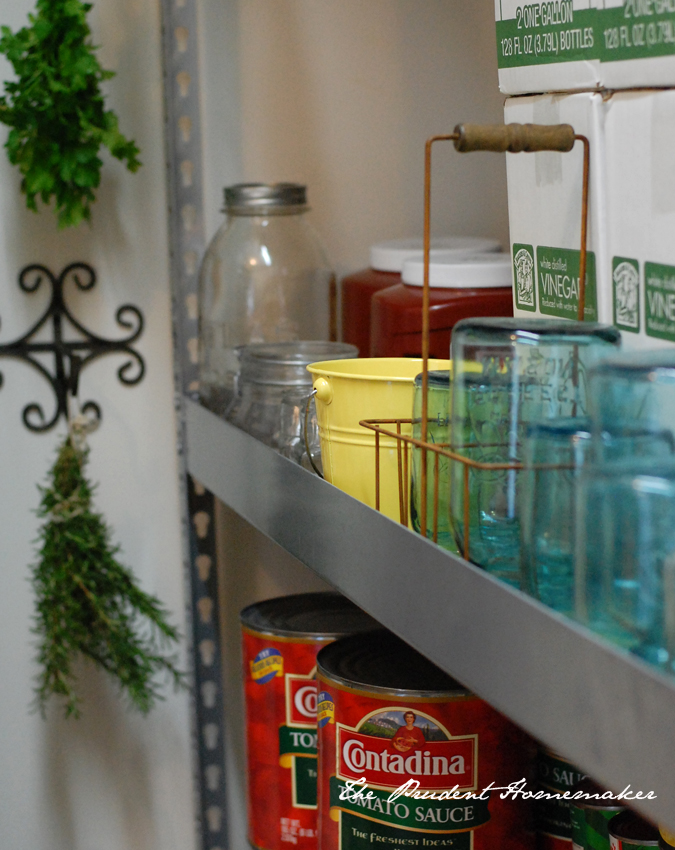 Herbs and Spices
I keep a spice cupboard in my kitchen, with extra spices in my pantry.
Basil
Black Pepper
Cinnamon
Curry powder
Dill
Garlic (powdered or granulated)
Ginger
Lemongrass
Marjoram
Mustard (dry)
Mustard Seeds
Nutmeg
Onion Powder
Oregano
Paprika
Parsley
Poppy seeds
Red Chile Pepper Flakes
Rosemary, ground
Sage, rubbed
Tarragon
Thyme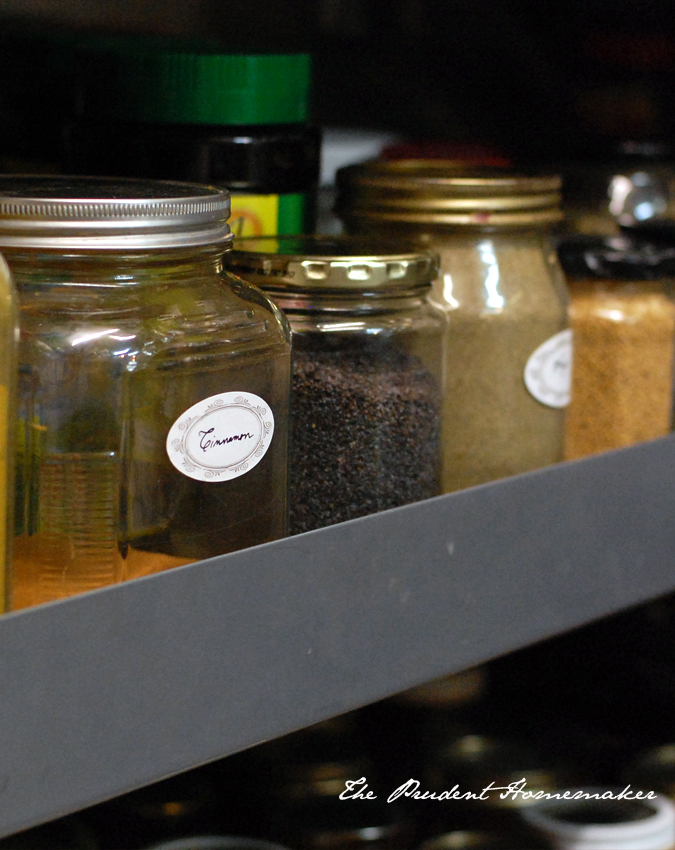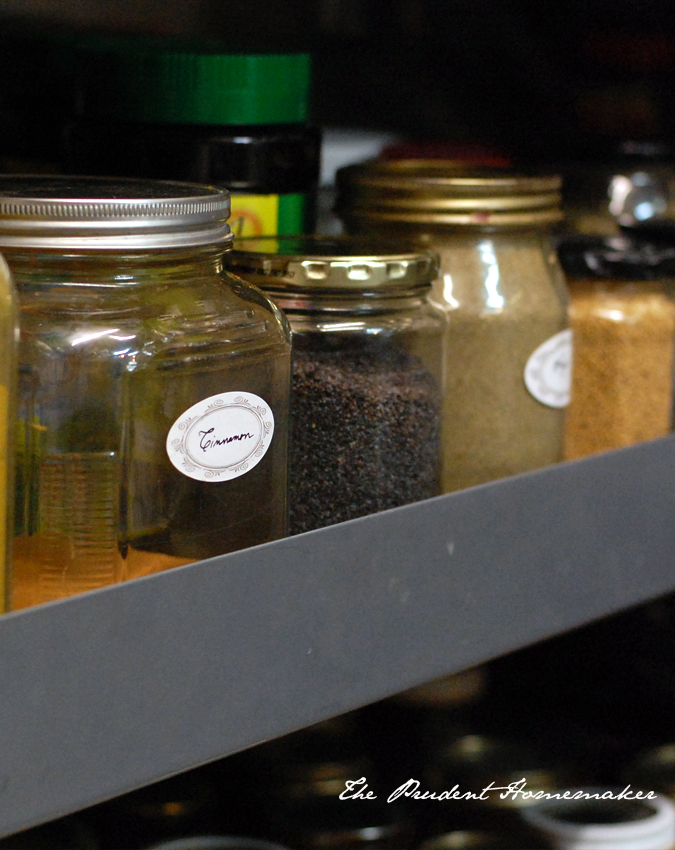 Other Seasonings
Cajun Seasoning
Cinnamon and Sugar
Hidden Valley Ranch dressing mix (bought in bulk from Sam's Club)
Lemon Pepper
Knorr Powdered Chicken Bullion
Knorr Powdered Tomato Bullion
Pumpkin Pie Spice
Taco Seasoning (bought in bulk from Sam's Club)
Canning Supplies
Ascorbic Acid (Powdered Vitamin C)
Rings and lids
Pectin(liquid, low sugar and regular)
Pickling Salt
Lemon Juice