Twice a year, a master-planned community near my house has a neighborhood garage sale.
I like being able to go to several sales in a short period of time.
I make it a plan to take a list with me. I go to this semi-annual sale with my mom, so I take 3 copies of my list: one for me, one for her, and one to hand to the person having the sale. I don't always use the third one, but if someone asks if I'm looking for something in particular and they have several things for sale, I'll hand them that copy of the list. This has helped me several times. Once, a woman said, "Oh, I had one of those out at my last garage sale and forgot to put it out this time! I'll go get it!" which resulted in this: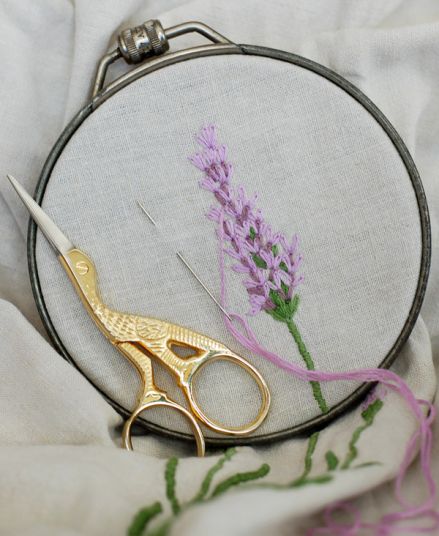 A beautiful metal embroidery hoop, with a date on it of 1917. This is definitely my oldest embroidery hoop. I paid $1.50, and it was in a bag with several other vintage items for that price. It's my favorite hoop now (it's actually much smaller than you see here; I love the small size as it prevents my hand my cramping).
Another time a woman noticed I was looking for sidewalk chalk. She had a large coffee can full of it, which I most likely would not have seen has I not given her the list. When I asked how much, she said I could have it for free!
My list does a lot more for me than that, however. I use my list to specifically shop for clothes and gifts for my family.
I write down each person's name in the family, along with what clothing items they need, and the number of items that they need. For the children, I write down anything they need next year and the following year (the next two sizes up). If they still need anything for this year I will include that as well, but in general, I am shopping ahead for them. By shopping for the next two sizes, I am better prepared for sudden growth spurts. It also is important because sometimes it is difficult to find anything in the sizes I need; having two years to find something helps a lot.
For example, one person on my list might look like this:
Cyrus (age 10 1/2)

4 short-sleeved shirts size 14
6 long-sleeved shirts size 14
3 pairs shorts size 14
1 pair dress pants size 14
2 pairs jeans size 14
3 pairs long pants/corduroys size 14
1 tie
7 short-sleeved shirts size 16
6 long-sleeved shirts size 16
By having a specific number of items, I can be certain not to overbuy. I purchase enough for a week's worth of clothing (including church clothes) for both hot weather and cold weather.
I aim to pay 50 cents to a dollar for clothing items. I will occasionally pay more ($4 for a coat, for example), or $2 for a new items with tags on it, but in general, most items I buy are in the $0.50 to $1 range. This means that, in the example above, for a year's worth of clothing in one size, I am out the same price as one brand-new shirt at Target.
(This does not not count socks, underwear, pajamas, or shoes–just other items of clothing. I purchase socks and underwear on back to school sales. I make pajamas, usually repurposing sheets for these. I look for sales on shoes).
Most of my boys' clothing is used, from garage sales as well as hand-me-downs from friends. I like preppy, vintage clothes, and for the boys, it is usually quite possible to find button-down shirts and polo shirts in like-new condition, as these items are worn less often than t-shirts. I find it harder to buy my girls clothing that I like, but I do find things for them on occasion (especially cardigans and jeans). I love vintage-style dresses, so I tend to make those, but I have found several jumpers and occasionally a few dresses.
Besides clothing, I have other items on the list.
I have listed both types of books as well as certain books that we are wanting. I have often found specific books that we wanted. I use these for the whole family or for individual children. If I plan on keeping it for a birthday gift or a Christmas gift, I put it up until that time. I pay .25 to $1 for most books. (I did buy a few last year for $2 each, that were hardcover books in like-new condition–and they were books on my list). I will also pick up books in like-new condition for us to give as gifts to friends; these are often books that we already own and my children love, so I know their friends will like them as well. I put those in my gift box.
My list includes items that I know the children would like for birthdays and Christmas. Sometimes I find those items and sometimes I don't. Sometimes I find items that I know they will love that aren't on my list; that's okay, too, of course! (A couple of weeks ago a neighbor on my street was having a garage sale that included several like-new games, all marked $1 each. One was Harry Potter Uno. I've seen that on Amazon–for $53! I bought it and put it aside for Cyrus' 11th birthday later this year).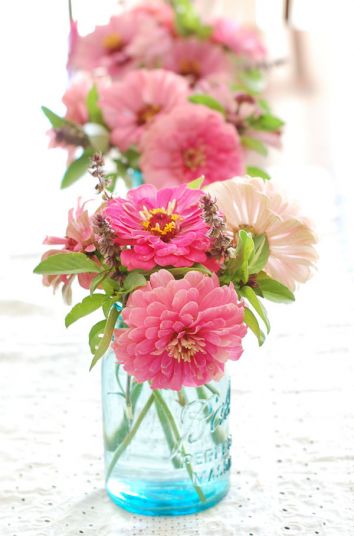 This vintage Ball jar was a garage sale purchase.
If there is anything I need in the kitchen, I'll put that on my list. Right now, for example, I'm looking for a metal pie server. I have one, but I would like another one for when we have several kinds of pie at once. I have an idea of the style I would like. I'm not in a hurry, but it's an item I would like to have, so I'll look for it.
Any other needs I have are also on there. This year, I am looking for a few bicycle helmets.
I have a few items on my list that I would like for sewing; I am looking for some specific shades of velvet and wool. Often these two items can be repurposed clothing items, so I look for pieces in good enough shape to cut up for those projects (a velvet skirt can offer plenty of fabric to make a girl's dress bodice). I aim to pay $1 for these. Garage sales are also a great place to look for sheets (to use for sewing) and blankets (to use as-is).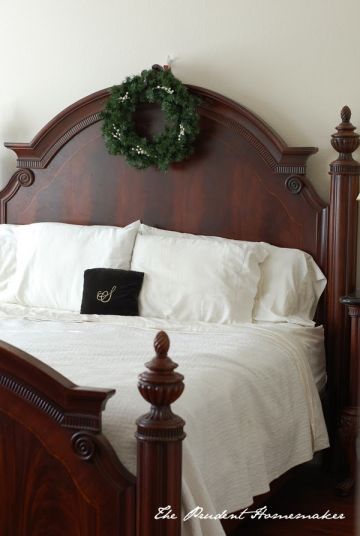 The white quilt on my bed was a garage sale find for $15. I have purchased blankets for the children at garage sales, too.
I usually take $35 to $45 with me. Most times, this is money that I've made from my own garage sale. I plan to go to this neighborhood sale in April and October; I might go to one other sale a year (this year I went to three already, as two were on my street and one was two streets over).
My list has also served another purpose for me for the past several years. A friend of my mother's (a woman whose children are long-grown) goes to Oregon and Washington each summer. She loves garage sale shopping while she is there, and she offered to look for things for me before if I would give her a list. She brings back several bags of clothing (usually including a few costumes), along with a list of what she paid for each item. She looks for items in the same price range as I do (most items she picks up for 50 cents each). I email my list to her.
I'll be going garage sale shopping at the community garage sale this Saturday. I'm looking forward to it!
Have you ever written a garage sale list? Do you use garage sales to buy the bulk of your family's clothing?