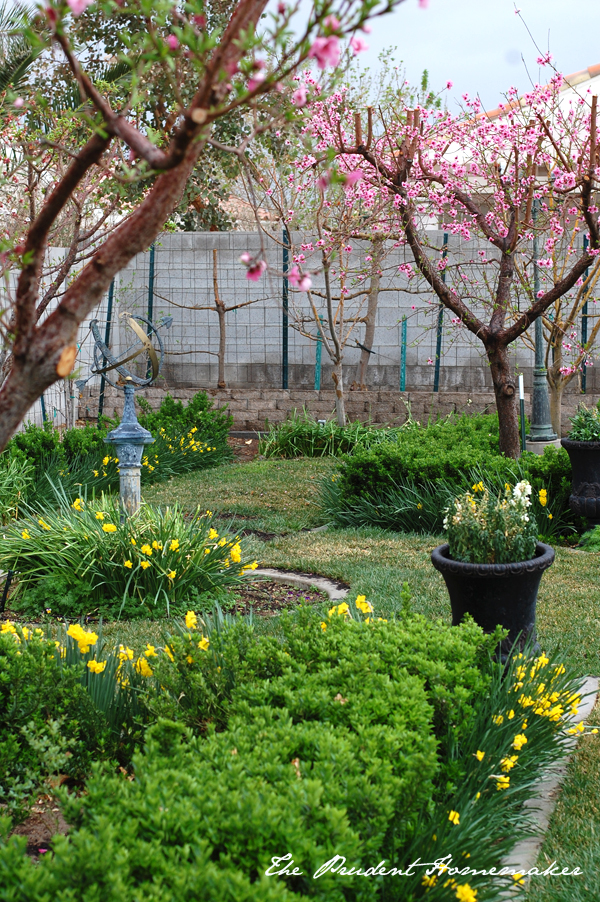 Spring and fall are the best time to plant fruit trees in a garden. They're also a great time to find fruit trees on sale at your local nursery. If you're ordering from a catalog, you will most likely need to order in spring, as most fruit trees only ship in spring.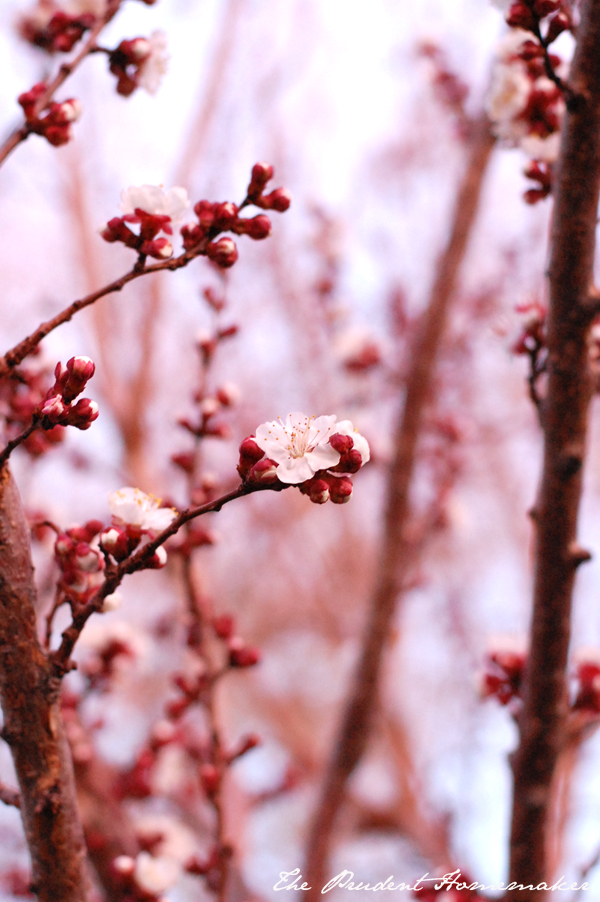 First, you'll need to know your zone. This is essential for choosing a fruit tree that will grow well in your garden.

After determining your zone, you'll need to ask yourself a few more questions:

Cold Hardiness: If you live in a place where it freezes and winters are cold, "hardiness" is something that will matter in your decision. Trees that are not hardy for where you live will be killed by freezing temperatures. When choosing a tree, look to see if it is hardy to your cold winter (for example, "hardy to -25ºF", "hardy to -40ºF", etc.). If the tree is not hardy for your area, choose a different variety. Most trees are hardy to USDA zone 5; some will go to zone 4. In colder areas, you may need to work harder to find trees that will do well in your climate. In USDA zones 3 and colder, you may find there are more berries that will grow in your area then larger fruit trees. Growing berries may be your best choice for fruits.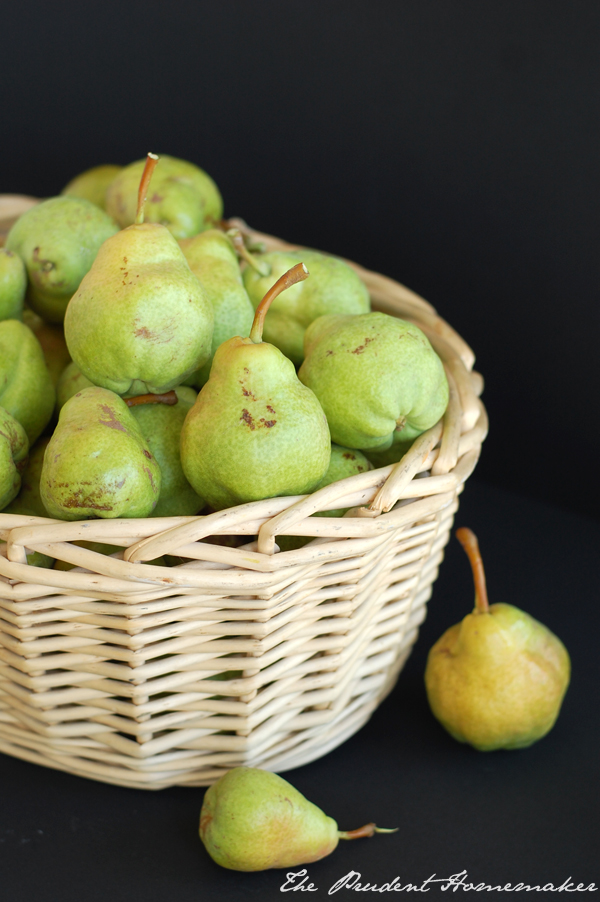 Chilling hours: If you live in a warm climate, making sure that your fruits get enough hours of cold to produce fruit is important. Most fruits perform best in USDA zones 7 and below; however, there are some trees, such as citrus, that prefer it to not freeze at all (citrus can handle a few hours of below freezing, but do not do well when temperatures are below 28º for more than a few hours and will suffer significant branch loss at that point; if temperatures turn colder, the tree can die).

Chilling hours are the number of hours between 32-45ºF that you receive in the winter. Temperatures that are colder than that do not count towards chilling hours. Temperatures slightly above that each count as a half chilling hour, and warmer temperatures count as negative chilling hours. Trees are usually labeled low chill, medium chill, and high chill, though they will sometimes list actual chilling hours.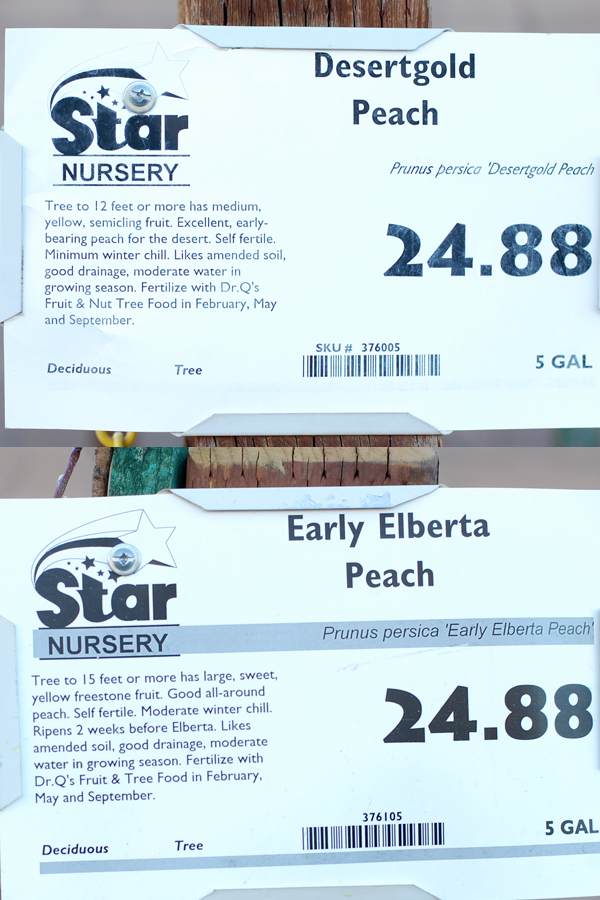 The actual hours are especially helpful when you want to have to trees of the same fruit that are ripe at different times. I grow two different peaches: Desert Gold and Early Elberta. Desert Gold is a low-chill tree that ripens for me in May. Early Elberta is a mid-chill variety that ripens in July. (The regular Elberta tree is high-chill and is not the best choice for our climate, as it has higher chilling hours. That tree usually ripens in August or September, depending on your region).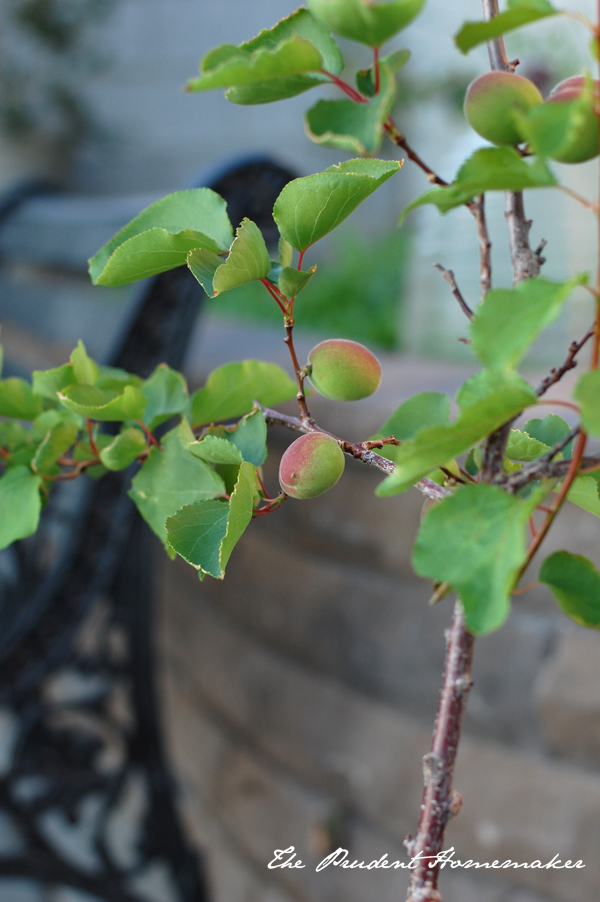 I did the same things with apricot trees. I grow a Royal Apricot in my backyard. It is self-fertile and ripens in May. My father-in-law has an apricot tree that ripens 3-4 weeks earlier than ours. With some research, I learned that there are two other apricot trees that ripen that early. One of them is called Katy. I went to a different nursery to purchase this tree so that we could enjoy fresh apricots twice a year, a few weeks apart. I planted Katy in the front yard last year; it has 15 apricots on it this year, and it should be ripe soon. It only requires 150 chilling hours, so it was the second tree in my garden to blossom. It flowers the first week of February.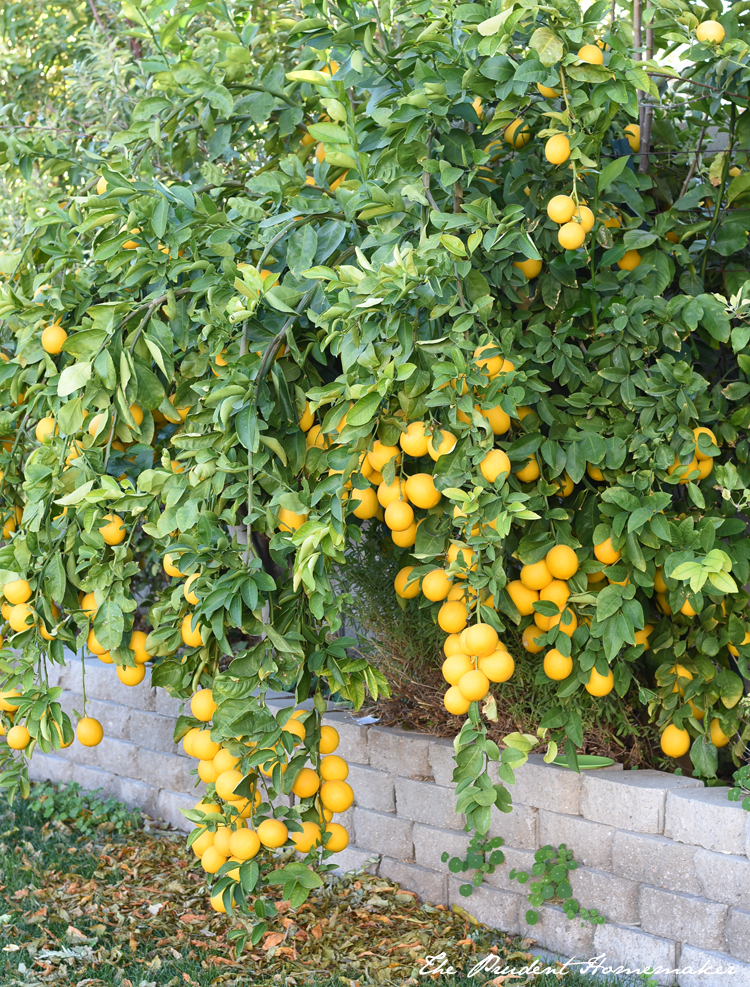 Throughout a city, there are several microclimates. This means that your area may not be just one specific zone. Higher and lower elevations will affect your property and can change the zone dramatically. For example, the Las Vegas valley where I live can be anywhere from a zone 8b to a zone 10a. I am actually a zone 9a (though the general hardiness zone map I linked to above puts me at an 8b; a more specific map puts me more accurately in a zone 9a, which has first frost dates of November 15th and last frost dates of February 15th; our frost usually falls the first or second week of December, and we might get another frost in January).

You can also have microclimates within your property–even if you live on a small lot. How much shade or sun an area receives in winter can make one place warmer and another place colder. Keep this in mind when choosing a place to plant your fruit trees. I grow a few moderate and high chill fruits in areas that are shaded from the walls during the winter. This makes it more likely that those trees will fruit for me.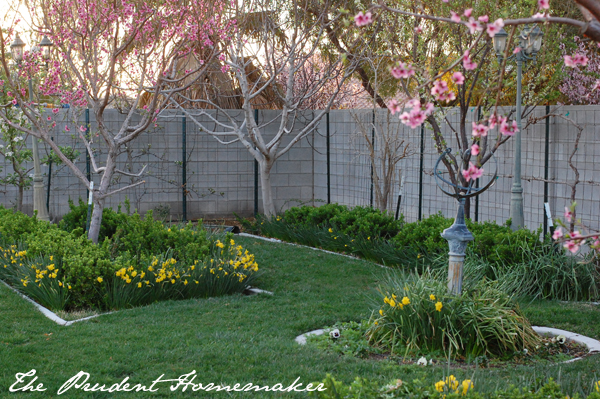 Spacing is another important choice. Full-size fruit trees take up a large amount of space and take longer to fruit than semi-dwarf and dwarf trees. Most of the trees I grow are semi-dwarf types. They fruit a year or two earlier than full-size trees, but more importantly, I can grow 10 semi-dwarf trees in the space needed by one full-size tree. This is how I am able to have 31 fruit trees on a .24 acre lot. In addition, I can reach the fruit more easily.
When choosing an individual fruit tree, look for one with a straight trunk. This is one of the nice things about choosing at a local nursery that isn't possible when purchasing online.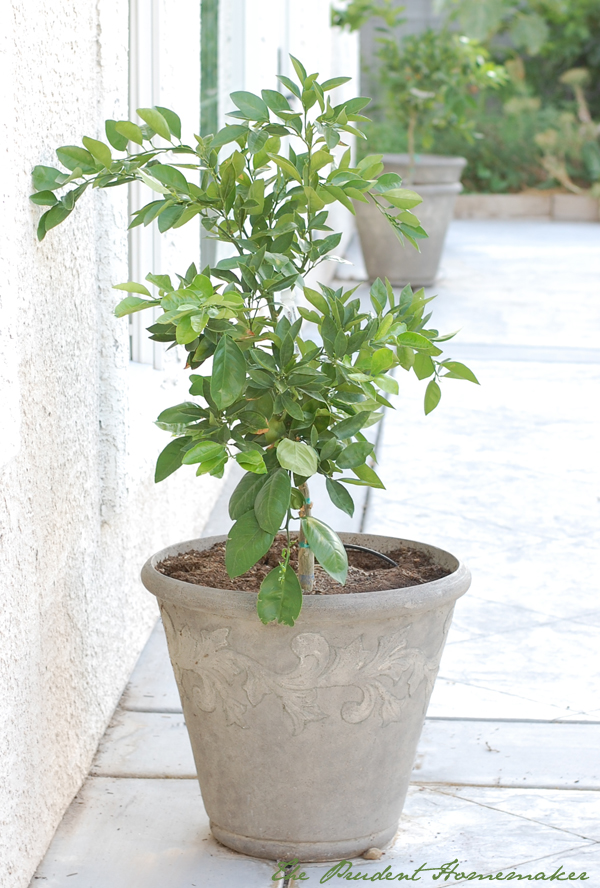 Fruit trees can be planted in the ground, but also in pots. As a tree's growth is limited by the size its roots can grow, choose as large a pot as possible to grow potted fruit trees. Dwarf and shorter trees are good choices for pots for this reason. I grow mandarins and pomegranates in pots. If you are renting, growing a fruit tree in a pot means you can take it with you. I love that I can put pots on my patio and add to my growing space.

Pollination is a very important part of choosing a fruit tree. If you want to only grow one tree of a certain type (one apple, one plum, one cherry, one peach, one almond,  etc.) it must be self-fertile. If it is not, you will never get any fruit from that tree. Most of the trees I grow in my garden are self-fertile, as I have a large variety of fruit, chosen specifically to have something ripe each month over 7 months.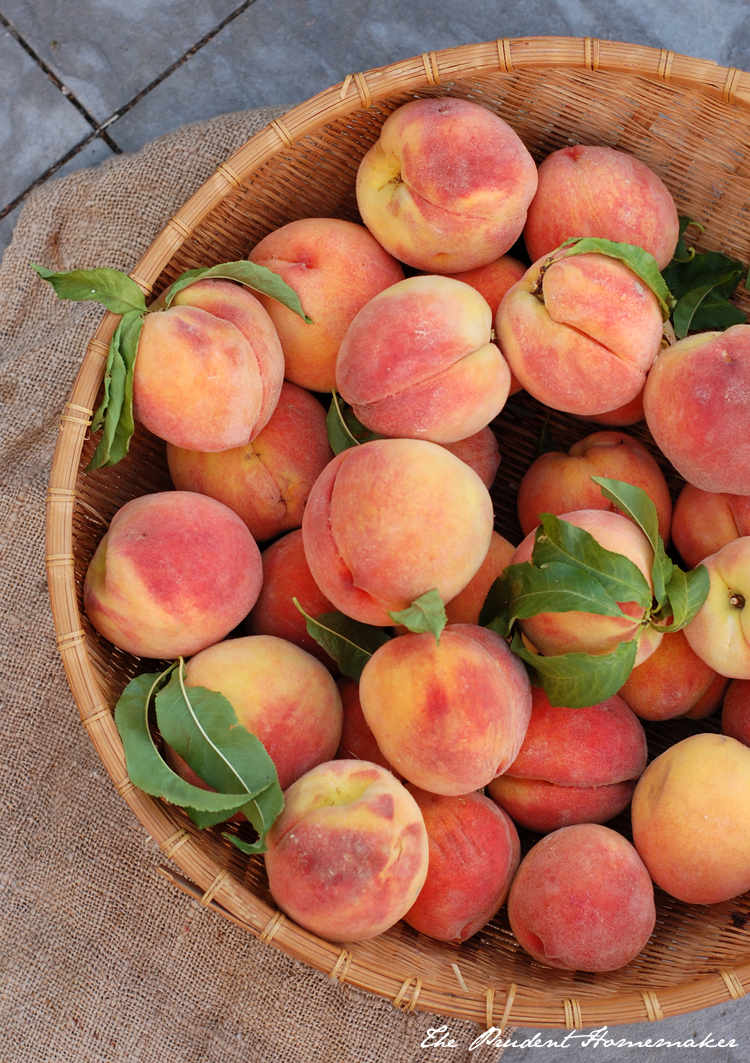 If the tree you want is not self-fertile, you must determine what type of tree will pollinate it. Nursery tags and catalogs are helpful with this; they usually tell you what other tree you must plant in order to pollinate your tree. This other tree must be planted nearby (usually within 25 feet). For most trees, this is fairly simple. Apples, however, are much more complex, as they have trees that are sterile (cannot pollinate themselves or other trees), are mixes (and cannot be pollinated by either type of parent tree), and flower at different times (apples can ripen June through February, depending on the variety!) If you want to grow a number of different apple trees, do your research before choosing any that are not self-fertile to ensure that you have the proper pollinator.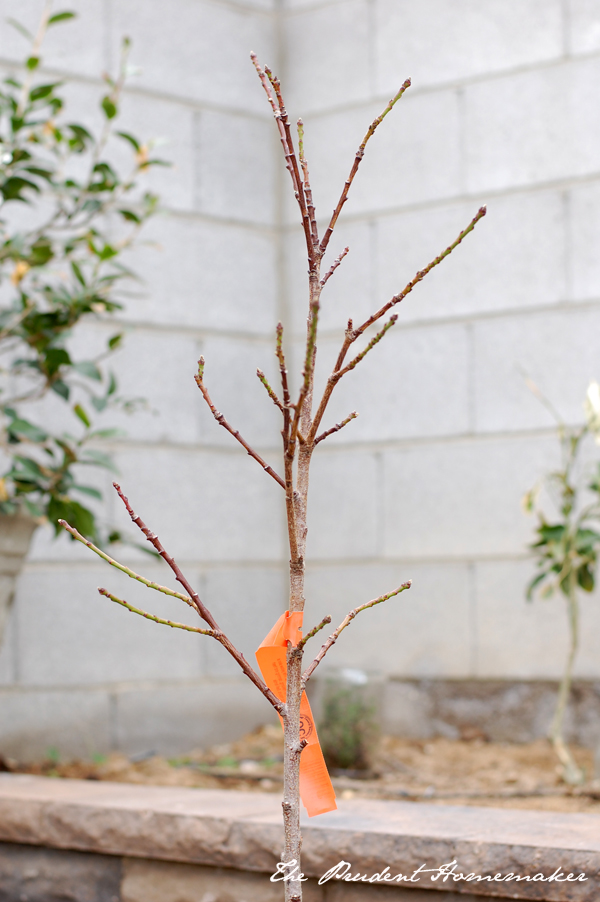 I prefer, whenever possible, to buy fruit trees from my local nursery. This helps me in several ways:

1. The trees are less expensive.

While the cost of trees has gone up $5 at my local nursery since I purchased the bulk of my fruit trees, they are still much less costly than ordering online. In spring and fall, there are usually sales as well. Regular price here is currently $24.88 a tree, and they go on sale for $19.88 (citrus trees are $5 more).

2. I get a potted tree that I can see is growing

My personal experience has been much more successful with potted trees over bare-root trees. The trees have a strong root system and grow bigger and stronger than bare-root trees. I look for healthy branches and growing buds to make sure they are living.

3. I get taller trees

The choices at the nursery are much bigger than catalog choices. I always purchase a 5 gallon tree that is 3 to 4 feet tall. (Our nursery also sell much larger trees for $100 if you don't want to wait for fruit and are willing to pay a lot more). These trees are older and will bear fruit a year or two sooner than a smaller tree.

Of course, you may not have access to a local nursery, or your local nursery doesn't have the type of tree that you want. In that case, ordering online may be your only option. It is important that you plant bareroot trees before the last frost in your area. They need to be planted when they are dormant. Our last frost date is February 14th; most companies do not ship that early, which means I am more likely to have trees die. If your last frost date is May 15th, however, you can still order bareroot trees to put in the ground now.


For a complete list of the fruit trees that I am growing in my garden, check out the column on the right-hand side of my Kitchen Garden page.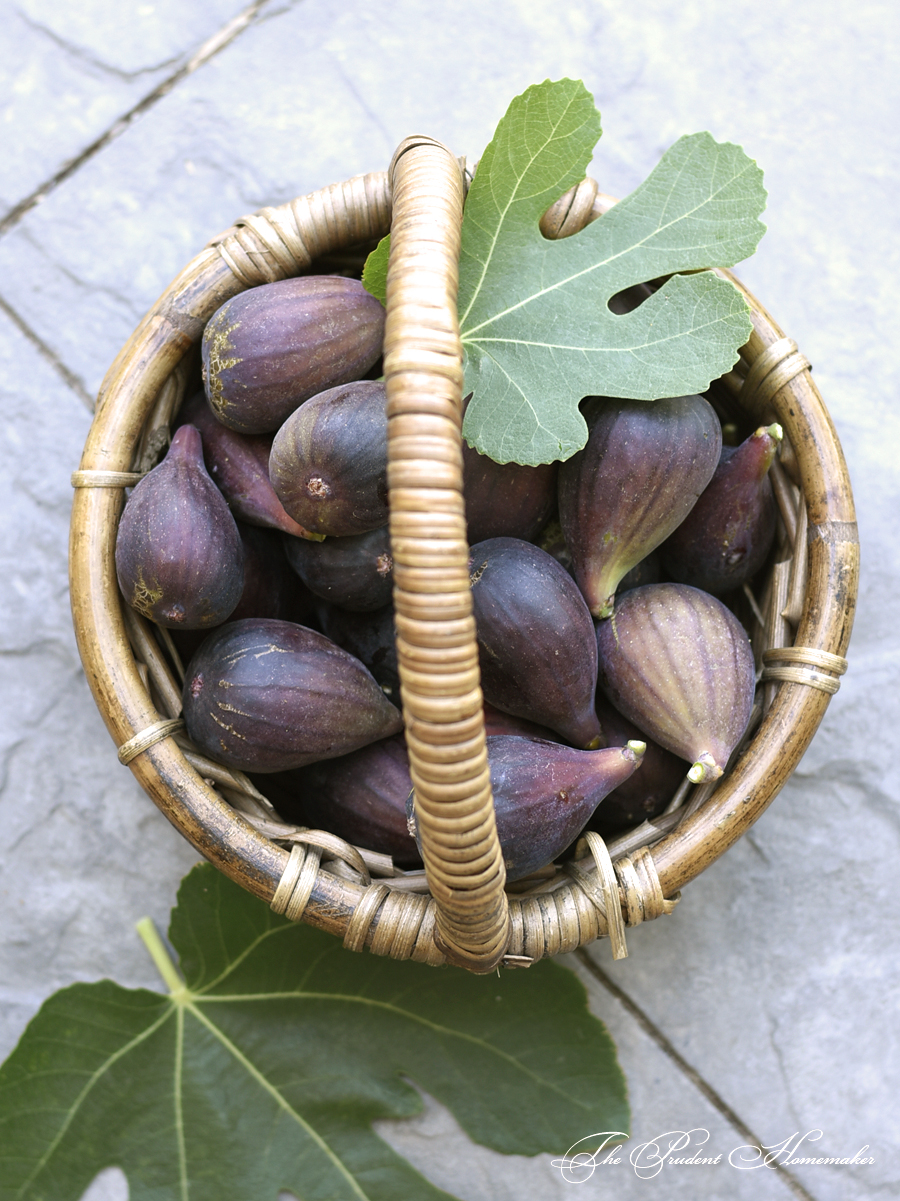 Are you adding any fruit trees to your garden this year?