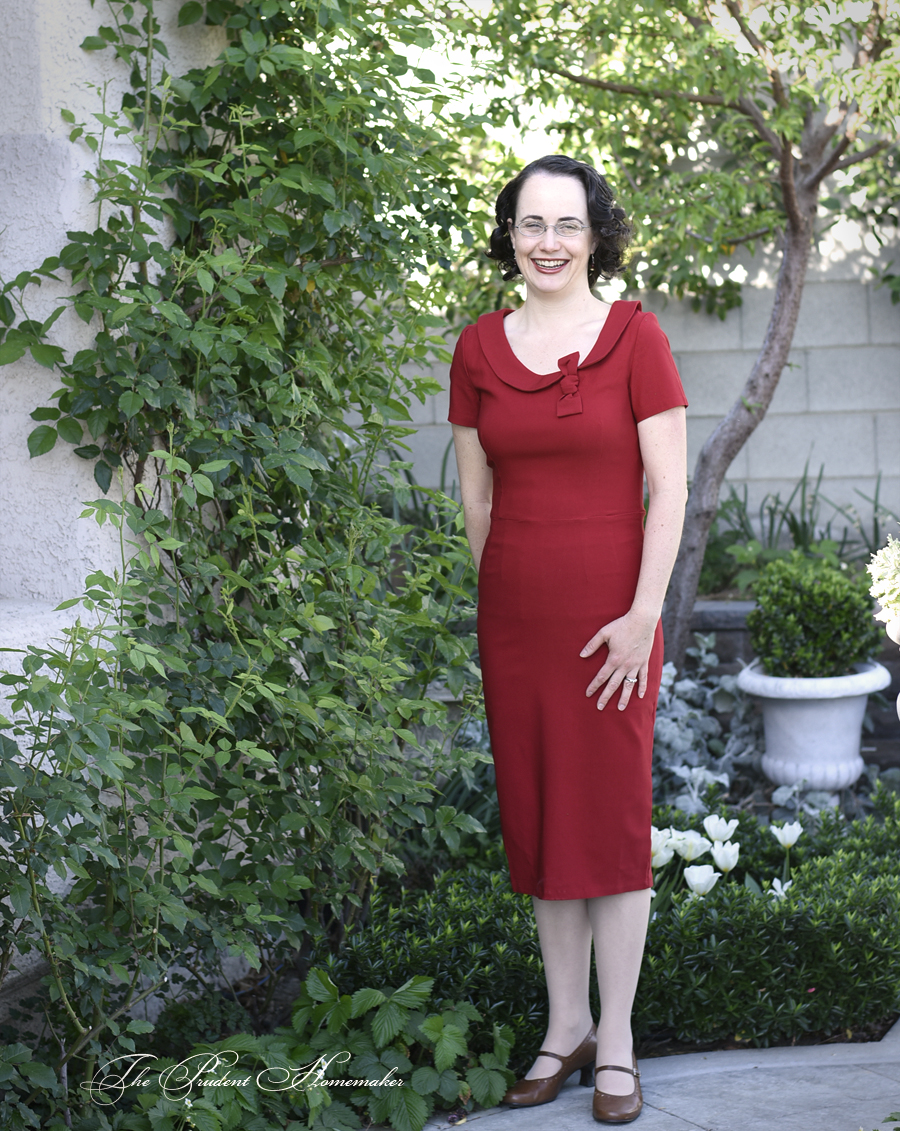 Dress: Amazon — Earrings: homemade–Shoes: Naturalizer
Losing weight is one of the most common goals that people have. It's a big business, too, with lots of ads designed to make you think that you can't lose weight without buying new things: exercise clothing, exercise videos, diet plans, weight-loss pills, and more.
But you don't have to spend money on any of that to lose weight.
You just have to eat less and exercise more.
Eating less is even more important than exercising more; you don't have to burn off calories that you're not taking in!
If one of your goals this year is to lose weight, but you're feeling like you can't afford to lose weight, you're not alone. I've felt that way many times. A few times, I succumbed to a couple of the myths below (#1 and #3) and neither made a difference.
In the last 10 months, I've lost quite a bit of weight. Before you think, oh, that's just normal after-baby weight loss, I can tell you that I started my pregnancy weighing what I had weighed at the end of my first pregnancy. I've lost all of my baby weight from this baby (something I've never done with my previous 7 children), the 9 pounds I gained in between the miscarriage I had a few months before I became pregnant and the time I became pregnant with this baby, and an additional 13 pounds (weight gained in my first pregnancy and other pregnancies that I never lost in the last 15 years).
Myth #1: I have to buy exercise clothing
I don't like tennis shoes. I never have. I wear sandals most of the year, and loafers and boots in winter for everyday wear (and heels for church). One of the things holding me back before was feeling like I had to buy tennis shoes to go walking. I finally bought a cheap $5 pair when we were first married. I started walking to lose the 5 pounds I had gained after we got married. I walked and walked, and never lost the weight.
A couple of years ago, I bought some more supportive tennis shoes so that I could go walking (again, to lose weight). I hated spending the money on them, and I hated wearing them, since I always feel ugly in tennis shoes, and when it's 80º at 6 am in the spring, I'd rather be in sandals. Again, I lost no weight.
If you like to walk (or run) you most likely already have the proper shoes. Wear what you have. If you love it, you'll buy new shoes as a regular part of your budget. If, like me, gardening is more your type of exercise, you're better off buying some garden boots, where you know you'll get in your exercise on a regular basis. If you already have those, then you're already set.
The most important exercise is the one you'll do. And most weight-loss experts agree that losing weight is 80% what you eat and only 20% exercise, so focusing mainly on what you are eating is the most effective way to lose weight–which means you don't have to buy exercise clothing to lose weight.
Myth #2: I have to cut all carbs and buy lots of expensive meat to lose weight
Carbs give energy, and we tend to forget that sometimes. Still, they're easy to overeat. Try cutting toast to 1 slice instead of 2 at breakfast. Eat a smaller amount of rice or pasta (1/4 of your plate).
Your proteins don't have to be expensive meats (or protein powders). Buy whole chickens on sale for under $0.80 a pound. Buy eggs on sale. Buy beans in bulk. Buy Greek yogurt in bulk and use it as a starter to make more yogurt with a gallon of milk.
Myth #3: I need to buy a new exercise DVD
There are so many exercise videos that you can watch for free online! PopSugar has a good number of ones that you can do with no special equipment. Try searching You Tube for some new exercise routines.
If you want to increase your exercise in general, look for simple ways to build more exercise into your daily routine: take more opportunities to walk, take the stairs, sweep the floor more often, or work outside.
Myth #4: I need to pay for a weight loss class/premade meals
Cooking your own meals is one of the best ways to save you money all of the time, and is especially helpful when you're trying to lose weight. You know exactly what is going into your food, and you're able to set good habits that you can continue even after you've reached your goal weight.  Plus, as you get into better habits of cooking at home instead of eating out, you'll find that you're saving money as well as losing weight. (Here's an interesting comparison on the calorie count for some made at home meals versus eating out that will encourage you to cook at home!)
If you need some ideas on great meals that will help you feel full while still losing weight, Pinterest is your friend. I've made a board here with links to lots of great low-calorie meal suggestions.
Vegetable soups are a great way to lose weight, and they're frugal too! If you're in the mood for hot food instead of cold salads this time of year, make some vegetable soups to have on hand for some quick meals!
Myth #5 I need to buy a fitness bracelet to track my steps/calories
If you want to track your steps, you can do that do it with a free app on your phone. You can count calories on your phone, on paper, or just in your head. Or, you can just eat sensible portions and be active during your day. The Lose It! app is a free calorie counter that I have loved.
Myth #6: I need to buy bottled water and/or special drinks
Drinking water is one of the best things you can do to help lose weight. It's simple, and it doesn't have to be bottled, unless you live in a part of the world where the tap water isn't safe to drink.
I live in the driest state in the U.S. Our water is reclaimed and reused. Consequently, after being treated, it has a strong chlorine smell. If you want the chlorine to dissipate and the smell and taste to go away, fill a few bottles or pitchers of water and let them sit overnight in the refrigerator. We've followed this advice from the water district for years, and we always have cold, tasty water to drink.
Water has no calories and costs very little. Increasing your water consumption helps you lose weight, helps your skin, helps your digestion, and helps your energy levels.
Wondering how to drink more water? It's not hard. Here's what I do: (Note: I have 16-ounce glasses.) I drink a glass when I first get up in the morning right away. I drink another glass more slowly after that. At each meal, I drink a half glass (or more) before eating, and another glass and a half during the meal. I drink a glass or two before going to bed. When I get up at night, I drink 2 more glasses worth. Plus, I drink water all throughout the day. When you feel hungry between meals, try drinking water first. We often see thirst as hunger.
I am often asked about how I have the energy to accomplish my to-do list. A good night's rest, plenty of water, healthy food, and a multi-vitamin make a world of difference in my energy levels.
If there are things you're wanting to buy to help you with your weight loss goals, try Craigslist for used exercise equipment. Hand weights can often be found at garage sales.
As far as my own goal? I've got 10 pounds left to go! I'm watching what I eat, and the only exercise I've been doing is cleaning house, lifting the baby, and working in the garden. I'm looking forward to a cleaner house and more bountiful garden in 2017!
I've identified my weaknesses so that I can work to keep my weight off for the long-term: I tend to snack while I'm cooking, and I serve myself portions larger than I need. I've been making my meals on smaller plates (just like I serve to the children), watching my serving sizes, and working on not going back for seconds. I fill half my plate with vegetables. Cutting calories has been the key for me, and it not only doesn't cost more, it costs less, because I'm eating less!
I'm enjoying my meals, I don't feel hungry all the time, and I'm now the size I was before I was pregnant with my first.  I'm spending my money where I would rather spend it: on a new wardrobe!
Remember, the most important thing you need to lose weight is will power, and no amount of money will buy that!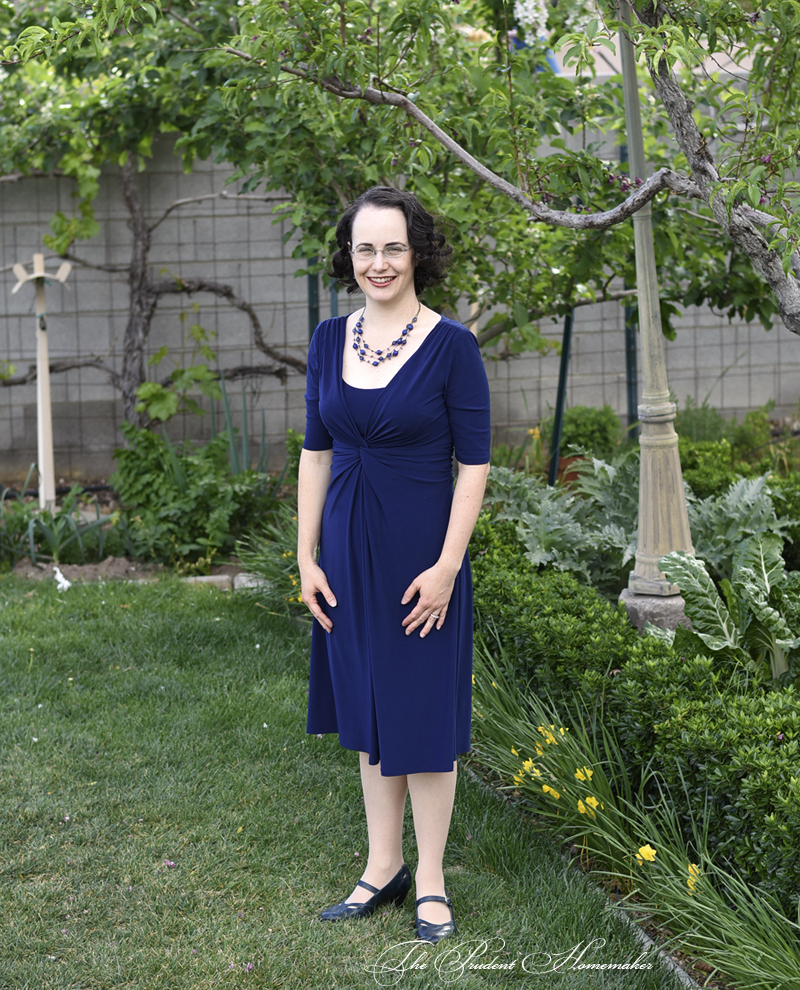 Dress: $6.99 at Goodwill — Necklace: $1 at a garage sale — Earrings: homemade using beads from a broken piece of jewelry I've had since I was a teen — Shoes: Naturalizer
Do you have a free ap or exerise video that you like? Share your favorite weight loss recipes, free videos, and free aps in the comments below!
Note: Every individual's situation is different, but don't let a lack of money stop you from trying to lose weight if you desire to do so!