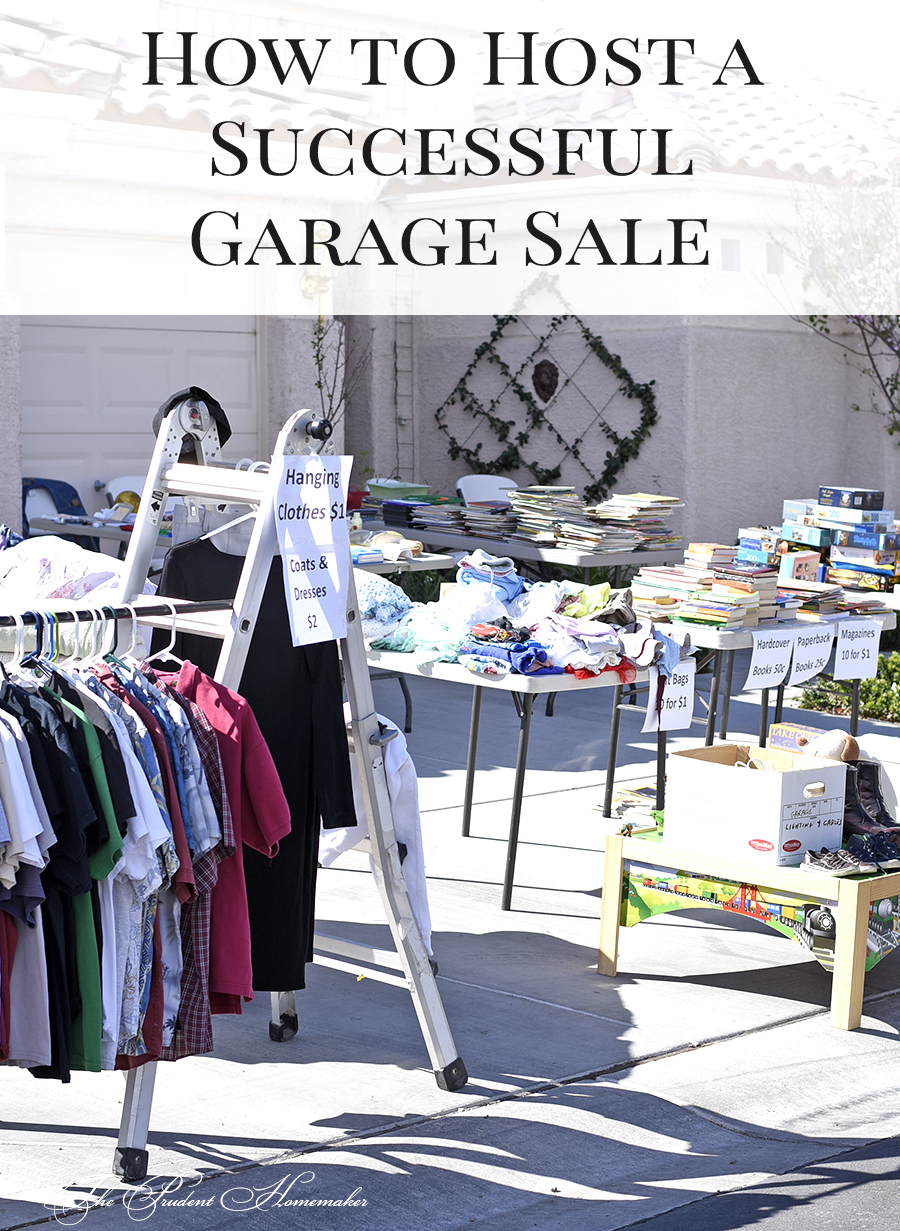 I've had several garage sales over the last decade, and I've made anywhere from $150 to over $1600 at my sales. Here are my tips for having a successful sale:
1. Pick a beautiful day (or two) for your sale
People like to go out when the weather is nice–not too hot, not too cold, and definitely not raining or super windy. If the weather has been nice for a few days before the sale, people will be looking forward to getting out.
2. Have enough stuff to sell.
No one will stop the car and get out if you don't have enough for sale, nor will you make much money.
Let people know you're having a sale ahead of time. Friends who have just a few items they need to get rid of are often happy to donate them to your garage sale rather than making a special trip to donate them somewhere else. 
Every sale I've had has had enough stuff because I've had items from others, as I'm not someone who buys a lot of things. When my grandmother moved from a house into an assisted living facility (basically a small apartment), we sold her unneeded items. When she died, we sold the rest of her items (this was my biggest sale). At that same sale, we knew a family who was moving the day of our sale. They left a bunch of stuff at their curb the night before that wouldn't fit in their moving van and told us we could have it all for our sale. One of the items was a large piece of furniture that we sold for $100! My parents have also given us whatever they were purging at the time (usually making up over half the items in my sale), and they often gave us a few extra items from friends who no longer needed them.
If you still don't have enough, combine forces with a friend (or two!) and host the sale together. Label items with different colored stickers so that you can keep straight where the money goes. I've stopped at huge sales and found out when I went to pay (and the sellers marked prices down by the color of the labels, or took the labels off and stuck them on a piece of paper) that the sale was hosted by more than one person.
3. Display your items on tables.
No one likes to bend over in your driveway and look through piles and boxes of items on the ground. If you don't have enough tables, borrow some for your sale and arrange your items neatly on the tables. Make a beautiful shopping display with like items to make it easier for your customers to find what they are looking for.
I like to have large items on one side of the driveway. On the tables, I'll arrange sections for different items: children's clothing (sorted by sex and size), women's clothing, men's clothing, housewares, (sorted by kitchen items, decorative items, bedding, etc.)  children's books, other books, etc.
As your sale continues throughout the morning, rearrange your items on the tables during slower times to keep the items looking neat. Refold clothing and re-stack items that have become disorganized.
In addition, if you can hang clothing (a pole between two ladders works well) your customers can see your clothing better, and it's more likely to sell than clothing that is folded.
4. Price everything ahead of time.

You will sell more items if people don't have to ask you the price. 
When pricing your items, remember: You want to get rid of these things and make some money doing it! Don't price items too high, or no one will buy them. Think about what price you would consider to be a good deal and price it accordingly.
Use stickers for individual items. You can also use signs in combination with stickers, such as a sign for all books or all clothing. I usually hang signs for books and clothing on the ends of the tables so that potential buyers can see them from the street as well as when they walk up to the sale.
In my area, some prices that I consider to be a good deal are the following:
Paperback books: $0.25 each
Hardcover books $0.50 each
Children's clothing: $0.50 each
Adult clothing: $1 each
Coats and Dresses: $1 to $3 each
If these items are more than that, I will hesitate before purchasing them when I go to a garage sale. I will pay up to $2 for clothing items if it is something I really like, but I am less likely to buy several items from the same seller. The more items you can get your customers to buy, the more you've gotten rid of, and the more they are likely to spend in the end.
5. Accept reasonable offers
Everyone loves a bargain. Especially on large items, people will offer you an amount lower than what you have priced. If it's not way lower than what you priced it at, accept the offer, or offer a slightly higher price back that is still lower than your original asking price. Remember, the goal is to sell the items, not have them left at the end of the day, and this person is actually interested in your item, so sell it to the interested party!
6. Advertise your sale
The night before the sale, put up a notice in the garage sale section of Craig's List for your city. List the items and prices of those items in your post. If you have clothing, be specific; i.e. "Boy's clothing sizes 5-8 $0.50." If you can take pictures ahead of time, include pictures of as much as possible.
The morning of the sale, I'll take pictures of my items in the driveway and use the same list to post the sale on the local Facebook page.
Another free place to list your sales is garagesales.net. 
7. Have good signage
I can't tell you how many customers have thanked me first thing as they come up to my sale for having had good signs! Most of your buyers will come from your signs.
I print my signs on colored paper on the computer and use packaging tape to tape them to boxes. I print in a large, bold print so that potential customers can easily read the signs. I include the date (or dates, if it's a two-day sale), the time of the sale, my street address, and a huge arrow pointing the correct direction. I make signs for both sides of the box so that it can be read from both directions at an intersection.
I use milk jugs filled with water to weigh down the boxes, and I place them on the concrete medians at the nearest intersections. I place another box with signs like this outside my housing tract. 
Once inside the tract, I have boxes with signs that just have large arrows printed on them at every turn.
I use the same colored paper for all of my signs, so that people know it's the same sale. I have used light blue and light green paper in the past, as that is what I had. The signs were colored but still easy enough to read.
8. Start early
The serious buyers will be at your house a half hour before you start your sale, hoping to find great deals while you're still setting up everything. They haven't spent their money yet, so they're more likely to spend more with you if you have what they want. Be ready for them by setting up early (I like to bring out tables about an hour and half before the sale starts), and advertise the start of your sale at 7 a.m. Be prepared to make most of your money between 6:30 a.m. and 9 a.m. (Note: Start time vary by location; in some areas, no sales start before 9 a.m. Learn what is normal where you live).
If you have a place to stage tables indoors the night before, you can have non-breakable items already arranged on the tables. Then you simply have to carry your tables outside with the for-sale items on them. 
9. Greet your customers
A cheery, "Good morning!" is always helpful! Ask your customers if they're looking for anything in particular; perhaps you have that item and can help them find it amongst your items for sale. Tell them your prices, i.e. : "All paperback books are $0.25 and all hardcovers are $0.50. Clothing on the tables are $0.50 each and hanging clothing is $1 each." Even though your prices are posted, letting them know what they are will prompt them to look through things they might not have been considering. Have a lot of clothing in the same size? Don't be afraid to tell people! Likewise, let people know what other items you have; I have seen lots of potential buyers look through my sale items more closely after we've told them what we have in a cheery manner, and they have bought a lot more that way.
At a busy sale, it's important that customers know who's in charge. If they have any questions about an item, they know who to ask, and when they've found something they want, they know who to pay. Your greeting makes it easy to establish who is in charge of the sale.
10. Be helpful
Have plastic grocery shopping bags handy for your customers to put their items in. Ask your customers who are buying several items if they'd like you to start them a pile while they look around some more. This leaves their hands free to pick up more items that they might just buy. I've had customers hand me enough items for 2 to 3 piles while they look around.
11. Have change
I like to start out with at least $60 to $80 in change. Many people only have $20 bills. I go to the bank ahead of time and get ones, fives, and a roll of quarters. Just remember how much you started with when you count your profit at the end of the day.
I prefer to wear an apron with two pockets while I'm having the sale. In one pocket I keep bills, and in the other, I keep coins. This way I can walk around the sale and help customers without worrying about the money.
If I've made a lot of money, I take a second during a time of no customers to run inside and put some large bills/stacks of twenties in the house.
12. Have help
If you can sell with someone, you can both answer questions about items together, rearrange items during times of no customers, and give each other a chance to use the restroom. One of you can also watch your sale while you set up signs early in the morning and help you take signs down when the sale is done.
13. Consider a two-day sale
If you live in an area that has sales for two days, the real serious buyers come on the first day. You'll need to have lots of items in order to do this, but if you have enough, it's totally worth it. My highest profit garage sale (where I made over $1600) was held over two days. In our area, the big days are Fridays and Saturdays. Fridays are especially busy early in the morning, as people stop on their way to work. Find out what days are the most common sale days in your area. In some places, it's Thursday! You'll have the most success by selling on the days that people are normally out looking for sales.
14. Have a free box
While not absolutely necessary, a free box will often prompt people to stop. They may then end up deciding to look around the rest of your sale, since they have already gotten out of the car. I use a free box for items I think won't sell but that I still want to get rid of. Some things you may want to include in your free box are VHS tapes, clothing items that are really worn and/or outdated, promotional t-shirts and other promotional materials, stuffed animals, and items that may be missing pieces.
I set up the free box a little distance from the rest of my items. 
15. Donate what's left
At the end of your sale, (after you've taken down your signs) load up your vehicle and drive straight to the thrift store to donate any unsold items. In the U.S., you can receive a receipt for donated items and use it as a tax write-off. This nets you a bit more money on your sale in the form of lower income taxes next year.