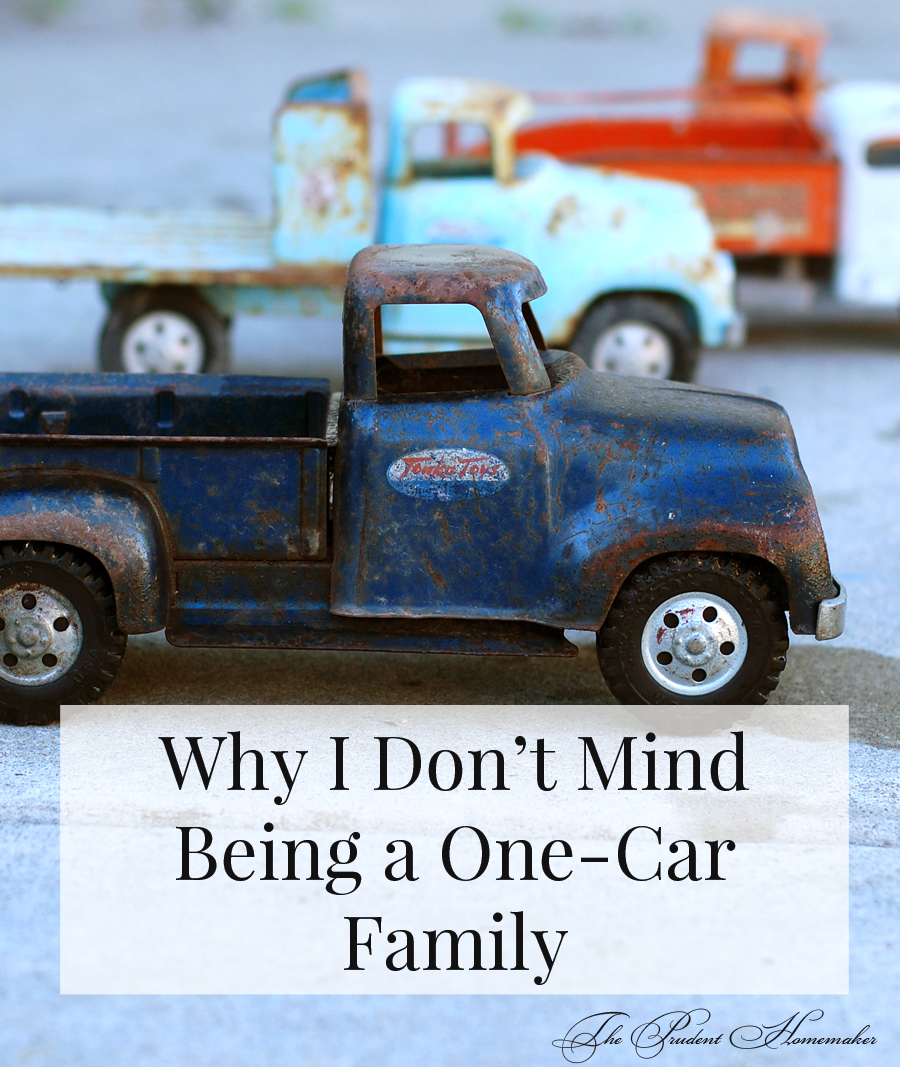 Twelve years ago, after our third child was born, we sold both of our vehicles and bought a single vehicle for our family. We needed something that would fit three car seats and have rear air conditioning and tinted windows. In our heat, it can easily get to 140º in a car in the summer, so having these features in pretty essential in making sure that passengers in the back don't overheat; we run the air conditioning in our vehicle eleven months of the year.
After our seventh child was born, we needed a larger vehicle that would fit our larger family. We sold what we had and bought a used van for $500 over what we sold our previous vehicle.
Why I Love Being a One-Car Family:
1. We only have one car to register.
In our state, registration for a vehicle is pro-rated by the vehicle itself as well as the age of the vehicle.  It's several hundred dollars a year, even for older vehicles.
2. We only have one car to insure.
This easily saves us hundreds of dollars a year.
3. We don't have car payments.
Not making payments on multiple vehicles saves us a ton of money.
4. I have plenty to do at home.
Being home more often rather than running around gives me more time to do the things I want and need to do.
5. I am happy at home.
I have been asked if I don't feel "stuck at home" with just one car. I have never thought of being in my own home as being stuck. Home is not a place I want or need to leave and get away from in order to feel complete each day. I try to make my home a beautiful place to be where I am surrounded by the people and things that I love.
The practicalities of living with one car: 
1. Most of the time, I don't go further than a two-mile radius.
Within that distance, I combine trips to save time and gas. We have a lot of stores within that distance. Once a month I'll go to Sam's Club (which is 5 miles) and a couple of times a year I run an errand a bit further out.
2. I will make a trip to the store usually very early in the morning or late in the evening.
Stores are blissfully empty early in the morning, making it easy to check out quickly without a 20 minute time spent waiting in line. Late evenings are good for that as well, depending on the store.
In our summer heat, running an errand during the day will literally wipe you out. Sure, it may only take 5 minutes to get to the store, but your vehicle is 140º inside and it doesn't cool down by the time you've gotten to the store. Then you get back in on the way home. This makes a person exhausted and in great need to cool down when they return home–and leaving you too tired to accomplish much for the rest of the day. In the summer, I try to go shopping less frequently. No matter the time of year (but especially important during the summer) I'll try to go super early (like 6 a.m. if the store is open then, or right at 8 if it opens later) or go after the children are in bed, so I can come home and go to sleep afterwards. Going shopping during those hours means I don't interrupt our day and my husband has our van to take to work.
3. I don't go shopping very often.
I try to limit my trips to the store. I keep a well-stocked pantry, which means I don't have to go to the store every week and can wait to find the best deals.  Staying out of the store also makes it easy to stick to my grocery budget.
4. I do my shopping research online ahead of time.
If I know what I need but I'm not sure where to get it, I'll look at several stores websites before venturing out to see if the stores have what I need. This saves a ton of time and gas. It's much faster to "go to" 10 stores online and figure out if they have what I need before I go. Another bonus of looking online ahead of time is that I can often find out if the store has what I need in stock.
5. I shop online when possible.
This saves time and money. I look for free shipping deals whenever possible.
6. My children use bicycles.
My older children get to where they need to go on their bicycles. Last week when my husband was at Scout camp with one son, my daughter attended a swim party and my son attended Boy Scouts. They took their bikes where they needed to go. They learn independence.
We bought used bicycles and solid tires for their bicycles to keep costs down and keep them from getting frequent flats.
7. We carpool when possible.
When my eldest has a church dance she wants to attend, she'll go with a group of friends all together and one of them will drive or one parent will drive. They have more fun being together in the car. We'll likewise do the same for church activities for our younger girls.
8. We have piano lessons at home.
We have a piano teacher who comes to our home every other week. I don't need to drive my children to lessons. (Bonus: I get to accomplish more things at home while they have lessons!)
9. I homeschool my children.
Driving them to school and picking them up isn't something on my to-do list. This alone gives me a ton of time in my day which I can use to do other things.
We generally put between 8000 – 10,000 miles a year on our only vehicle. We save not only gas, but wear and tear on our vehicle.
I know being a one-car family isn't practical for everyone, but if you can make it work for you, it's a great money-saver!
Are you a one-car family? How do you make it work for your family? Do you have great public transportation where you live and go without a vehicle?