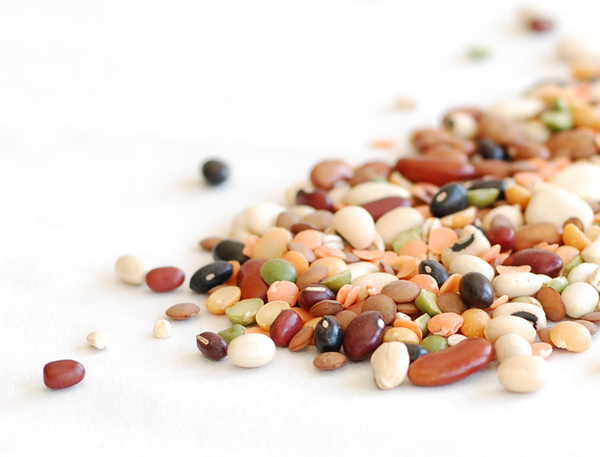 My vegetarian readers can stop laughing at the title now and be prepared to add lots of awesome comments.
For the rest of you, who need to eat on a beans and rice budget, but don't want to eat beans and rice every night, I hope you'll enjoy these ideas for having a variety of meals.
First of all, it helps to have several kinds of beans in your pantry. I stock pinto beans, white beans, black beans, kidney beans, lentils, and mung beans. Don't forget that peas and beans are both sources of protein, so you could have pea soup one night as well.
I buy beans in bulk (25 pound bags) to get them for less. They usually cost me .65 a pound, and since they double in size when cooking (except lentils and peas), you are really getting them for .325 a pound. Need some ideas for bulk sources (including those that deliver)? Check out some bulk sources here.
If you do a search for bean recipes, two difficulties usually arise. One is that many bean recipes contain meat as an ingredient, and the other is that they almost always contain cheese. Both of these ingredients tend to defeat the purpose of eating beans from a frugality standpoint. While you could add cheese or meat to the following recipes, none of them call for it.
Every one of these recipes can be made strictly from pantry ingredients, so if you cannot afford to go shopping right now, don't despair! You can serve up this menu for the week with plenty of variety.
Monday: Bean and Rice Burritos, with either pinto beans or black beans. My husband is actually the one who first got me started in eating bean burritos. My children absolutely love them, and my daughter asked if we could have them today, so we did!
Tuesday: Minestrone Soup, using white beans and kidney beans. French Bread at .25 a loaf makes a wonderful accompaniment. This is a great place to throw in some zucchini in summer or potatoes in winter. This is my children's favorite soup, and we usually eat it once a week. It's not a meal that my husband cares for, however, so you're more likely to see it on my lunch menus than my dinner menus. Just because your husband may not like a particular meal doesn't mean it has to be eliminated from the menu. Just move it to lunch.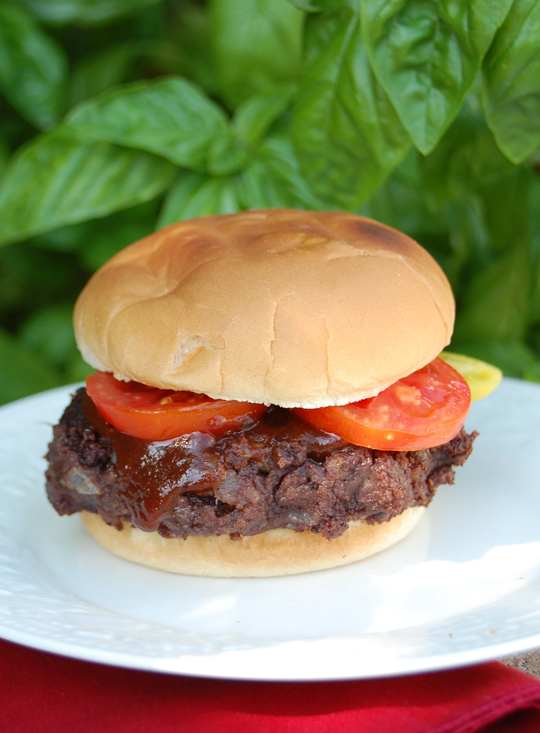 Wednesday: Black Bean Burgers. I like these with tomatoes from the garden when I have them. Don't only think ketchup; these are fantastic with some barbecue sauce or some homemade steak sauce. A side of homemade pickles and oven-baked fries can round out the meal. Eating from your pantry? Have applesauce instead of fries.
Thursday: Rosemary White Bean Soup, or, if you have a bit more in your budget, have Pasta e Fagioli instead. Rosemary Olive Oil Bread at .30 a loaf is a nice addition to the meal. Fruit Salad makes a refreshing dessert.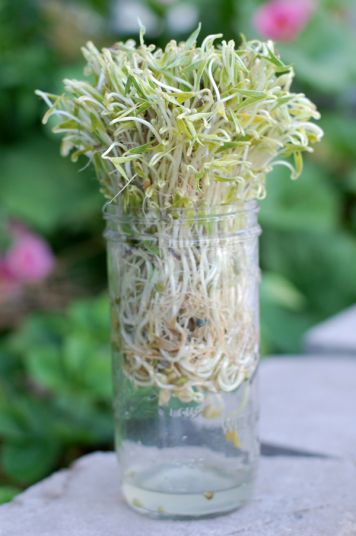 Friday: Stir Fry. Make it meatless and use sprouted mung beans and/ or sprouted lentils (start sprouting them on Monday for Friday's dinner). In summer I'll make this with Swiss chard from the garden. If I have bell peppers, those go in too. In fall I'll include celery when it goes on sale. In the spring, I use sugar snap peas from the garden.
Saturday: Lentil Tacos. Lentils cook up quickly, making this a fast meal. I use tomatoes from the garden when I have them, and if I can buy lettuce in summer I'll buy lettuce for this, since it doesn't grow here past May. In fall we'll have lettuce again, and come late November/Early December it cools off for tomatoes again, so we'll have both lettuce and tomatoes from the garden then. Depending on when our first frost comes (anywhere from Mid-November to mid-December), we'll either have tomatoes picked fresh from the garden or ripening indoors from being picked green.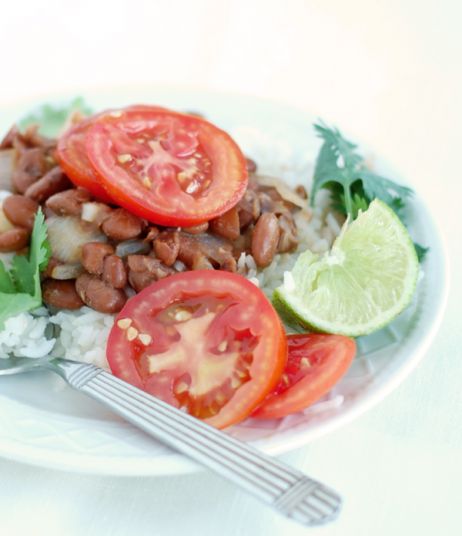 Sunday: Beans and Rice. I'll take cooked pinto beans, add lots of water, with lime juice and onions, and cook them again until they're a slightly soupy mix. Serve over plain white rice (I buy that in bulk as well for .33 a pound) with fresh tomatoes from the garden on top. The dollar store usually has a pack of 12 limes for a $1. (I've also made this using canned lime juice and canned tomatoes when needed). I first had this meal in Geneva, Switzerland. A sister from church invited my missionary companion and I for lunch, and this is what she served to us. It was the first time I had ever eaten rice and beans, and I loved it! When I was back at college making this meal again, my Mexican roommate's mother was visiting. She was standing in the kitchen while I was cooking. She looked at my meal and said would be so much better if I just added some lime juice. I tried it the next time, and I've been making it that way ever since.
Next Monday: Add a little cheese this time (it's Parmesan, so you can keep this in your pantry if you get the shelf-stable variety), and have White Bean Alfredo Sauce over pasta.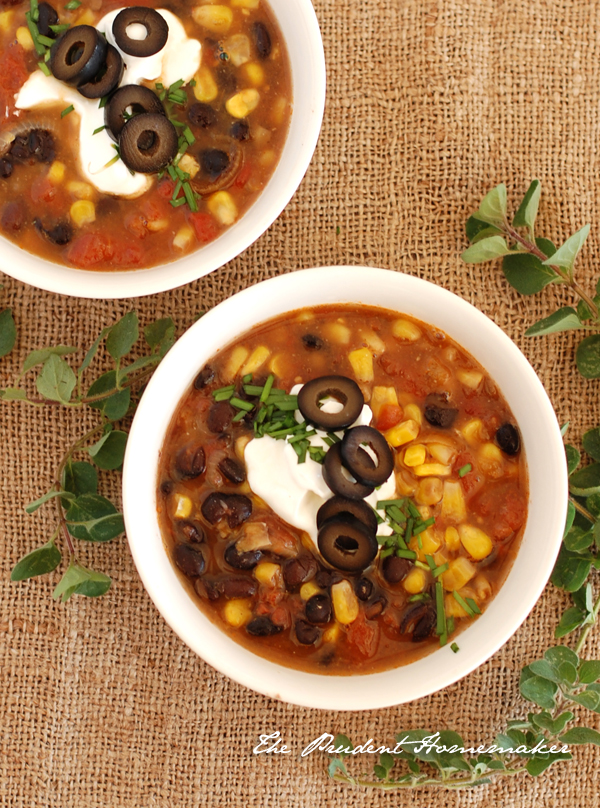 Next Tuesday: Taco Soup. No need for meat in this one! I spent a semester doing a cooking swap every night between the 6 girls in my apartment and an apartment of guys down the street. This was one of the meals the guys made at least twice a month.
Next Wednesday: Chili. There are ton of chili recipes out there, and so far my family seems to like them all. Remember that chili doesn't have to have meat in it to be delicious. Chili is one of my husband's favorite bean dishes.
Need more information on cooking beans?
(Of course, beans aren't the only way to go meatless. Other great meatless meals that we love: Fried zucchini with homemade ranch dressing, tomato cheddar cracker sandwiches, pasta salad, tomato soup and grilled cheese sandwiches, mock chicken fried steak, soups, tomato basil sandwiches, salads of all varieties, tomato pizza, zucchini potato pancakes, and more!)
There are more great bean meals out there that are easy on the budget, like red beans and rice, baked beans and cornbread, falafel, navy bean soup, lentil soup, black bean soup, hummus and pitas, bean enchiladas, etc.
So let's have beans for every meal!
What are your favorites? Feel free to add your links in the comments.