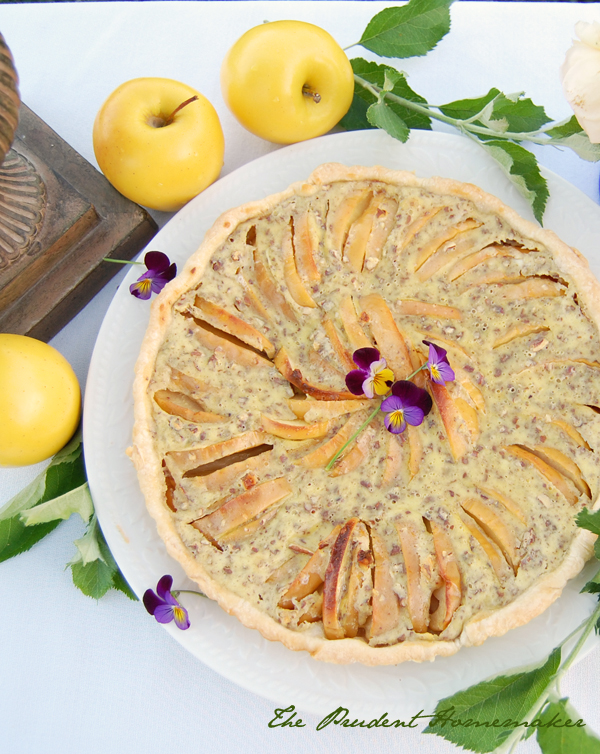 Serves 8
1 stick (1/2 cup) cold unsalted butter, cut into bits (make sure it is Unsalted)
3-4 apples (or more if they are small)
¼ to 1/3 cup apple cider or apple juice, or to taste
3 tablespoons ground almonds or pecans
½ cup heavy cream OR sour cream, OR evaporated milk
To make the pastry:
In a bowl, blend the flour, salt, and butter until the mixture resembles coarse meal. Add the water and stir the mixture until it forms a dough. Let chill, wrapped in plastic, for 30 minutes.
To make the filling:
Halve, core, and thinly slice apples. (Do not peel them).
In a bowl, combine apples with half the sugar (1/4 cup) and the apple juice.
Let macerate 30 minutes.
Preheat oven to 375 degrees F. On a lightly floured surface, roll out the dough into an 1/8-inch-thick round and fit it into a 10-inch tart pan. Prick the dough with a fork (not all the way through or it will stick to the pan) and top with the sliced apples. Bake for 30 minutes.
In a bowl, whisk the egg yolks, remaining sugar, ground nuts, and cream. Pour over the apples and bake 15 minutes longer. Serve warm. (It's good cold, too).