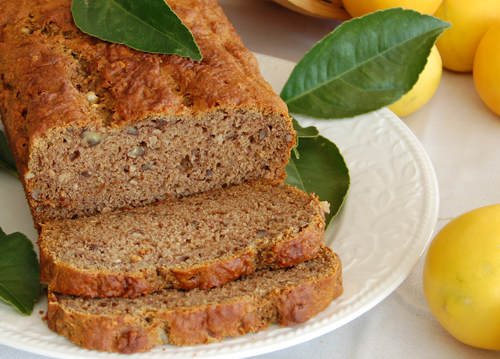 adapted from The Laurel's Kitchen Bread Book
Makes 1 loaf or 14 muffins
2 cups mashed ripe bananas (about 6 bananas)
½ cup chopped pecans or walnuts
Preheat oven to 350º.
Grease an 8″ x 4″ loaf pan.
Spread chopped nuts on a cookie sheet. Lightly toast nuts while mixing other ingredients. Watch carefully so that they don't burn; this takes about 4-5 minutes.
In a medium bowl, beat the oil, honey, vanilla and salt. Add the banana and lemon juice. Sift the flour, baking powder and baking soda into the bowl and stir to combine. Fold in the toasted nuts.
Pour into greased loaf pan. To help the bread cook evenly (so you don't get a doughy center in the middle), leave or scoop a shallow well in the center of the loaf before putting in into the oven. This well will fill in as the loaf bakes, and you'll get an even top with no doughy high spot in the middle of your loaf.
Bake for 60 minutes for bread, or 20-25 minutes for muffins. Watch carefully and check for doneness.

Notes: I buy my lemon juice, oil, vanilla, salt, baking soda, baking powder, pecans, and all-purpose flour in bulk from Sam's Club.
I get my oil in the largest container at Walmart. This oil has zero trans-fats.
I grind my own whole-wheat flour; I buy my wheat in bulk from Walton Feed. You can see more about wheat and wheat grinders on my Bulk Foods and Grains page. I also use lemon juice from my trees.