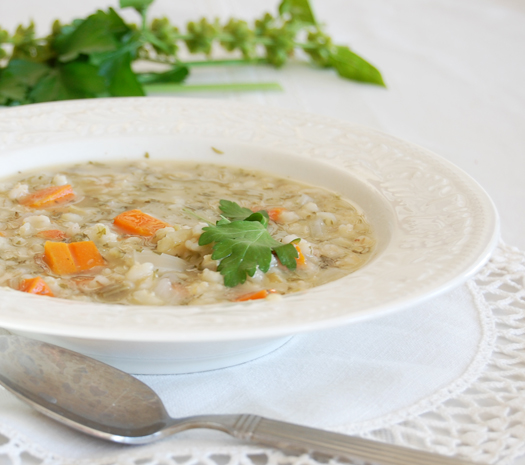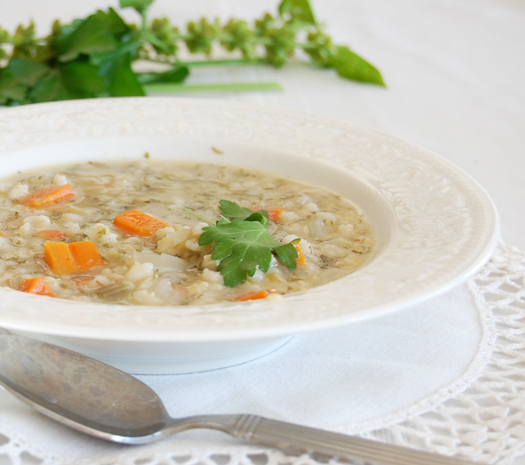 Serves 6-7
¼ cup dried, diced carrots, or 4 carrots, sliced
¼ cup dried, diced celery, or 3 ribs celery, sliced
1/8 tsp granulated garlic
4 cups chicken broth or 4 cups water plus 4 tsp chicken bullion)
In a medium size pan, place 1 cup barley in 8 cups water. Bring to a boil, and then reduce to medium heat. Simmer for one hour, stirring occasionally.
Add all other ingredients to pot, and cook for another hour. If the soup gets too thick, just add enough water to make the amount of broth you would like.

Notes: I get dried onions and dried parsley in a very large containers at Sam's Club. I have bought the carrots, celery, and pearled barley in #10 size cans from Walton Feed, as well as from the LDS Cannery (carrots and onions) and celery and barley from Your Family Still Matters (they are in St. George; I ordered from a group order from Las Vegas for a lower price). See the Bulk Foods and Grains page for sources for these.
You can also get pearled barley at the grocery store, though it comes in smaller packages and is higher priced that way.