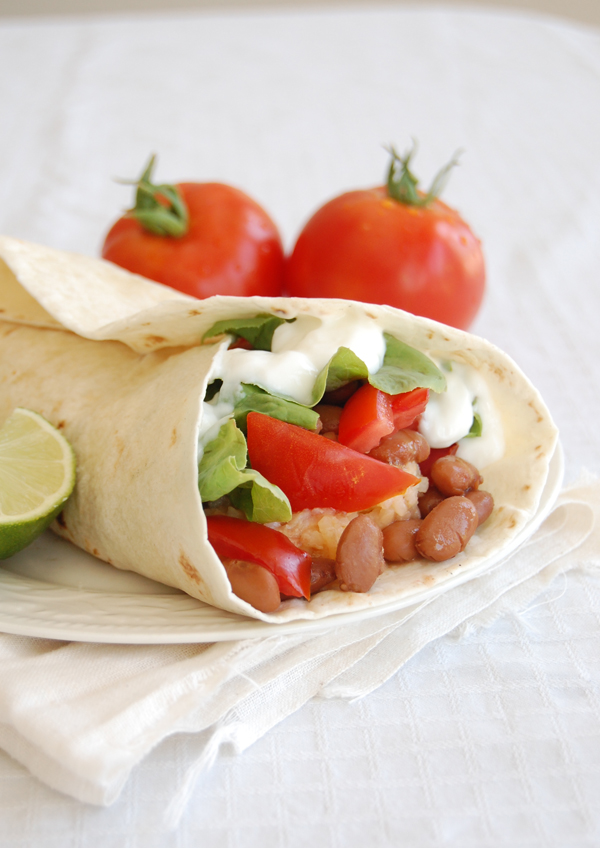 My husband made bean burritos for me early in our marriage, and for many years, we made them the same way: we warmed a can of refried beans, made plain white rice, chopped up lettuce and tomatoes. We heated tortillas over the stove, and filled them with beans, rice, lettuce, tomatoes, salsa and sour cream. It was an inexpensive, quick meal, and it led to my very first food storage purchase of hundreds of cans of refried beans. They were on sale for .33 a can, and I went to the store manager and ordered several hundred cans, and then picked them up to keep in our pantry and to use for the next several years.
When we started to live on our food storage, we had some cans of refried beans in our storage, but it wasn't long before we had eaten them. I learned to cook the pinto beans that I had stored, and we simply mashed them and cooked them with a little water in a frying pan to make them into simple "refried" beans. My children weren't fans of burritos, though, and so we didn't have the meal very often (plus, we didn't usually have most of the ingredients to make them).
One day I decided to make them again for dinner. I had no lettuce or tomatoes, but I did have some sour cream. I didn't want to take the time to mash up the beans, so I didn't. The children LOVED them! They said they much preferred having the beans whole. I've been making them that way ever since.
As we are often living on our food storage, we make these with whatever we have on hand. That means that if we don't have lettuce and tomatoes, sour cream or salsa–we leave those things off. Lettuce and tomatoes don't usually grow at the same time in our garden, since lettuce grows when it's cool and tomatoes when it's warm. In the picture above, I had both, which sometimes happens for us in November/December. I used yogurt in place of sour cream.
Since we often didn't have tomatoes or salsa, I switched the rice that I was using to make these burritos to give them more flavor. Instead of using plain rice, I use leftover Spanish Rice, if I have it, or I make rice with a simple tomato bullion just for having burritos.
To cut my time in making these, I make 5-10 cups of pinto beans at a time. I freeze the leftover beans in freezer bags, and pull them out when we are having burritos. Having bought the pinto beans in bulk keeps the cost down, making this a very inexpensive meal. I can then make a batch of tomato rice while getting the rest of the meal ready, and I can have this meal on the table in 30 minutes.
Amounts will vary, depending on the size of your family, and if you want to have leftovers or not. I love having leftovers so that I can quickly pull them out for lunch or dinner the next day. This makes a 10 minute meal the second time, giving me more time to do other things.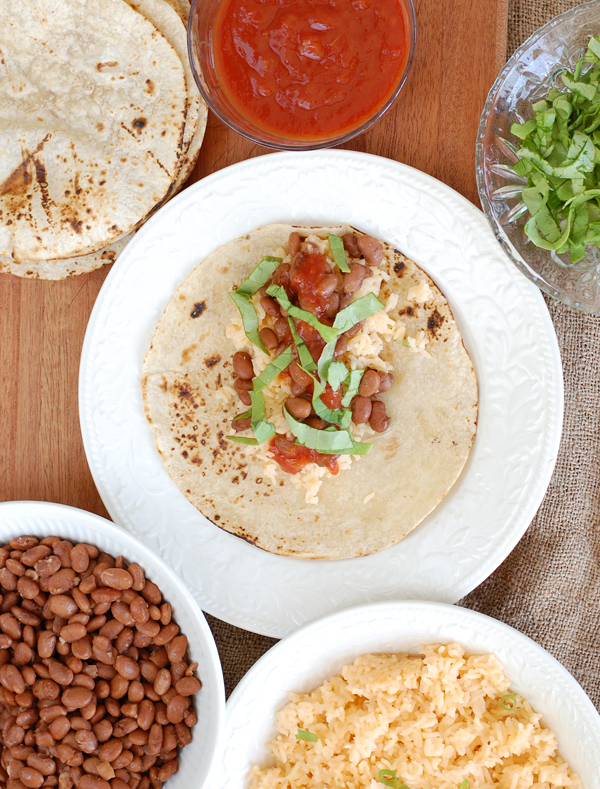 Serves 8 with some leftovers
Ingredients:
12 – 16 flour tortillas
4 cups cooked pinto beans, or 4 cups cooked black beans
2 cups rice
4-6 cups water (depending on how you like your rice; we like ours a little soft so we use more water)
5 tsp Knorr tomato bullion powder
Optional toppings:
chopped lettuce
diced tomatoes (We have used canned, drained diced tomatoes on occasion as well)
limes
sour cream or yogurt
salsa
Cook rice with water and tomato bullion powder until cooked through.
Heat beans until warm. I usually just dump them into a bowl and warm them in the microwave. You can add salt if you want, but plain is fine, too.
Warm tortillas. We have a gas stove, so I just a pair of tongs and warm them directly on the grate over the flame. You can also warm them in a skillet instead, flipping them a few times each until they are puffed up and have browned a little.
Fill burritos with rice, beans, and any other desired toppings. Serve warm.

Notes: I buy pinto beans and rice in bulk. Both can be found at Sam's Club (which is where I get my rice). I bought bulk pinto beans from Walton Feed years ago and I am still using those. I have made homemade tortillas before, but as they are quite time consuming, I buy tortillas in bulk from Sam's Club when I am able to do so.
I buy the Knorr tomato bullion powder in a 2.2 pound container from Walmart.
I occassionally put lime juice on my burritos. I love them this way. I get the limes 12 for $1 a the dollar store, and any limes that I can't use before they go bad are juiced. I freeze the juice in a tiny ice cube try to pull out for when I need it.