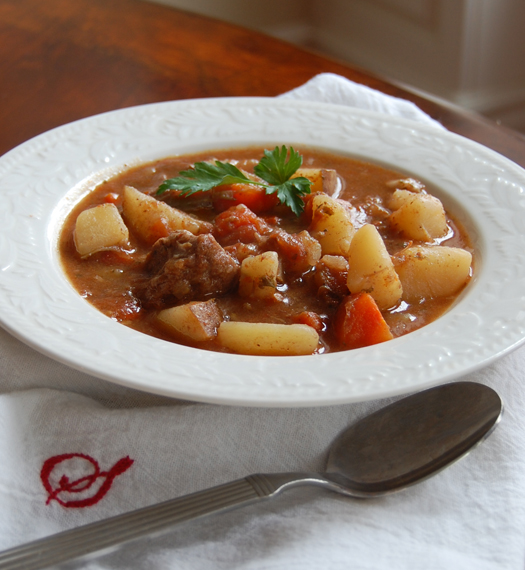 Serves 8
1 chuck roast, cut into chunks
1 28oz. can diced tomatoes, or 1 quart tomatoes, chopped
3-4 large carrots and/or parsnips
2 1/2 Tbsp dried onion
s, or 1 1/2 medium onions, diced
1 1/2 tsp granulated garlic
Combine all except cornstarch in a large crock pot and cook on high for 6 hours, stirring occasionally.
Add cornstarch to 1/4 cup cold water. Mix well. Add mixture to stew, and turn off the heat. The stew will continue to thicken as it cools.

Notes: Even a small roast imparts a lovely flavor to the stew. Cut the pieces small so that everyone will get a little meat in their stew.
I stock up on potatoes when they are on sale for .10-.20 a pound in the fall.
I get my carrots, kosher salt, garlic, beef base, cornstarch, and parsley in bulk from Sam's Club.
If you don't have a crockpot, you can cook this on medium-low for about 4 hours in a large pot on the stove.