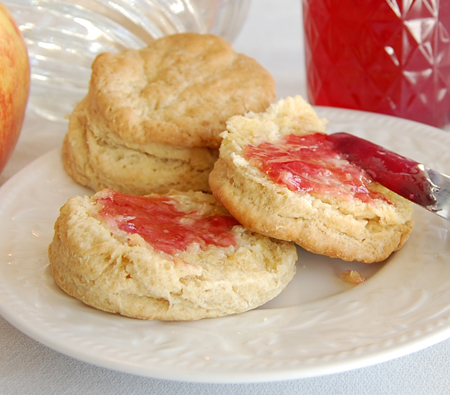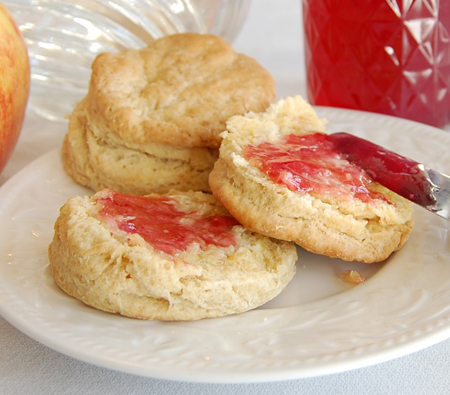 4 cups all-purpose flour
4 tbsp sugar
4 tsp cream of tartar
3 tsp baking soda
½ tsp salt
½ cup chilled vegetable shortening, cut into bits
4 tbsp chilled unsalted butter, thinly sliced
1/2 can evaporated milk (diluted with equal amount of water)
Preheat the oven to 400º.
Sift together the flour, sugar, cream of tartar, baking soda and salt into a bowl. Using a pastry blender (or 2 knives), cut in the shortening and the butter until the mixture resembles coarse meal. Using a wooden spoon, stir in the milk to make a moist, soft dough. Do not over mix.
Turn the dough out onto a lightly floured work surface. Knead 6-8 times, just until smooth, being careful to not overwork the dough (or you will end up with hard, short biscuits). Pat out the dough until it is about ½ inch thick. Using a round biscuit cutter, cut out biscuits. Quickly and briefly knead the dough scraps together, pat out the dough, and cut out additional biscuits.
Place the biscuits on an ungreased baking sheet. Bake until golden brown, about 18 minutes.
To make shortcakes, change the sugar to 6 tbsp.

Notes: I buy my cream of tarter in bulk from San Francisco Herb Company for 15 times cheaper than I can get it from the grocery store.