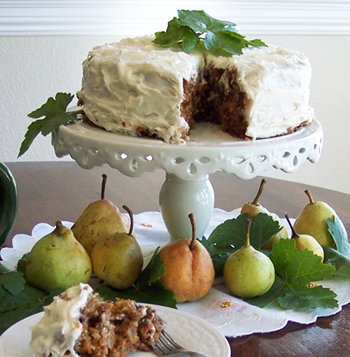 2 cups all-purpose flour (sifted), or whole wheat flour, or a combination
4 eggs (powdered is fine)
3 cups grated carrots (approximately 2 large carrots)
1 ½ to 2 cups pecans (chopped)
12 oz. (1 1/2 cups) crushed pineapple (drained)–optional
Sift together all dry ingredients.
Add oil and eggs. Mix well.
Stir in carrots, pineapple and nuts.
Pour ingredients into a 9 x 13 pan or 2 round 8 inch cake pans. Bake for 60 minutes (check at 50 minutes.)
When cool, frost with the following cream cheese icing:
Cream Cheese icing
Cream together the following:
For a cake baked in a 9 x 13 inch pan:
3 oz cream cheese, softened
For a layer cake baked in two 8 inch cake pans:
3/4 cup butter, softened
9 oz cream cheese, softened
3 Tbsp milk
3 tsp vanilla
6 cups powdered sugar

Notes:
In the summer I use a combination of zucchini and carrots, or just zucchini. I have also made it into muffins, without the frosting. If you don't have the ingredients for the frosting, it is
delicious without any.
This is an excellent recipe to make with whole wheat, substituting part or all of the flour with whole wheat flour.
I purchase my vegetable oil in the 1 gallon containers at Walmart. I purchase the pecans at Sam's Club, and carrots at Winco (in a 10-pound bag).