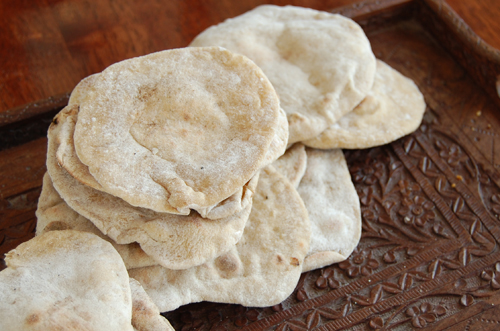 1 ½ cups whole wheat flour
½ tsp salt
¾ cup water
Combine salt and flour in a mixing bowl. Pour water in and mix.
Knead the dough for 10 minutes. Form into a round by pulling the edges in to the middle, all the way around. Cover the bowl with a damp cloth and let rise in a warm place for 20 minutes.
On a well-floured surface, divide the dough into 12 equal portions. Roll each portion into a ball. On a floured surface, use a rolling pin to roll each ball into a flat circle 5-6 inches across.
Place a skillet or griddle on medium heat. (If you have a large griddle that spans two burners, use that, as you can cook more chapatis at a time).
Place a chapati on the skillet (or several on the griddle). The chapati will start to puff up. When it is done puffing, flip it to the other side and cook. They cook very quickly; you will need to watch them so they don't burn.
Stack the chapatis on a plate and cover with a kitchen towel to keep them warm.
We usually have these with chicken curry.

Notes: I grind my own whole wheat flour for these. I buy wheat berries in bulk for grinding into flour. For more information about wheat grinders and purchasing wheat in bulk, please see my Bulk Foods and Grains page.