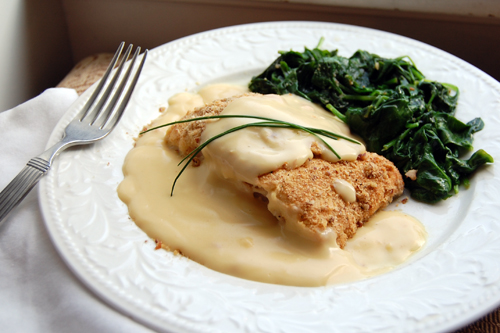 Makes 8 squares, or 6 squares if you use the larger crescent rolls. Pictured above is half of a square from the large rolls.
3 cups cooked chopped chicken (or use 2 cans of chicken)
8 oz. cream cheese
2 tsp curry powder
1 cup Monterey jack cheese or other white cheese
1 small can water chestnuts, chopped (optional)
4 Tbsp butter
2 packages crescent rolls
2 can cream of chicken soup
Chives
3/4 cup seasoned croutons, crushed and crumbled, mixed with:
1 cup pecans, chopped tiny
Preheat oven to 325º.
Combine chicken, cheese, curry and water chestnuts. Roll out crescent rolls, leaving two attached together to make a large rectangle. Press dough together to keep rectangles together.
On one half of rectangle, cover with chicken and cheese mixture. Fold dough over mixture to form square and press together the edges to enclose.
After making all filled squares, dip each square in melted butter on all sides to coat. Then dip in crouton/pecan mixture, being sure to coat all sides.
Place squares on ungreased cookie sheet and bake in the oven just until golden brown, about 10-15 minutes.
While they are cooking, warm the cream of chicken soup in a pot with one can of water.
Serve with cream of chicken soup poured over the top, and garnish with chives. Makes 8 squares.

Notes:
To make this for less, I use mozzarella cheese, bread crumbs, and pecans from Sam's Club. I get the soup on sale in the fall (and buy enough for the year), as well as the crescent rolls and the cream cheese. The least expensive source for the water chestnuts that I have found so far is Walmart. The chives come from my garden. I buy the curry in bulk.
You can use homemade bread crumbs, seasoned with dried parsley, and you can use homemade crescent rolls to make this for even less.