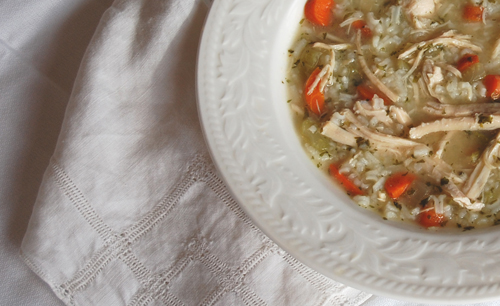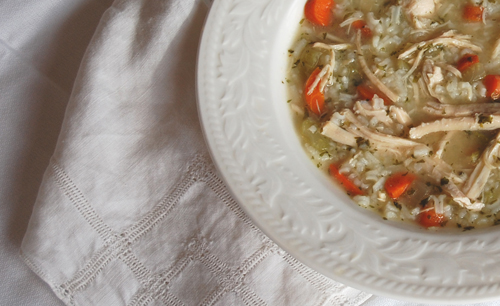 ¼ cup dried carrots, or 1/3 to ½ cup finely diced carrots
¼ cup dried celery, or 1/3 to ½ cup finely diced celery
1/4 cup dried onions
sprinkle of granulated garlic
2 cups cooked white rice
5 cups chicken broth, or 5 cups water plus 5 tsp chicken bouillon
1 Tbsp dried parsley
½ of a 10-13 oz. can cooked chicken, plus the broth in the can (freeze the rest of the chicken in a bag for other meals), OR 1 1/2 cups cooked, diced chicken or turkey, plus 1/2 cup water and 1 additional tsp chicken bouillon
Cook all ingredients in a medium-sized saucepan over a medium flame for 20 minutes, or until celery and carrots are rehydrated (if using dried) or cooked through (if using fresh). Serve warm.

Notes:
To make this for less, I use leftover turkey. If I only have canned chicken on my shelf, however, I will use that. I buy my rice, dried onions, garlic and parsley in bulk from Sam's Club. The rice comes in a 50lb bag.
I buy a 2.2 lb container of Knorr chicken bullion powder for less than $5 at Walmart.
The dried celery and onions can be found from various sources; see the
Bulk Foods and Grains
page for sources.