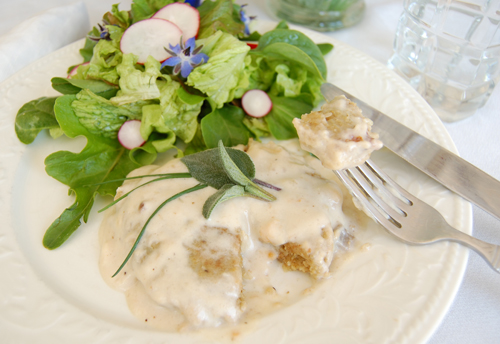 2 2/3 cups old-fashioned oats
1/4 cup dried onions
1 1/2 cups (350 ml) water
2 eggs
2 tsp rubbed sage
2 tsp Lawry's Perfect Blend Chicken and Poultry seasoning
3 Tbsp vegetable oil for frying
Gravy:
2 cans cream of mushroom soup
3 cups (675 ml) milk (I use reconstituted powdered milk)
Heat oil in a large skillet with a lid.
Mix first six ingredients. It should be wet and stick together well. If it does not, add enough water until it does.
Form into six patties, and fry both sides until browned.
Meanwhile, whisk soup and milk to make the gravy.
Lower heat to simmer. Pour gravy on patties and flip them over to coat both sides. Cover and simmer on low for 10-15 minutes, checking occasionally to make sure that patties don't stick or burn.
Serves 6.

Notes: I get the seasoning and dried onions at Sam's Club. The seasoning really makes a difference. Other seasonings that you can try are Montreal Steak Seasoning and poultry seasoning.
If you can't find a local source for the seasoning, you can buy it on Amazon here:
I bulk my oats and powdered milk in bulk. See the Bulk Food and Grains page for bulk sources. If you only have quick (instant) oats, you can use those in this recipe as well. Also, any oil you use would be fine.
I buy the cream of mushroom soup on sale in November.