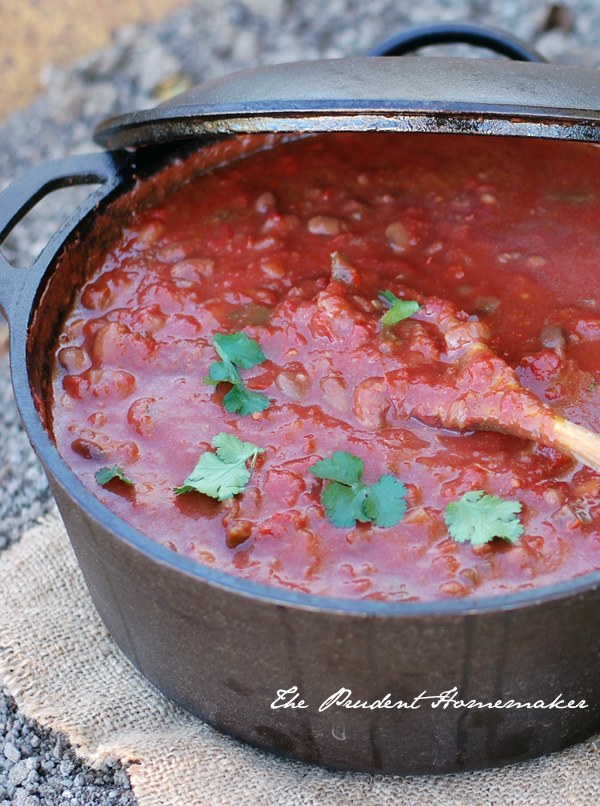 This meatless chili can be made completely from pantry ingredients if you have dried onions and peppers in your pantry.
Serves 8 to 10
2 large onions, diced
2 green bell peppers, chopped
1 Tbsp vegetable oil
6 cups canned chopped tomatoes and liquid
4 bay leaves
2 Tbsp cumin or chili powder
4 tsp salt
1/4 tsp cayenne pepper
1/4 tsp paprika
6 cups cooked pinto or other beans (3 cups dried beans)
Toppings (optional):
cheddar cheese
sour cream
cilantro
Stovetop instructions:
In a large stockpot, combine oil, onions, and peppers. Cook until almost tender. Add tomatoes and spices. Cover and simmer for 2 hours. Add beans and heat through. Remove bay leaves before serving.
Solar oven instructions:
Combine beans, onions, peppers and 5 cups water in a 7 quart pot. Cook until beans are soft (your time will vary, depending on the temperature of your oven, but plan for 4-6 hours). After beans are soft, add spices and tomatoes, and cook for 2 to 3 more hours. Remove bay leaves before serving. Note: You can omit the oil if you are not browning onions.
We like to serve this with cornbread.

To make this as inexpensively as possible:
I buy beans in bulk and cook them from scratch. I cook large pots of beans and freeze them in quart-sized freezer bags.
I buy oil by the gallon.
I purchase my spices in bulk.
I buy onions on sale in the fall and dehydrate them to use throughout the year.
I buy bell peppers on sale, slice them and freeze them (and/or dehydrate them) to use throughout the year.
I buy canned tomatoes in a #10 can.
I grow my own bay leaves on a small potted topiary tree.
You can also grow your own onions and bell peppers for a larger savings.