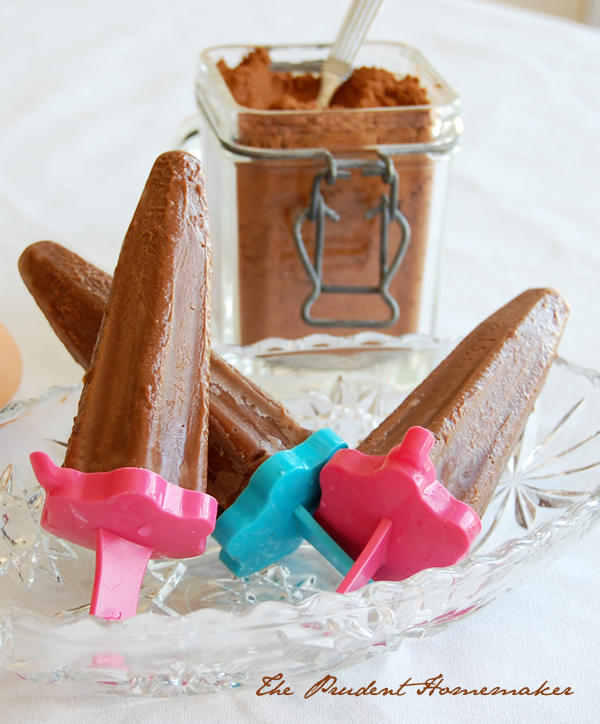 Cocoa has long been on the lists of suggested foods to store for food storage. Wheat, rice, beans, oats, salt, sugar, oil, and cocoa.
Cocoa.
Why cocoa? It could be that when you're living on your food storage, it's important to do more than just sustain life–you just also enjoy life. It could also be that chocolate is essential to your diet. . . you decide.
The quality of cocoa used in these makes all the difference. You can use baking chocolate. I have used Ghiradelli bittersweet chocolate chips (bought in bulk at Sam's Club) and I have used Hershey's Cocoa (also bought in bulk at Sam's Club). The ones made with Ghiradelli chips were amazing! The ones made with cocoa were good. Now, perhaps they would be amazing with a dutch-processed cocoa. However, when you're living from your pantry, you use what you have.
1 1/2 cups sugar
3 Tbsp cornstarch
1/2 tsp salt
1/2 cup cocoa powder OR 3 oz unsweetened or bittersweet chocolate
3 cups whole milk ( or 1 12 oz. can evaporated milk plus 1 1/2 cups water)
3 egg yolks, slightly beaten
1 1/2 tsp vanilla
1 Tbsp butter
In a medium saucepan, combine sugar, cornstarch, salt, cocoa powder and milk.
Cook over medium heat, stirring constantly, until mixture thickens and begins to boil. Boil one minute. Remove from heat.
Slowly add pudding mixture to egg yolks.
Return pudding to pan. Add vanilla and butter. Boil for one minute.
Let mixture cool slightly. Fill popsicle molds and freeze until frozen solid (about 3 hours).
Makes 8 popsicles, depending on the size of your molds. There's enough for about 9 popsicles, plus a small bowl of pudding left over for the person who made the popsicles for everyone.

Notes: I buy evaporated milk on case-lot sale. You can sometimes get a few cans for sale for even less in November and December. Whole milk adds creaminess to the pudding.
I get sugar, cornstarch, salt, cocoa (and chocolate chips), vanilla, and butter at Sam's Club. They come in huge packages for a LOT less than grocery store sales.
I don't always have the possibility of buying eggs. I recently found someone with chickens who will trade me eggs for overgrown, gone to seed beets and Swiss chard from my garden. This has been a huge help to us.
Want something else to make with your stored cocoa? Try making chocolate wafers.