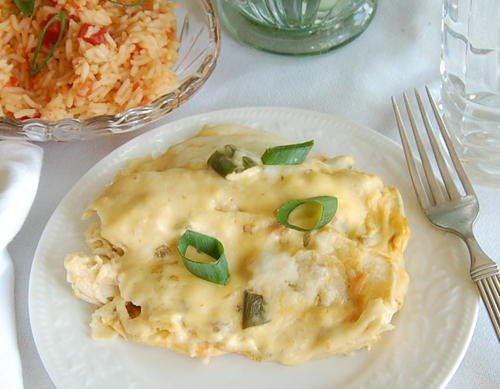 2 cans cream of chicken soup
1 can green chilies
2 tsp dried onions
1 or 2 cans (10-13 oz) chicken (or 1 1/2 to 3 cups diced cooked chicken or turkey)
1 1/2 cups grated cheese (cheddar, jack, mozzarella, or a mix)
20 corn tortillas or 12 flour tortillas
Preheat oven to 350º.
Mix evaporated milk, soup, onions and chilies in a saucepan. Heat through.
Spray (or grease) a 9×13 or 10 x 15 pan.
Spread sauce on each tortilla, then top with some of the canned chicken. Roll up tortilla and put in pan. When all tortillas are full, spread remaining sauce on top of all. Top with cheese. Bake until heated through and cheese is melted, about 20-30 minutes.
You may want to serve these with Spanish Rice on the side.

Notes: This is a great way to use extra turkey! If you buy several turkeys, cook a few, and put the cooked meat in the freezer, you can pull out some already cooked meat to use in these to make this for a LOT less.
I get the cheese, dried onions, and corn tortillas from Sam's Club. The cheese is right around $2 a pound right now (it goes down in summer) in the 5lbs blocks. The tortillas are 100 tortillas for under $3.50. The dried onions come in a huge container and last me about 6 months (I use them all the time).