You can make these dollhouse rugs a couple of different ways. You can print them out on cardstock, and simply cut around them.
You can also print them on iron-on transfer sheets
(ink-jet printers only; laser printers cannot handle them). Then, iron them on a piece of linen or cotton.
If you have a laser printer, you can use the Citro-solv method to transfer a printed image from a laser printer.
If you transfer the images to fabric, here is how to complete the sewn rugs:
There is a half-inch margin around the rectangular rugs. You can fold the long sides in twice, and stitch those sides down. If no fringe is desired, you can fold all of the sides down and stitch them down.
For a fringe, leave the margin-width (1/2″) edge at the long ends loose. Sew across the edge of the rug twice on a tiny stitch setting to keep the rug from unravelling. Then, pull threads across the ends of the rug to leave the rug with frayed edges for your miniature fringe. If you want a knotted fringe, you can tie together every 3-5 stands with a single thread (just make it the same number each time).
Click on the colors below for rugs in that color.
See more dollhouse printables.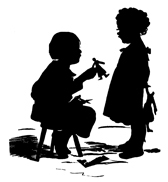 Images from Dover, The Graphics Fairy, and Just Something I Made.