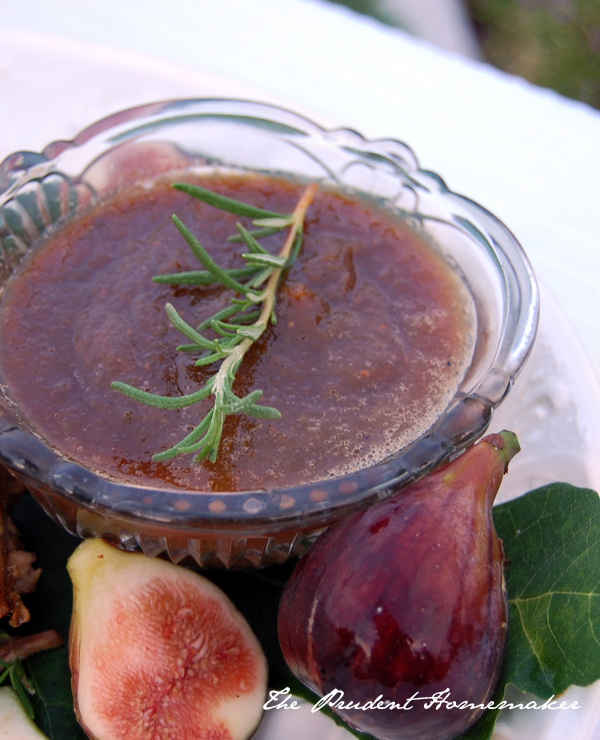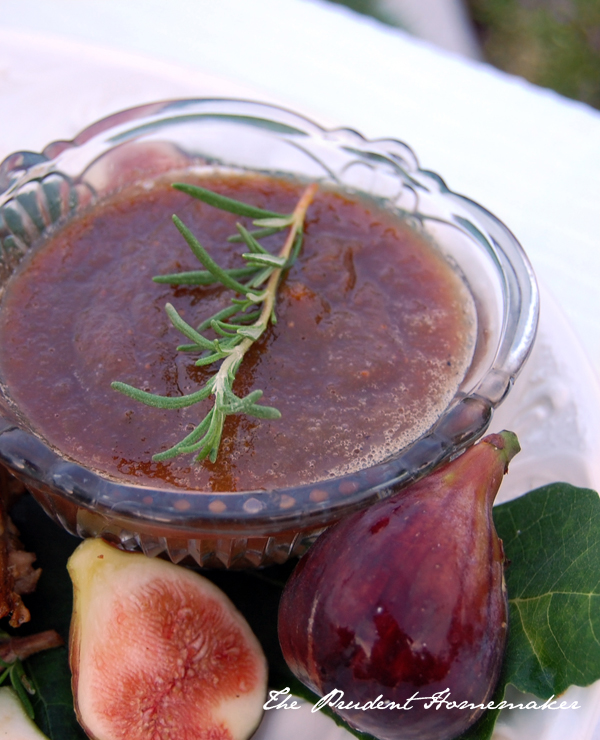 2 1/2 cups chicken broth (or 2 1/2 cups water plus 2 1/2 tsp bullion)
16 dried or fresh Mission figs
In a medium-sized saucepan, combine all ingredients except butter, salt, and pepper. Boil over medium-high heat until reduced by half (about 30 minutes). Discard the rosemary sprigs (some of the rosemary leaves will remain in the sauce; that's okay). Transfer the sauce to a blender and puree it until smooth. Return to pan, and add the butter, along with salt and pepper to taste.
(The sauce can be made 1 day ahead and refrigerated. Rewarm over medium heat before using.)

Notes:
I have bought dried figs in a package at the grocery store–it's next to the raisins and other dried fruit. However, I don't buy them anymore now that my own Mission Fig tree is producing. I dry them from my tree. Fresh ones are fine to use in the sauce.
I have apple juice in my food storage, bought on case-lot sale. Watch the sales for the lowest prices in your area and stock up then.
Fresh rosemary comes from my garden; it grows all year-round in a zone 9. If you live in Las Vegas, you probably already have some growing in your front yard. Yes, it is edible! If you don't have any, ask your neighbor; she will. If you don't have a rosemary plant, visit your nursery and get one. It's not expensive and grows large very quickly.
*Ground rosemary isn't sold too many places. My mother-in-law uses her electric nut grinder to grind up dried rosemary, and I keep it in a spice jar in my spice cabinet. You can do the same thing.
If you live somewhere colder (zone 7 or less), dig up your rosemary and bring it indoors during the winter.
I buy unsalted butter at Sam's Club or at tthe grocery store before Christmas. I buy lots and put it in my freezer.