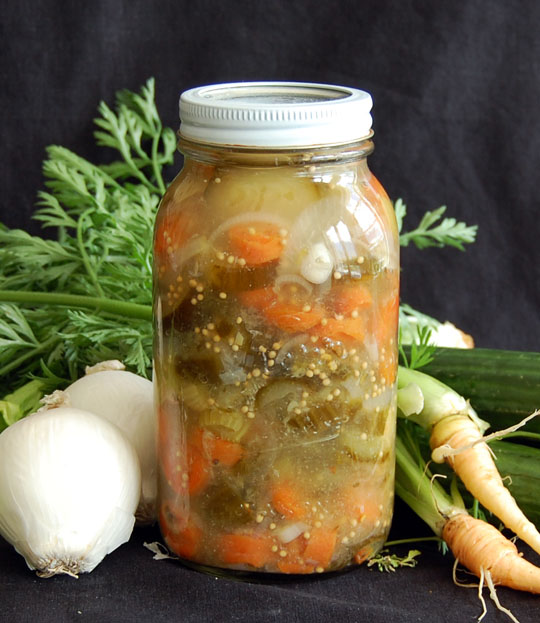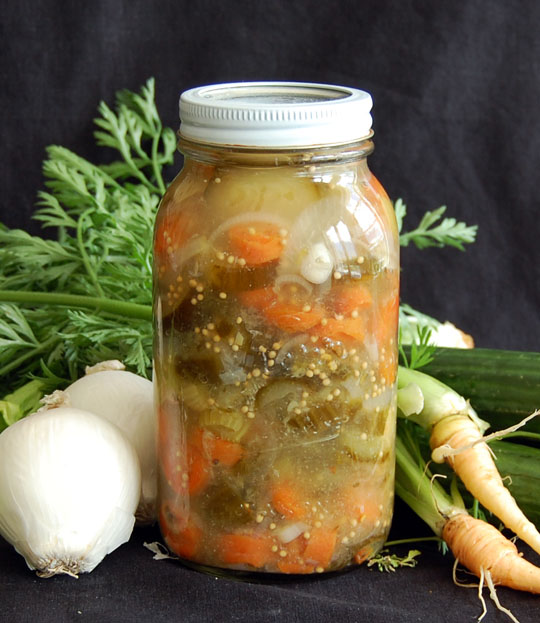 When I was a child, my dad used to bring home a jar of these pickles once in a while from a deli near his office. I loved them.
There are several versions of giardiniera; some, like this one, have bite-sized pieces, and are meant to be eaten as pickles. Some are chopped tiny like a relish. Some have oil. None of the versions that I could find resembled the ones that I had as a child, and I craved the ones I remembered. With some experimentation, I came up with a pickling brine that tastes like the ones I remember. My dad will be getting a jar of these for a gift.
Makes 5-6 quarts
4 1/2 pounds cucumbers
1 pound carrots
5 small onions
1/2 bunch celery
1 head cauliflower*
1 cup canning salt
Pickling liquid:
6 cups distilled white vinegar
1/4 cup brown sugar
1 tbsp kosher salt
2 Tbsp yellow mustard seeds
1/4 tsp red hot pepper flakes
1 tsp granulated garlic
Slice vegetables into bite-sized pieces. I cut the carrots with a crinkle cutter to make them a bit fancier, just for fun.
Put all vegetables into 2 large (non-metallic) bowls. Mix canning salt with enough cold water to completely cover vegetables (I use refrigerated water), stirring to dissolve salt. Let sit for 12-18 hours. (I cover the bowls with a cloth during this time).
After 12-18 hours have elapsed, drain water from the vegetables, and rinse and drain them thoroughly. I find the easiest way to do this is to dump a few cups worth at a time into a colander, and rinse them in the colander.
After this is done (or while you are rinsing) heat water in a water-bath canner, and sterilize lids and jars.
Heat pickling liquid to boiling. Boil 3 minutes. Add vegetables, stirring occasionally. Boil 5 minutes.
Pack into clean, sterilized jars. Wipe jar tops clean, and put on lids and rings.
Process 15 minutes in a water-bath canner.

Notes:
I get carrots for .39/lb at Winco. I also buy the vinegar, brown sugar, kosher salt, garlic, and red pepper flakes from Sam's Club.
Whole mustard seed can be expensive. The least expensive place I have found for them is San Fransciso Herb Company. If you're planning on making pickles of any kind this year, you can buy them ahead of time and have them on hand. They require a $30 minimum order. You will find a lot of other spices and baking items for good prices there as well. Bulk Foods also sells mustard seeds; they are slightly higher in price, but they do not require a minimum order, and their shipping starts at $5.
I get my canning salt from Walmart. They sell salt labeled for canning, but they also sell "plain salt." Plain salt is the same thing–and it is less than the salt marked "canning salt." When making pickles, it is important to use non-iodized salt.
According to the Ball canning book, if you do not include the ends of the cucumbers, you are more likely to avoid soft pickles and contamination.
*Cauliflower can be pricey, and where I live, it grows in the winter–and cucumbers grow in the summer. You can make this recipe without cauliflower; just increase the other ingredients to equal about 3 cups of vegetables to replace the cauliflower.