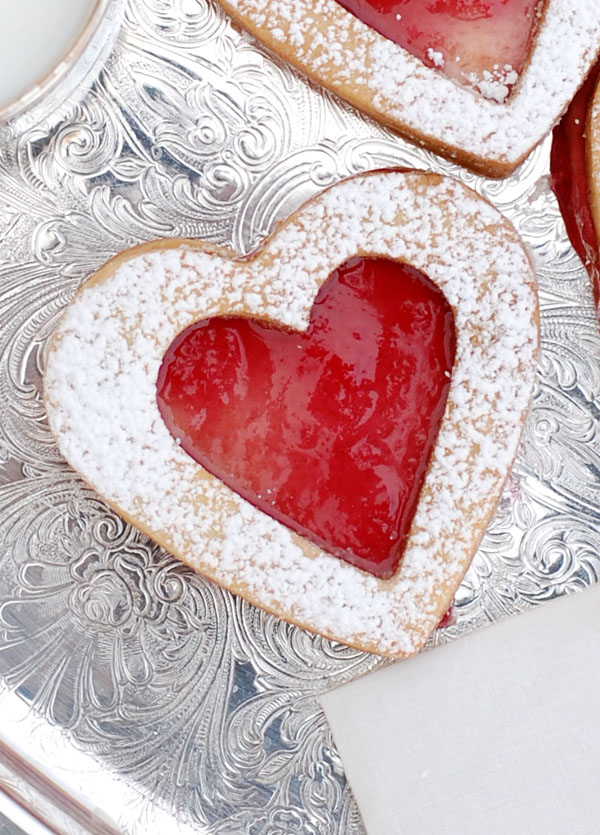 2 cups butter, softened
1 cup sugar
2 eggs
1 Tbsp vanilla
1 Tbsp almond extract
½ tsp salt
4 cups flour
Powdered sugar
Red jelly or jam (I used pomegranate jelly)
In a large mixing bowl, beat the butter, sugar, eggs, vanilla, almond extract, and salt until fluffy. Gradually beat in flour.
Cover dough tightly with plastic wrap and refrigerate for one hour.
Heat oven to 325º.
On a lightly floured surface, roll out dough to ¼ inch thickness. Keep dough cold; work in small batches if necessary to keep the dough cool enough that it won't start sticking (keep the rest in the refrigerator or freezer while you roll the rest out).
Cut out hearts.
For top pieces, cut out centers with a smaller heart-shaped cutter.
Place cookies on ungreased baking sheets. Bake 12-15 minutes until the edges just start to brown. Allow the cookies to cool completely.
When the cookies have cooled, dust the cookies that you intend to be the tops with powdered sugar.
Warm the jelly. Spread a bit on the cookies that are going to be the bottom cookies.
Gently place the sugar coated top hearts with the cut-outs on top on the bottom cookies.