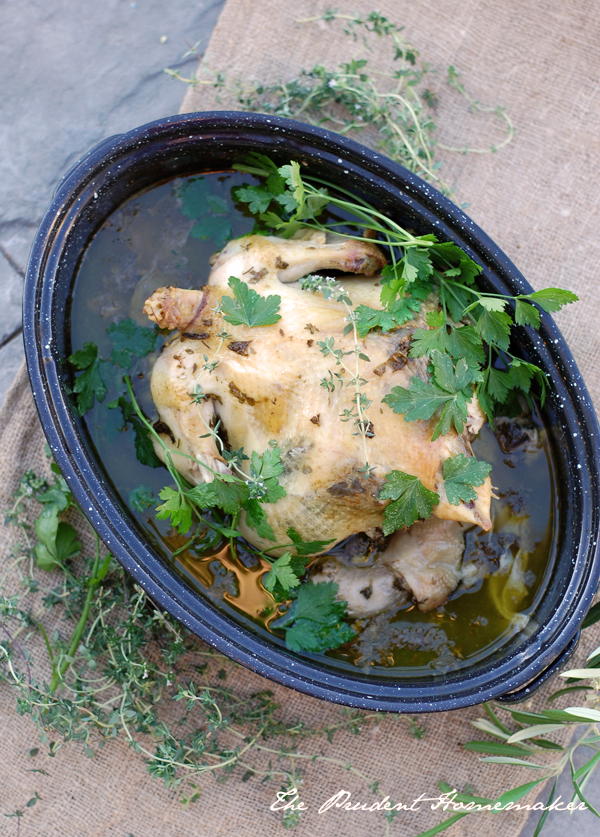 ¼ cup olive oil
1 Tbsp + 1 tsp dried onions
2 tsp parsley
1 ½ tsp dried ground rosemary
2 ½ tsp thyme
sprinkle of garlic powder
salt and pepper to taste
1 (4 or more pounds) whole chicken
Preheat oven to 350 º.
Mix all ingredients except chicken in a roasting pan or large Pyrex bowl (big enough to fit the chicken into). Put chicken into pan, breast down. This will help your chicken to be juicy instead of dry.
Dip a basting brush into the herb and oil mixture, and use it to coast the entire inside and outside of the chicken. Using your fingers, break the "seal" between the edge of the skin and the chicken at the edge where the breast is. Use the basting brush to insert the herb mixture under the skin onto the meat. Do this same thing on the back of the chicken, coating as much of the thighs and back of the chicken, under the skin, as possible.
Add a ½ cup of water to the pan. Cook for 1 ½ to 1 ¾ hours, until juices in the thigh run clear, and the meat falls right off the bone.