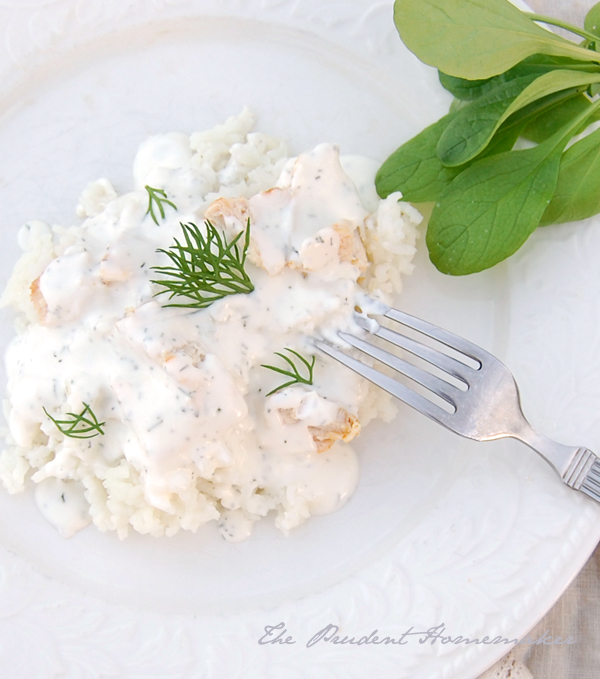 Serves 8
2 cooked chicken breasts, OR 2 cans chicken, or 2 cups leftover turkey, chopped into bite-sized pieces
3 cups dry rice, cooked


Sauce:
4 tbsp fresh-squeezed lemon juice
2 tsp dried dill weed
1 lb (2 cups) sour cream
2 cups homemade Greek-style yogurt
I make this recipe several different ways. I will either butterfly 2 chicken breasts, and cook them in about 2 Tbsp of live oil in a large skillet, and use that meat, or I will use canned chicken, or leftover turkey. As turkey is the least expensive option, I use this option more often, stocking up on several turkeys when they go on sale at Thanksgiving. I'll cook a turkey and freeze the meat in smaller amounts, and then just pull a bag out of the freezer for most all of my "chicken" recipes.
The sauce is a very simple process. In a small saucepan, over medium low heat, combine all sauce ingredients. Cook until thoroughly heated through.
To serve, spoon rice over plate. Add chicken on top of the rice, and top with the sauce.

Notes:
I buy sour cream on sale for $1.25. Lemons come from my trees. I have also seen them in bags at Walmart for a price that works out to .20 each.
I get my dill and my rice in bulk from Sam's Club.