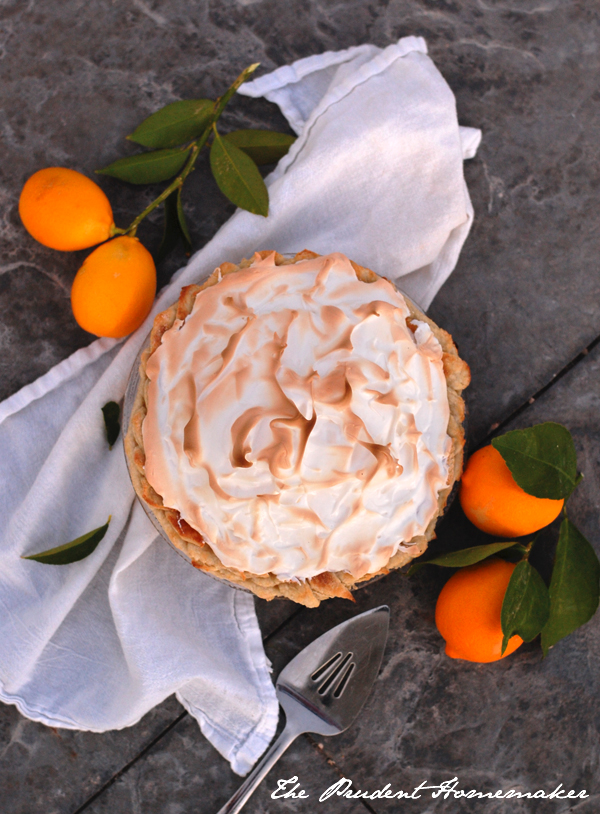 Makes one 8-inch pie
Crust:
1 cup flour
1/2 tsp salt
1/3 cup plus 1 Tbsp. shortening
2 Tbsp water
Preheat oven to 475º.
Mix flour and salt in bowl. Cut in shortening with pastry blender until shortening is the size of peas.
Sprinkle with water, one tablespoon at a time. If dough does not come together, add more water, a tablespoon at a time, until flour is moistened (but not sticky). Gather dough together with fingers so it cleans the bowl. Press together into a ball, and turn out onto a lightly floured counter.
Roll dough out to about an inch larger than your inverted pie pan.
Fold dough in half and carefully transfer it to pie pan.
Unfold dough.
Fold pastry edges under, even with pan, and pinch edges between your thumb and forefinger (or finish as you prefer). Prick dough with fork.
Bake for 8 to 10 minutes.
Then reduce oven temperature to 400º.
Filling:
1 cup plus 2 Tbsp sugar
1/4 cup cornstarch
1 cup plus 2 Tbsp water
2 eggs yolks, slightly beaten (reserve egg whites for meringue), in a medium sized glass bowl
2 Tbsp butter
3 tbsp lemon juice
1 Tbsp grated lemon rind
Mix sugar and cornstarch in saucepan. Gradually stir in water. Cook over medium heat, stirring constantly, until mixture thickesn and boils. Boil 1 minute.
Slowly stir at least half the hot mixture into the bowl with the egg yolks.
Blend egg yolk mixture back into pan with the rest of the filling.
Boil mixture one more minute, stirring constantly.
Remove from heat. Stir mixture until smooth.
Blend in butter, lemon juice, and lemon rind.
Pour filling mixture into baked pie shell.
Then make meringue.
Meringue:
2 egg whites
1/4 tsp. cream of tartar or 1 tsp lemon juice
1/4 cup sugar
Beat egg whites with cream of tartar until frothy. Gradually beat in sugar, a little at a time. Continue to beat mixture until stiff and glossy (stiff peaks should form).
Spoon meringue onto hot pie filling, being careful to seal meringue to the edge of the pie crust to prevent shrinking.
Use a knife to swirl meringue into points, if desired.
Bake in 400º oven for 8 to 10 minutes, or until lightly browned.
Then, the most difficult part of all: Let pie cool completely for several hours, so that filling will set, before serving.